During our short stay at the Grand Pacific Hotel in Suva, Fiji, we didn't get to do visit as much as the city as we'd have liked to but we were treated to a memorable evening with a personalized Fijian-style dinner from the hotel.
It started with one of the few places we did visit, the Suva Fish Market (also known as the Suva Municipal Market). Only 5 minutes driving distance and 15 minutes walking from the Grand Pacific Hotel, the market is the best place to find fresh, locally caught seafood. Though not as large as other famous fish markets around the world, there is a very diverse selection of seafood to choose from, many species we've never seen before and some interesting looking ones. Much of the seafood are caught by locals from villages on various parts of the island instead of large-scale fishing operations, making it a more sustainable market.
After browsing through the market, we purchased a bunch of shrimp wrapped in leaves, several crabs, and a sack of fish roe, a pretty significant amount for just the two of us! What we did not get was any lobster because everyone at the market was selling in bunches of 10…but now we totally regret just not getting any!! Even if we didn't eat all of the food, we could've shared with the staff at the hotel. The cost was pretty cheap; for 7 crabs, a bunch of shrimp and fish roe, we paid around $75, a pretty good bargain for the amount of seafood we had.
We took our purchase back to the hotel, where we were met by the tourism operations manager, Sammy, a super friendly guy who we loved to converse with. Our plan was to ask the hotel if they would've been willing to cook for us but Sammy took great care of us and called in Chef Avikash Singh to help prepare our food. We asked how much it would cost but they said they would not charge us. Though it probably took up Chef Singh's free time, he seemed very enthused and attentive to detail on preparing our meal. He asked how we wanted our food prepared, and we said we wanted to taste traditional Fijian-style cooking, so he told us how he would prepare all of the dishes and what ingredients he would use for each dish. Naturally, we got super excited and couldn't wait to try out his cooking! Over the next couple hours, we patiently waited as Chef Singh said he would need some time to clean and prepare the seafood so we mostly relaxed in the outdoor restaurant chairs munching on appetizers, enjoying some beverages and watching the sun over the horizon.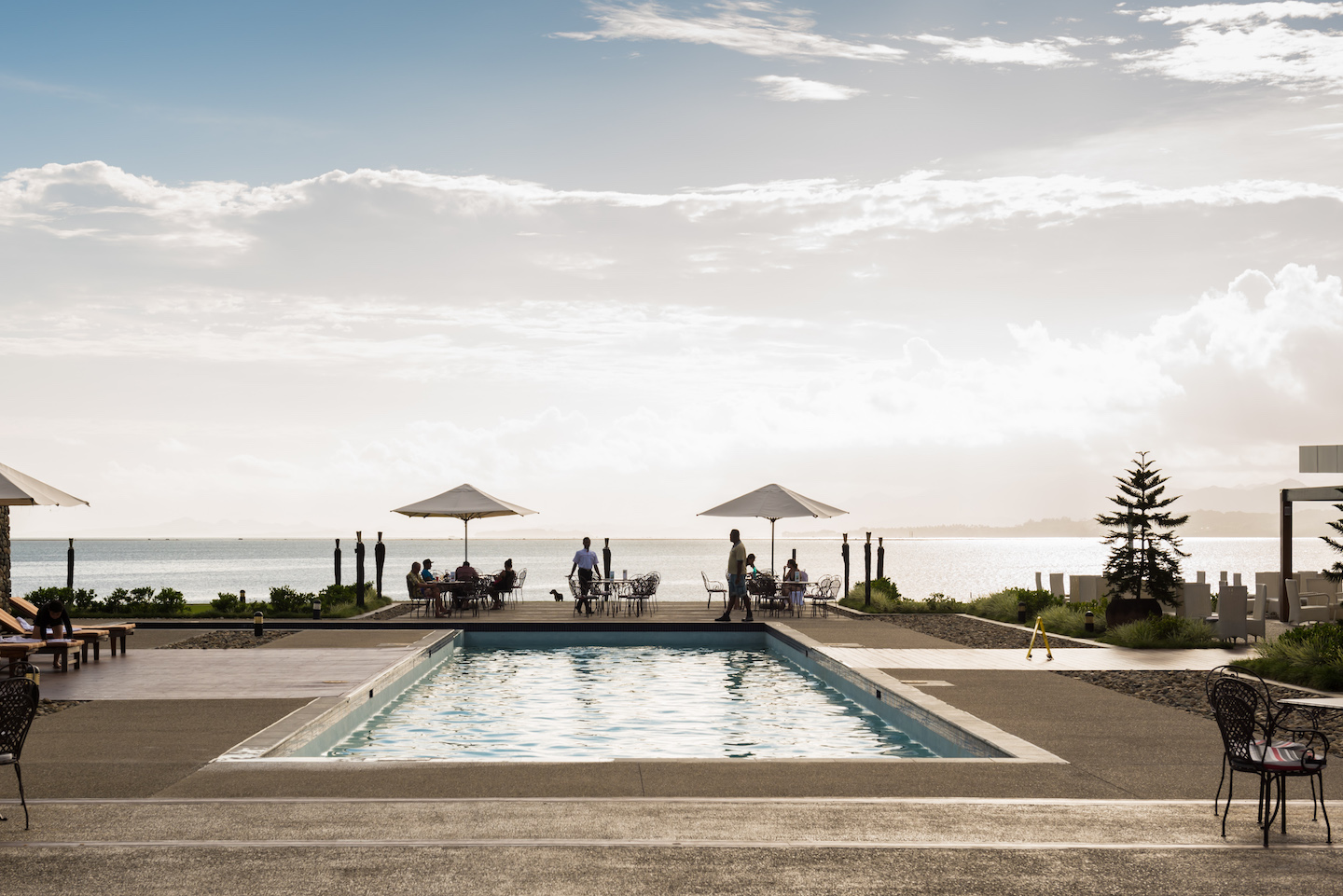 After some time, the first course came out and consisted of the shrimp. It was cooked in a red sauce with coconut milk and other herbs and spices. Our first bites were met with a mildly spicy and tangy flavor of the sauce, then mixing with the subtle sweetness and softness of the shrimp. It was sooo freakin' good! The only thing we probably regretted was not buying more since we only had about 8 or 9 shrimp. Luckily for us, there was more to come!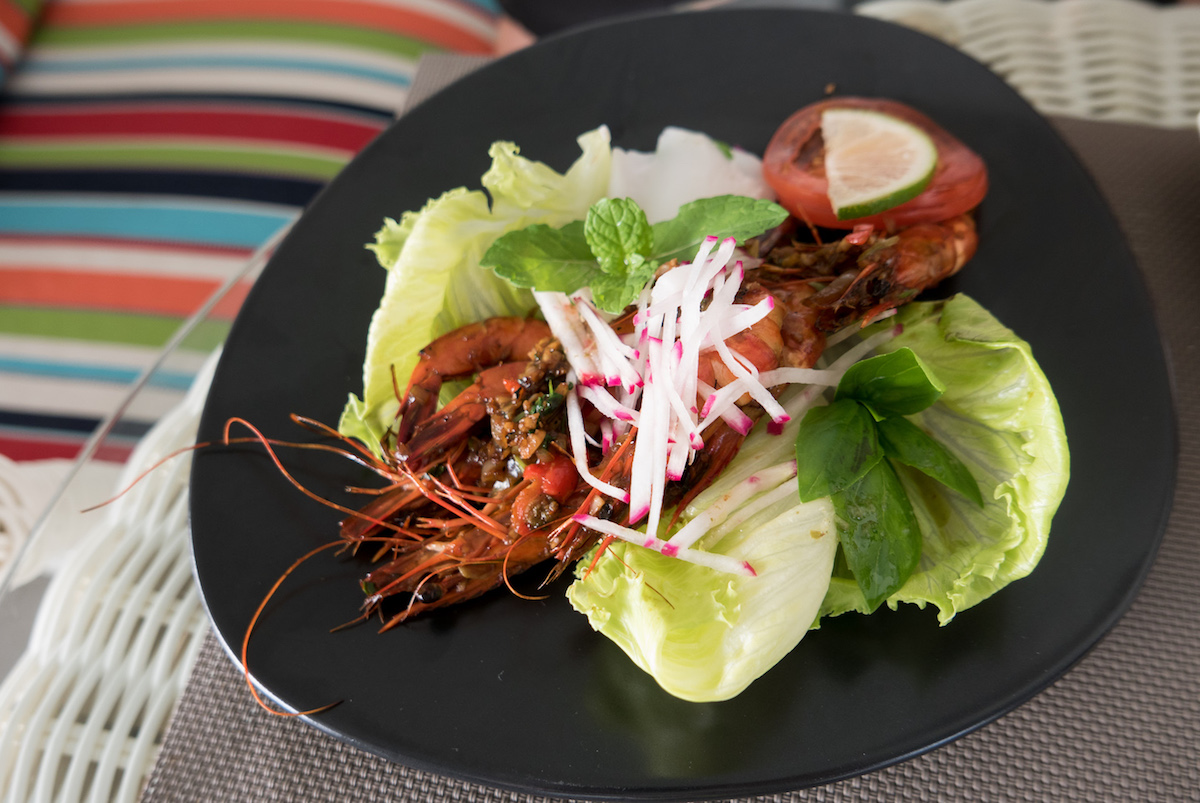 Our second course was the sack of roe, though we're not sure of what fish species. Unlike roe you might find on sushi that can be individually eaten, this roe was tightly attached together, forming one big clump of roe. Chef Singh told us it was his first time cooking fish roe so he cooked it as if it were a piece of fish. Essentially, he grilled this large piece of roe with herbs and spices and topped it off with lime, onions, cucumbers and other garnishes. Much to my surprise, the roe did not fall apart at all; instead, you do have to cut it with a fork or knife like normal fish. When we took the first bite, we immediately thought that the roe tasted exactly like fresh fish and the texture was not so different either. Adding the lime (which I think makes anything taste good) also complimented the other flavors and created a very flavorful dish. Even though Singh had never prepared a dish like this, the result was masterful and impressive.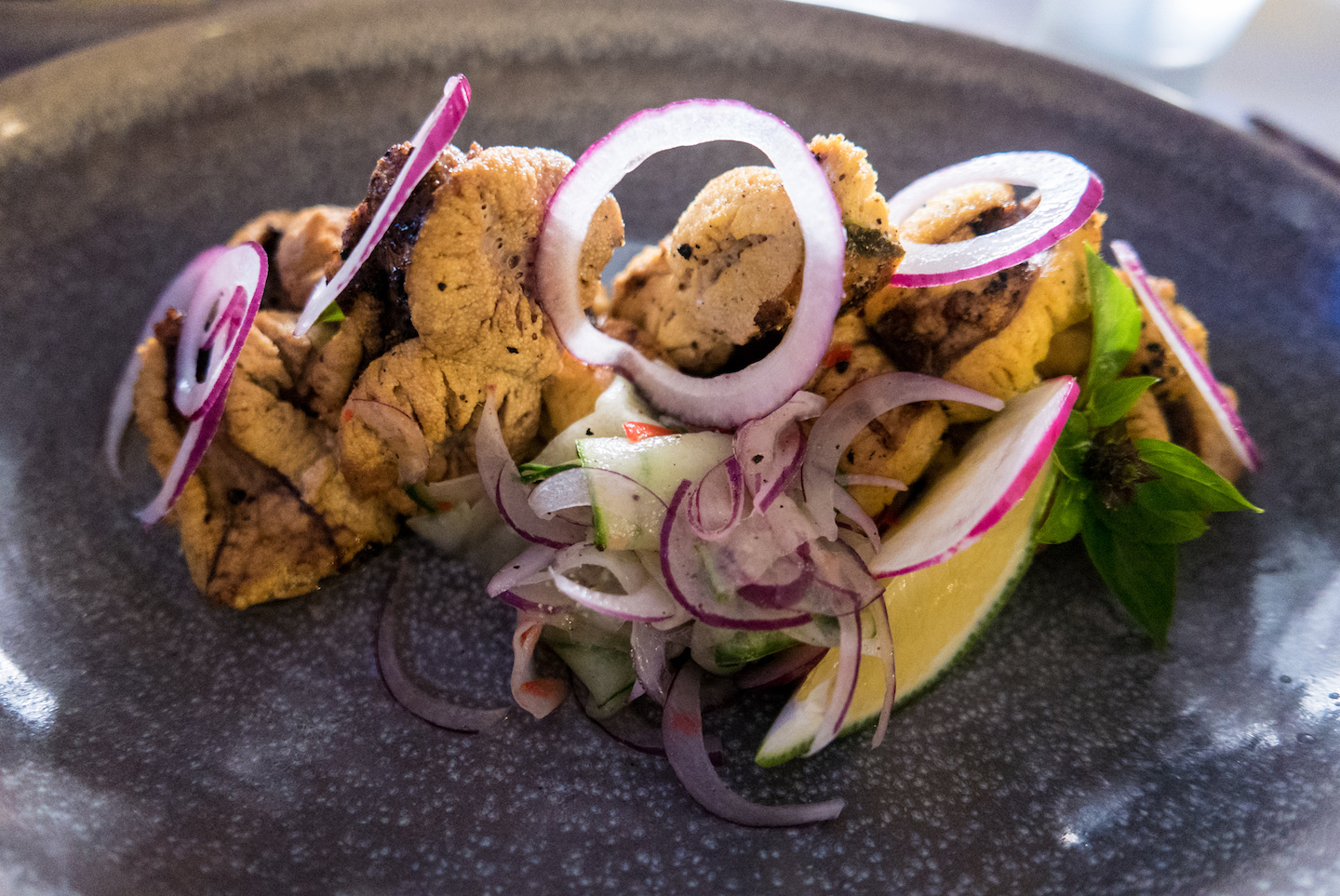 Finally, last but not least, we got to the main course, the crabs. When Chef Singh brought out two large plates of cooked crab, it looked breathtakingly delicious. It was prepared with a red curry-like base with coconut milk, butter and a variety of herbs and spices. He made the dish spicy to give it a nice kick to the dish and added limes for additional flavor. With his last dish complete, Chef Singh was going on his way, but not before taking a photo with him and giving him a substantial tip for all of his time and effort.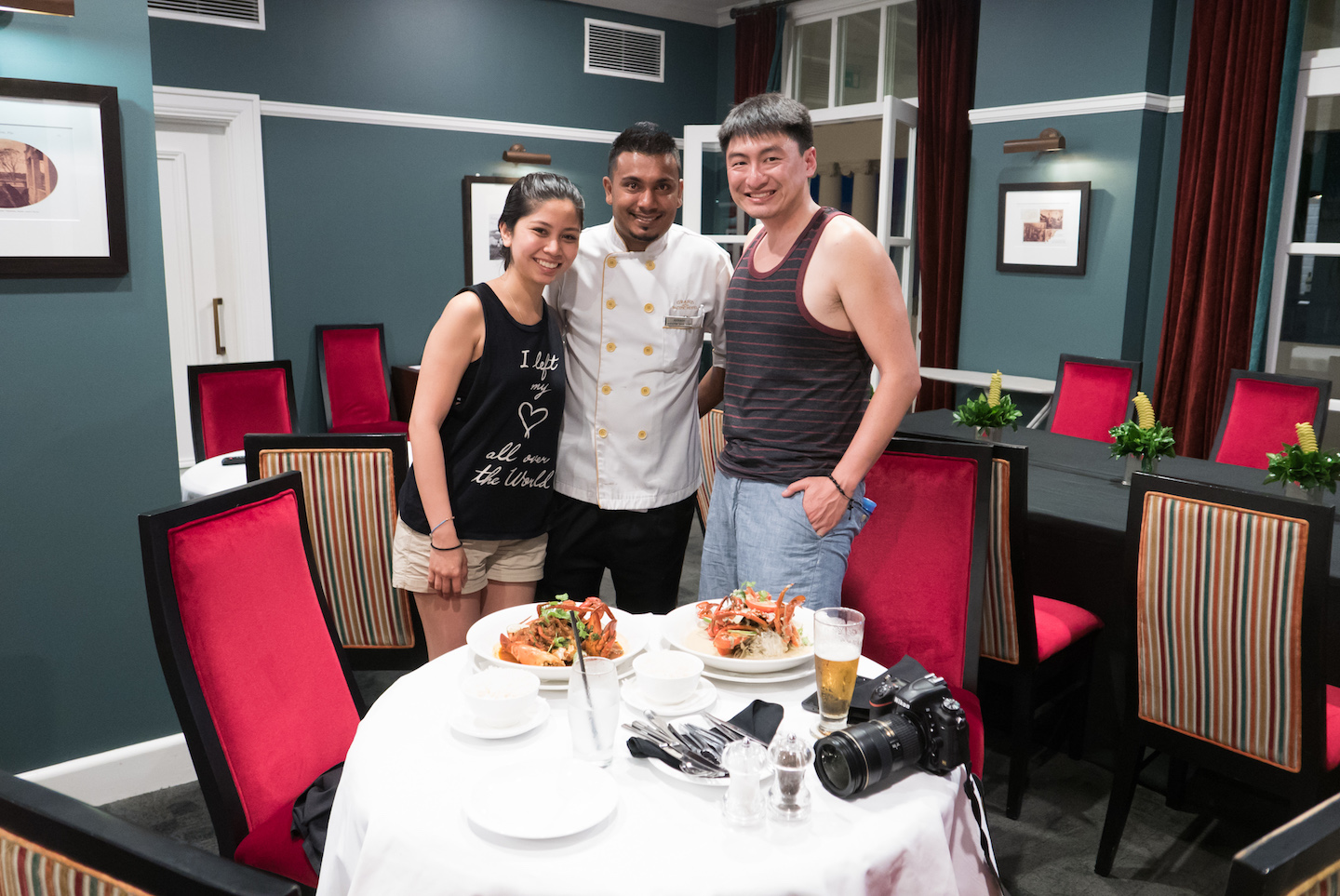 The first bite of that crab was heavenly; the meat was soft, tender and sweet, while the sauce provided a spicy richness that was full of flavor yet balanced with the dish as a whole. Adding the lime juices gives even tangier and satisfyingly sour flavor. Since we were digging through every part of the crab for the meat, it took us the next hour to savor all of the crabs that we got and it most certainly was worth the effort.
When it was all said and eaten, Mat and I thought it was one of the best seafood meals we've ever had. We were so thankful to Sammy, Chef Avikash Singh and the Grand Pacific Hotel staff for making this happen and giving us the ultimate Fiji seafood experience, and we hope to be back in Suva one day to do it all over again, maybe with some lobster!
If you think this Fijian-style meal looks tantalizing and mouth-watering, be sure to ask for Sammy at the Grand Pacific Hotel and give our post a pin below: