When I first visited Queenstown in New Zealand back in 2011, it was peaceful, not very crowded, and very easy to get around. There was no such thing as traffic, I had a thousand parking spots to choose from, it was practically barren! With sparse crowds in the streets and shopping alleys, it was a very relaxed, simple and leisurely visit that I fully enjoyed.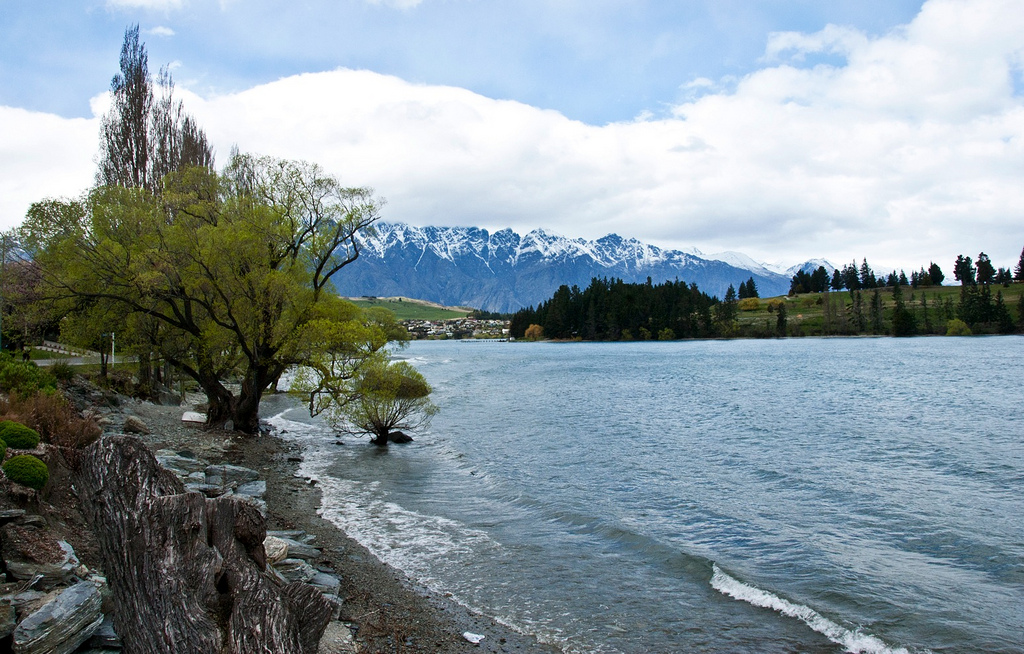 Fast forward to 2017 and that visit became a distant memory, though not necessarily in a bad way, although there was actual traffic and there were more people in one restaurant than an entire street compared to my last visit. But New Zealand's tourism has exploded in the past few years and with the influx of tourists also meant needing to add a variety of new activities. Believe me, Queenstown has done that and more; whether you're looking for a relaxing activity to the most thrilling, this town will have more than enough options to choose from.
We kept it pretty mellow for our first couple of activities. Our first attraction we went to check out was the Skyline Queenstown, which is pretty much a must-do activity within the city. You take a gondola up 450 meters with panoramic views of the surrounding landscape up to the top of Bob's Peak. Tickets for just the gondola will run you around $27 USD for adults and $15 for children. There are also packages available that will drive down the overall cost.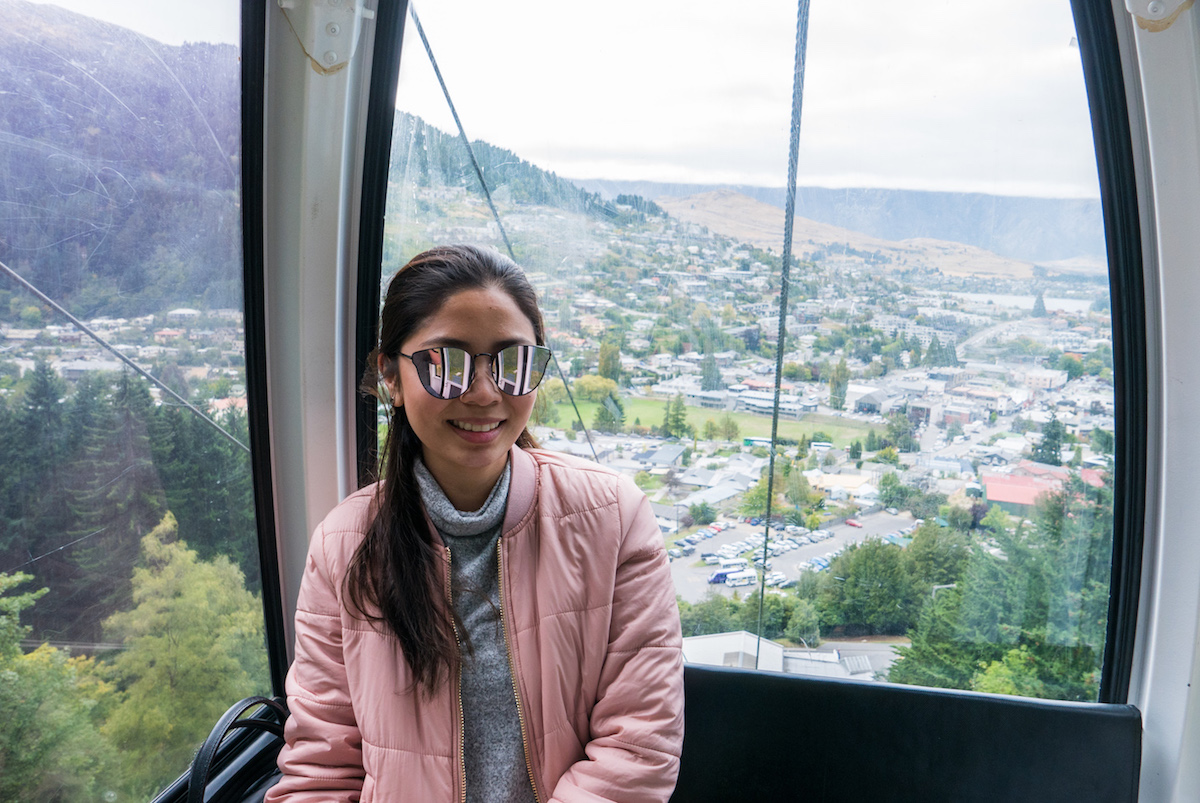 Once at the top, you are greeted with spectacular views of Queenstown, Lake Wakatipu and all the way out towards the Remarkables mountain range and the surrounding landscapes. There's also a surprisingly good variety of activities to do, including bungee jumping, paragliding, riding a luge, mountain biking, Kiwi Haka, and hiking. You just have to check the hours for certain activities on the Queenstown Skyline website and make reservations ahead of time. I will admit, watching people paragliding and getting a bird's-eye view of Queenstown looked really cool.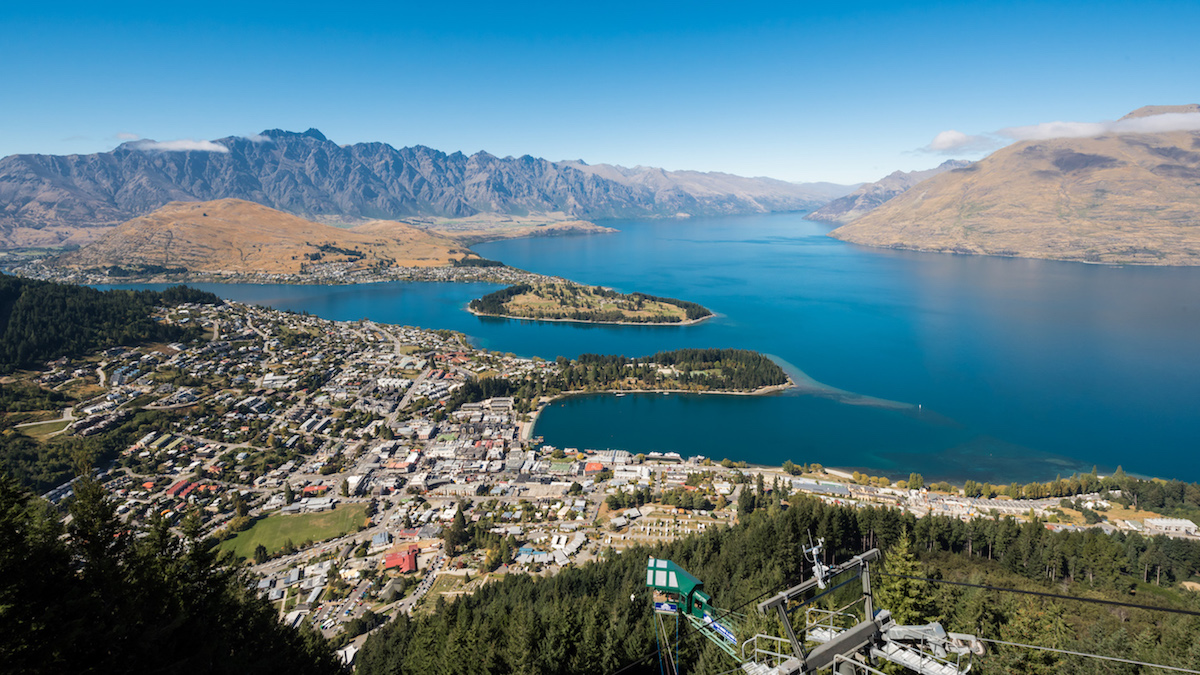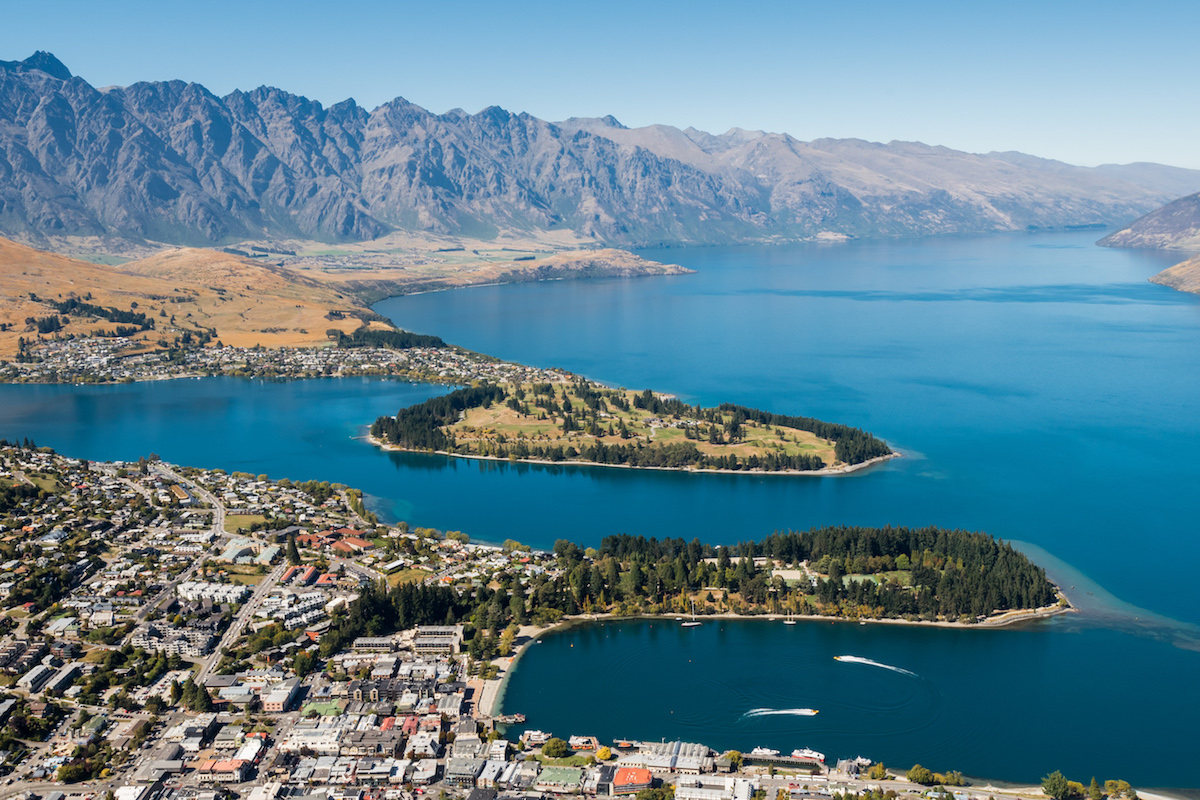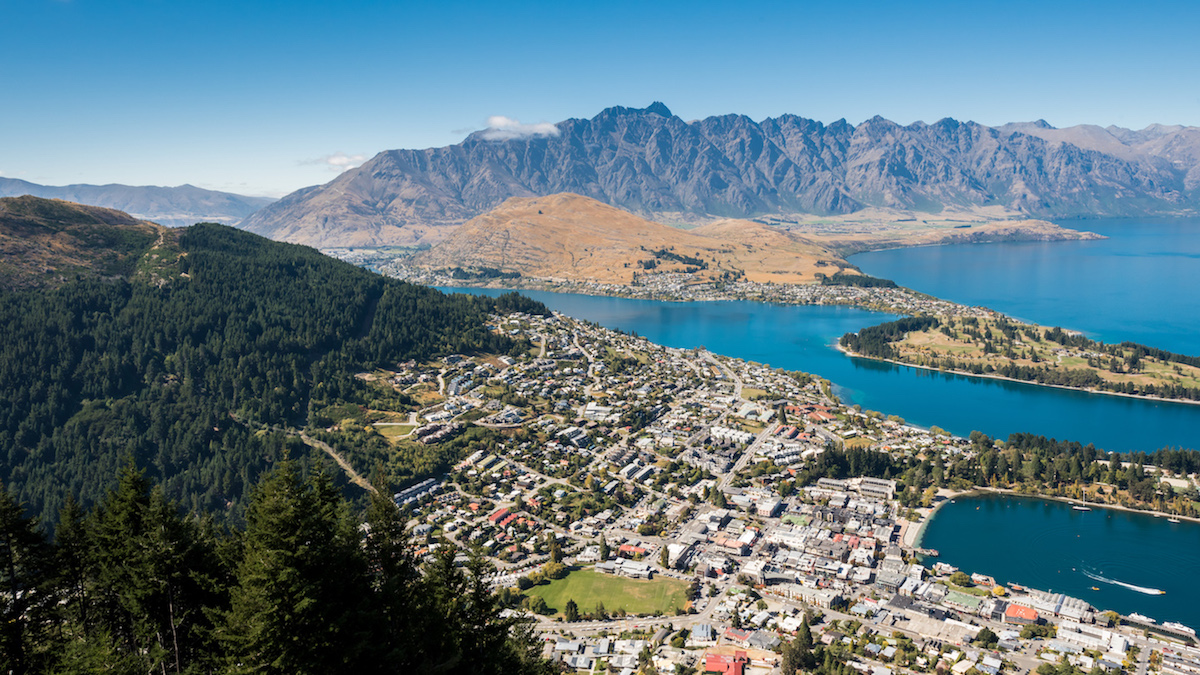 However, we did not do any of those activities! So fun, right? Actually, we were coming off our wedding planning and wedding day so we were just wanting to relax a bit. Instead, we chose to have lunch at the Stratosfare Restaurant & Bar, which is a really nice place to dine. The restaurant has nice modern touches and very clean and organized. And wherever you are in the restaurant, with its floor-to-ceiling glass enclosure, there's a view of the entire landscape.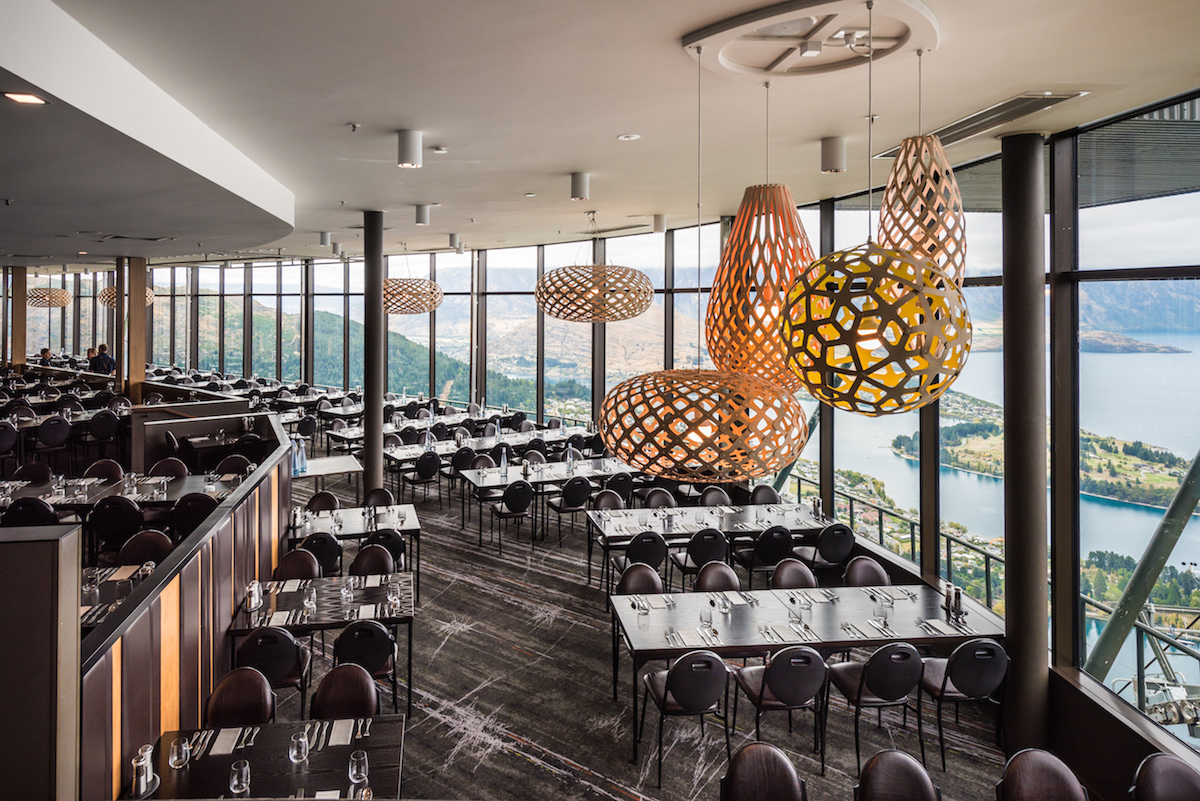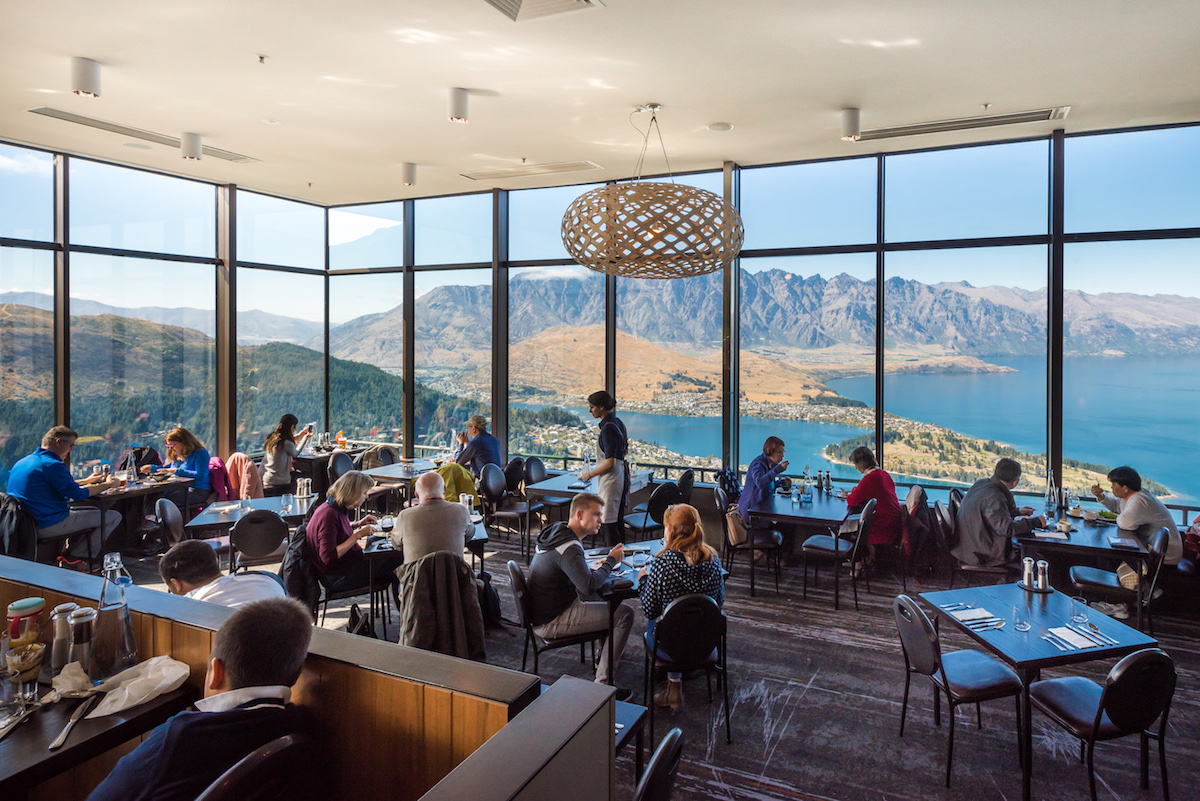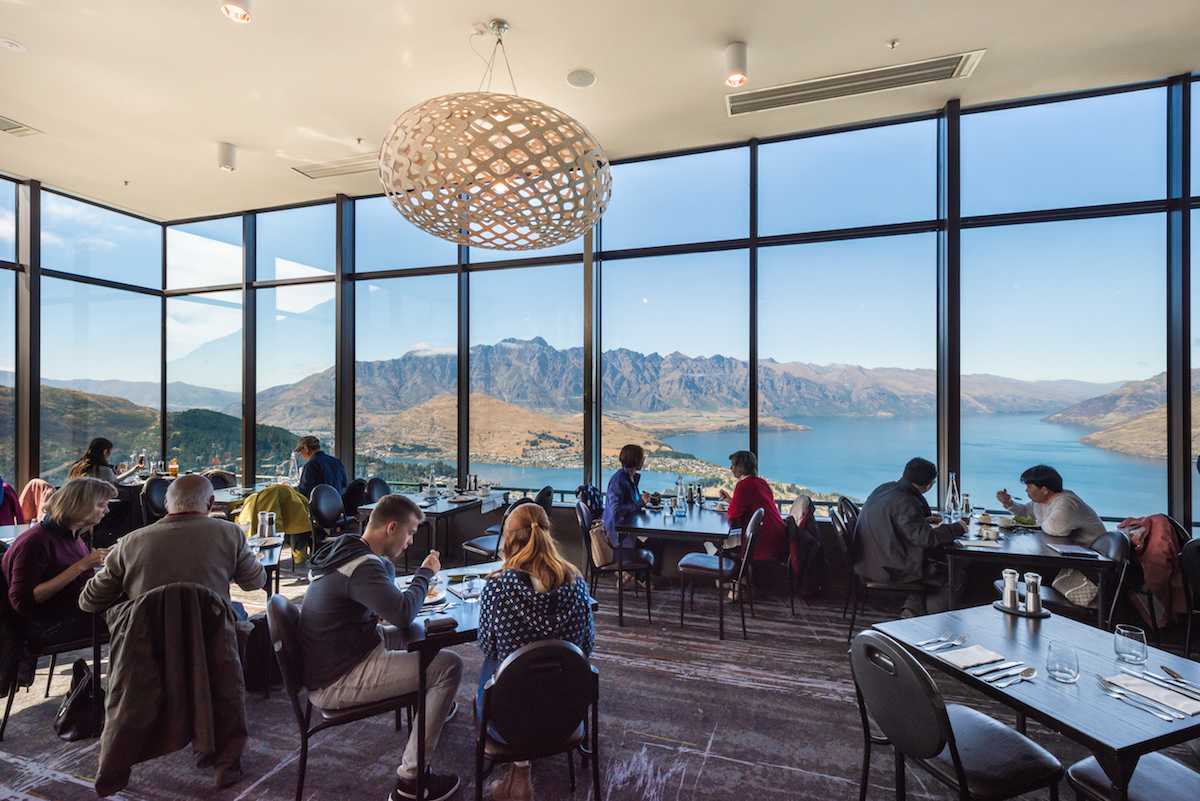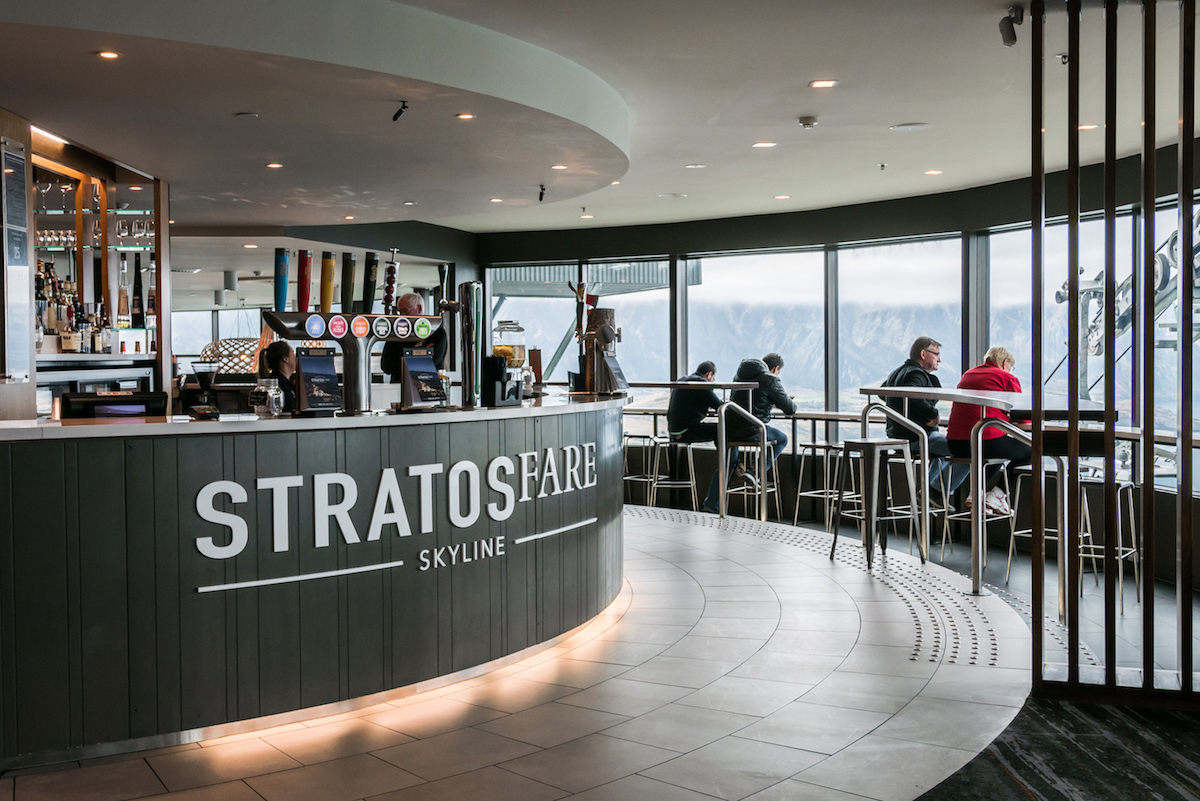 When making the reservation, we noted that it was our honeymoon in hopes of getting a window seat and did they come through! We got seated in the corner of the restaurant, which gave us a high degree of panoramic views. Even if we weren't eating here, we could enjoy this spot just for these views of Queenstown.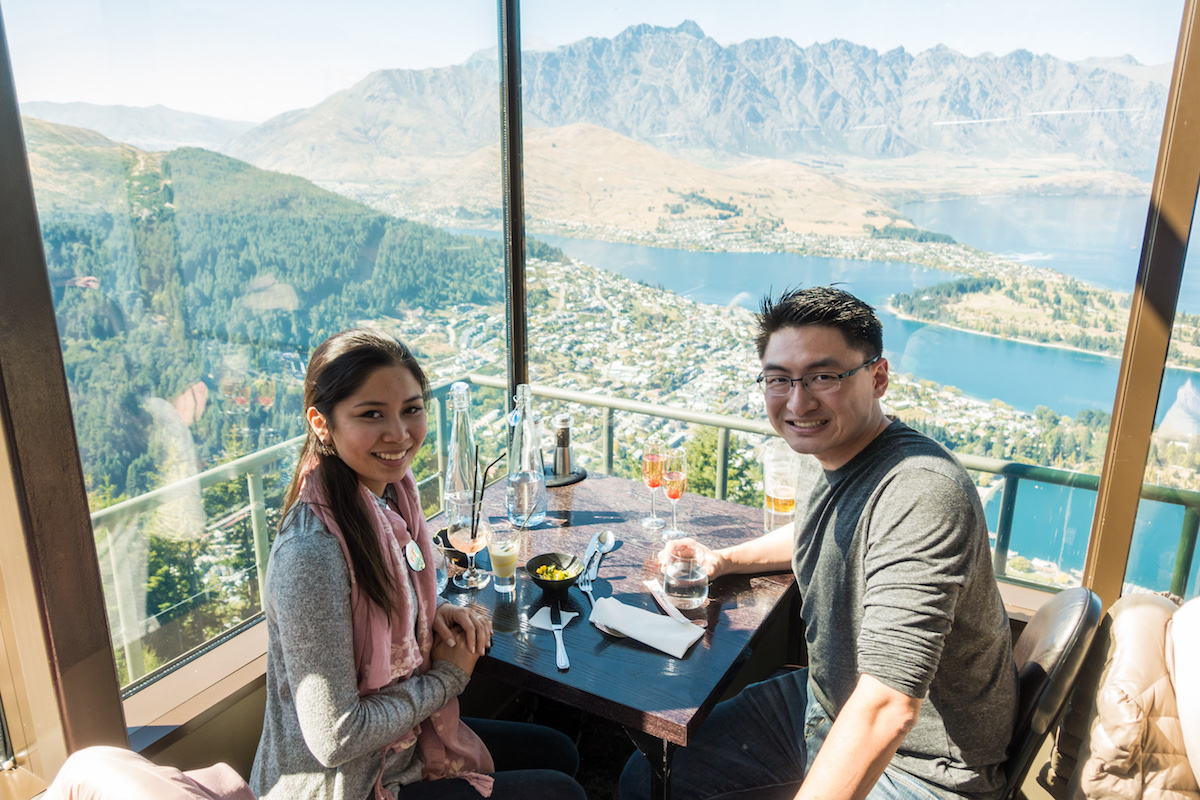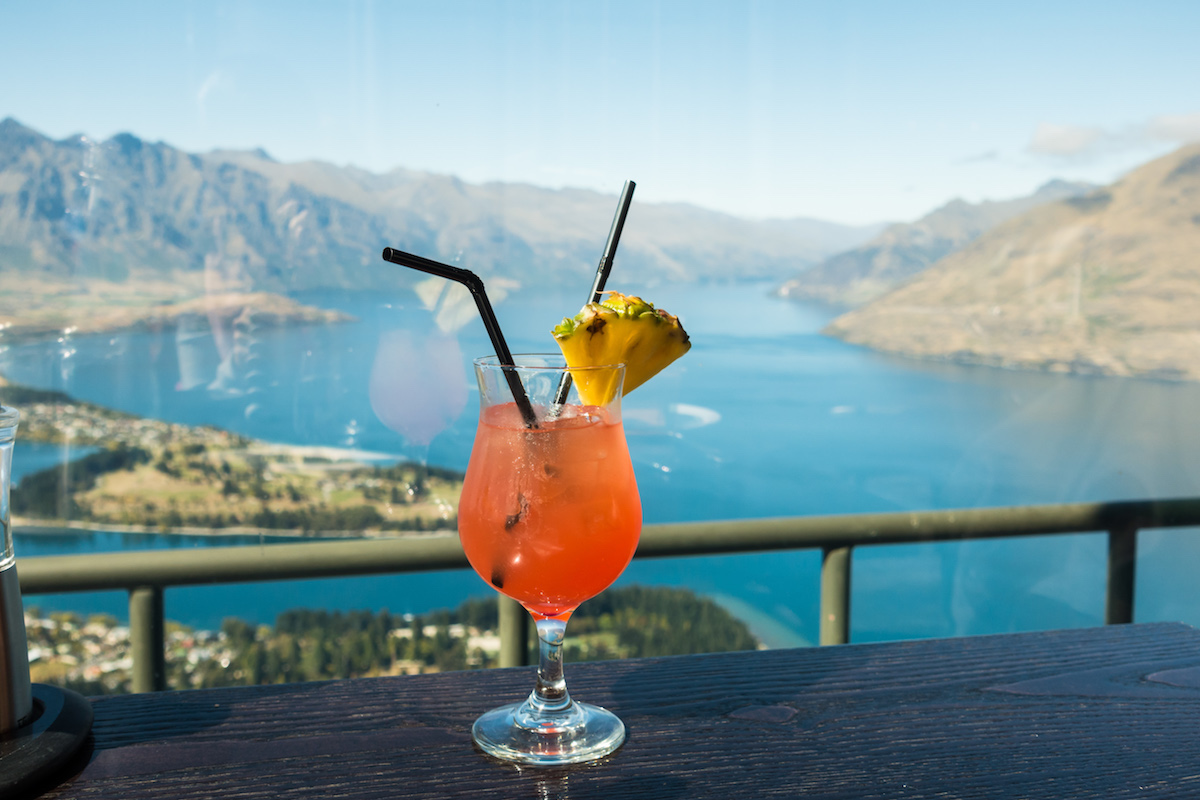 The Stratosfare Restaurant & Bar is a buffet-style dining experience. It cost us about $50 USD each for lunch, which includes the ride of the gondola, so it's really only $23. It's more expensive for the dinner, presumably because there's a wider selection to choose from and probably for the evening ambiance. There's still a good selection of food for lunch, including a salad bar, Asian-inspired dishes, sushi and seafood, a plethora of dessert options to choose from, and a complimentary beverage.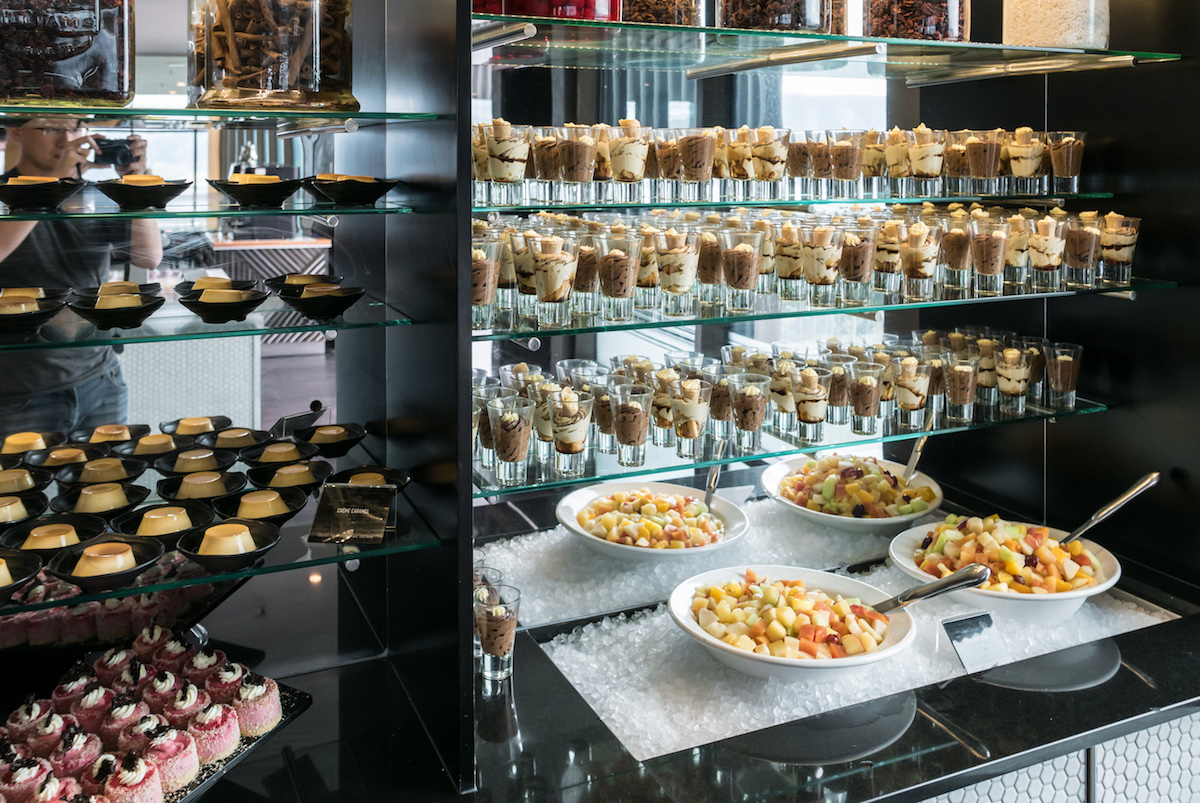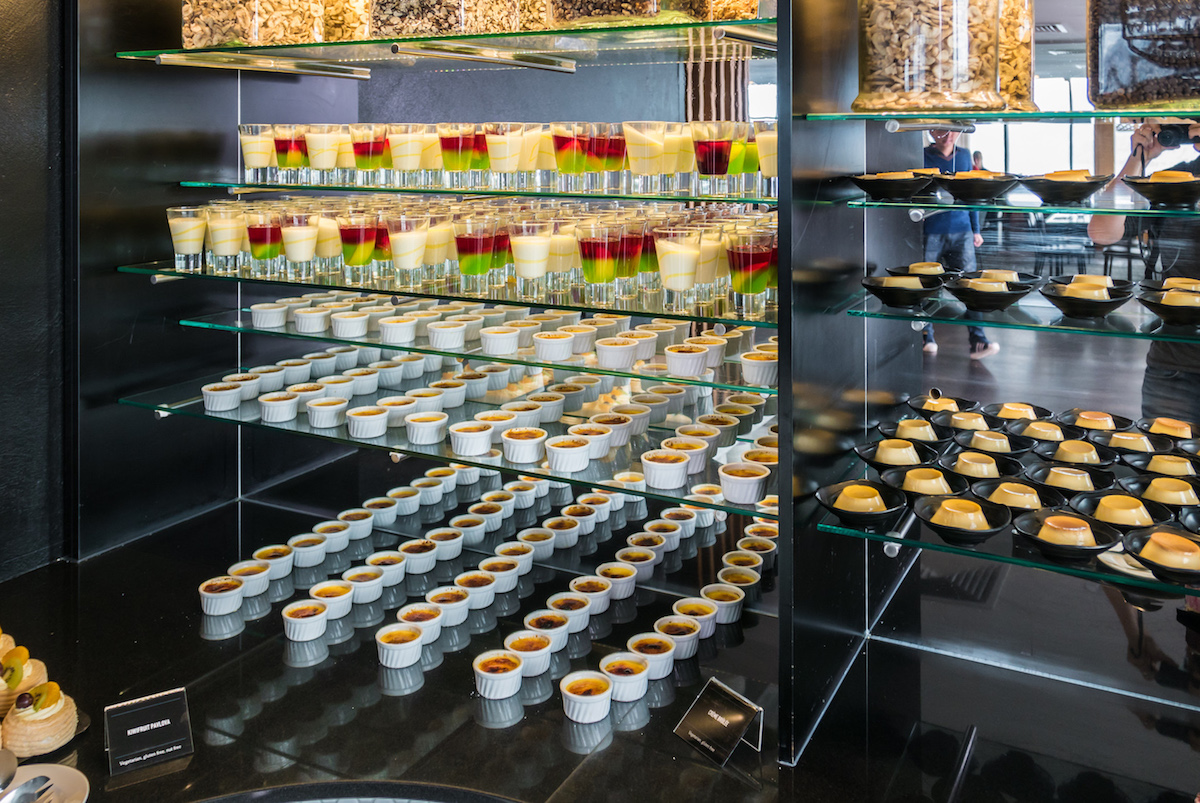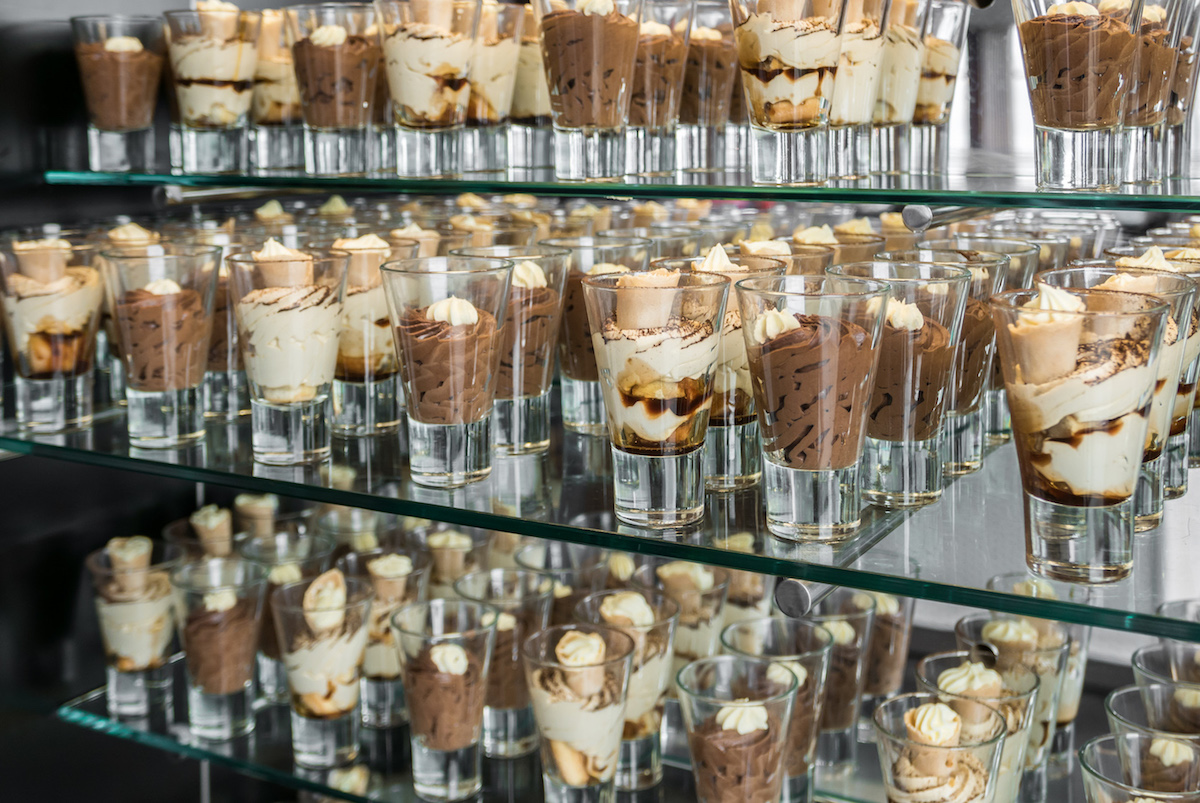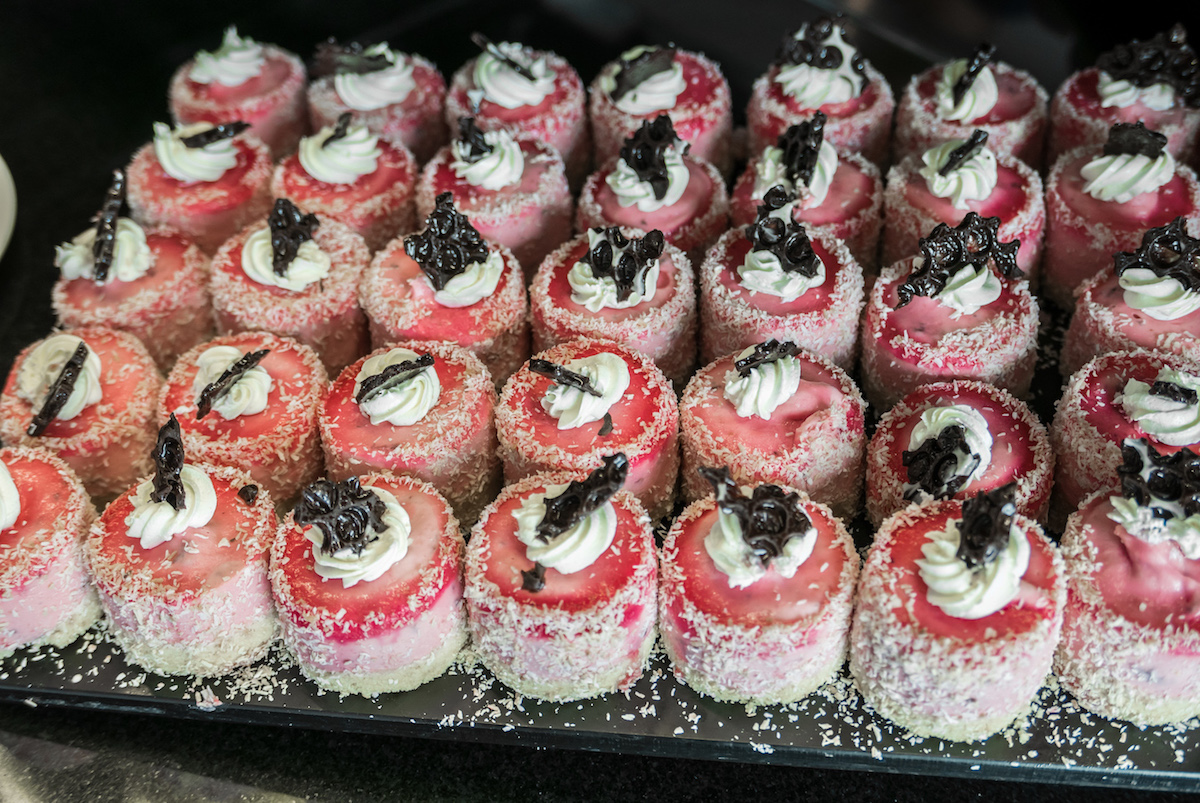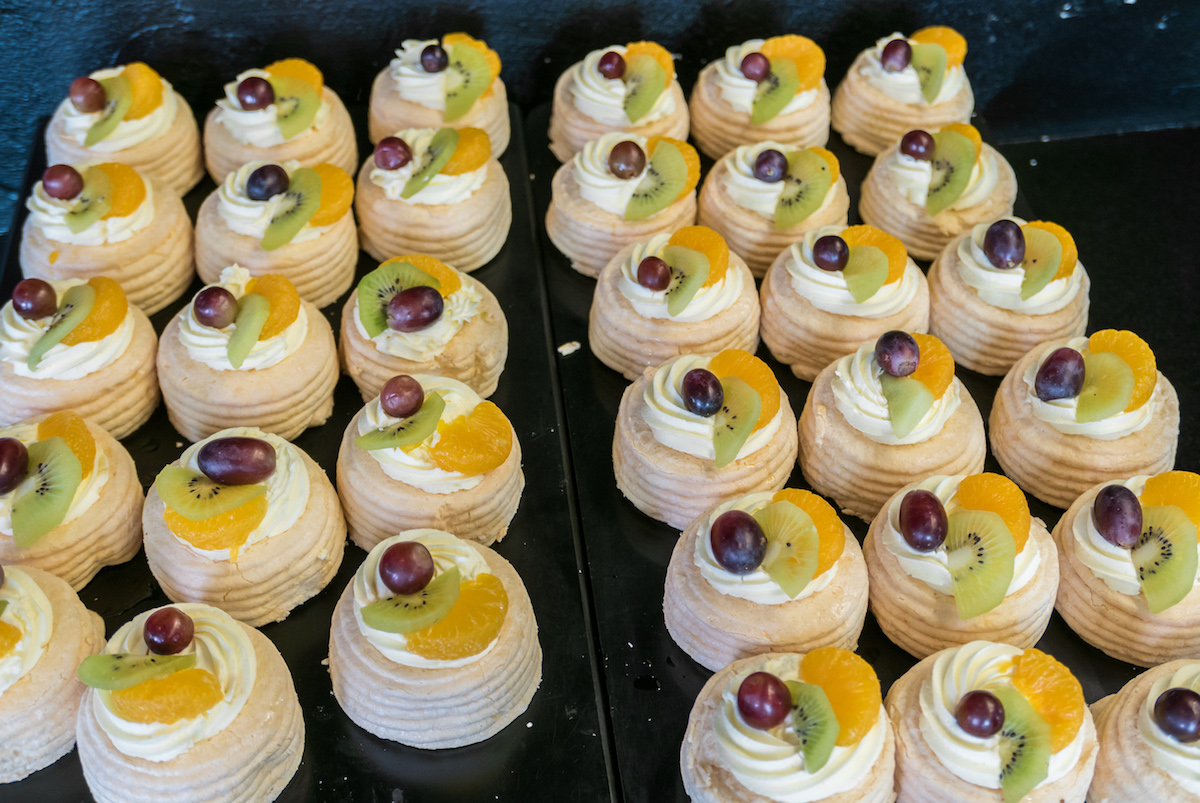 The food was not bad but could've been better. The Asian-inspired foods were clearly to cater towards Asian tourists but they weren't anything like the traditional cooking of Asian foods and were fairly disappointing. The other options like the pasta, rotisserie, salad bar were far better options. The dessert bar was clearly the best of all and will easily satisfy the sweetest of sweet tooths. For the price and the experience, it is still pretty worth it, especially for the views that you can get that's unlike many other places.
Regardless of what activity you're looking for, Skyline Queenstown is a good place to start. You can easily spend a good half-day there with the numerous activities that they offer or enjoy a romantic dinner at the restaurants. At the very least, it's probably the best place in Queenstown to soak in views of the stunning landscape.
Give us a pin if you liked this post and let us know what restaurants had your favorite views: