After an exciting but somewhat exhausting week-long road trip with the great outdoors of New Zealand, we were looking forward to some rest and relaxation whilst visiting Fiji. I probably wouldn't categorize shark diving as a relaxing activity but hotel resorts, plush beds, white beaches, turquoise ocean water, and pools with views? You betcha! In our search for the ultimate relaxation destination, we came upon one very highly rated retreat: Tokoriki Island Resort. Touted as one of the top, if not the top resort in Fiji, and also being our honeymoon, it was only fitting that we'd treat ourselves to a bit of luxury at the end of our trip.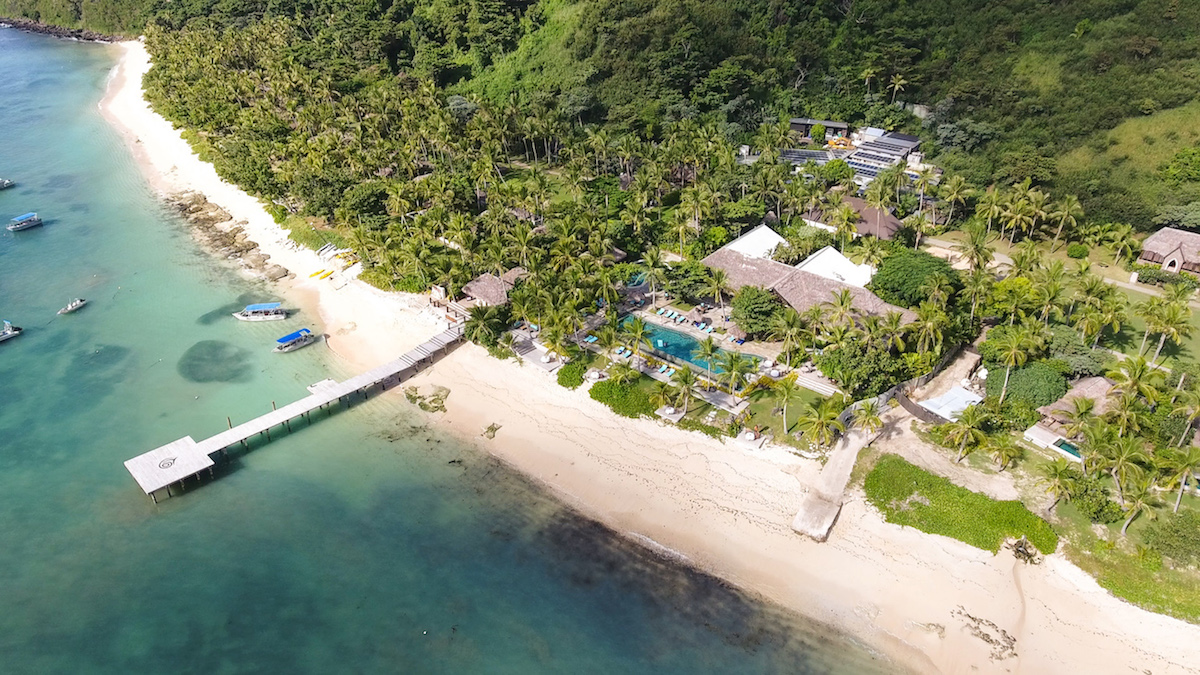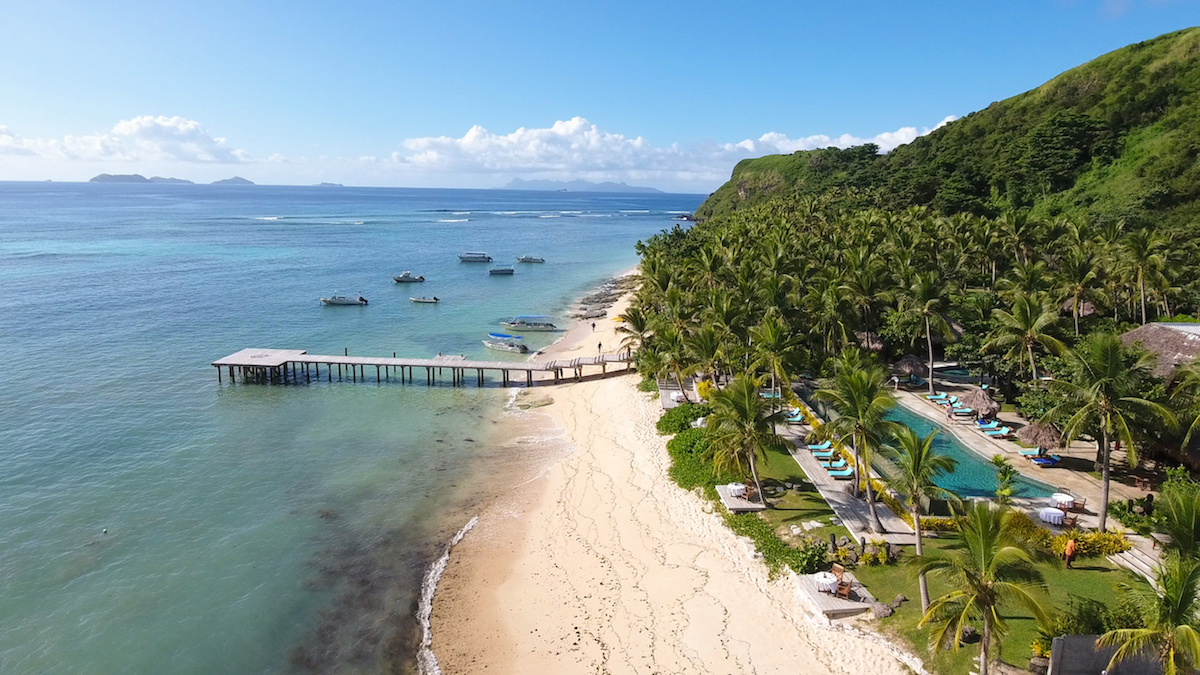 Tokoriki Island can be reached by an hour boat ride west of Nadi, within a cluster of islands called the Mamanuca Islands. Tokoriki is a tiny island with a surface area of only .3 square miles. How small is that? It makes the island 4 times smaller than New York City's Central Park and only slightly bigger than the smallest country in the world, the Vatican, at .2 square miles! However, unlike the crowds at those places, there are very few people on the island, making it a very isolated and private location.
Before getting into our review, we should note that we only stayed 3 days and 2 nights, so we did miss out on some things that we'll go through. Ideally, to get the full experience and if your budget allows, 4 or 5 days+ may be the optimal amount of time.
So, was the Tokoriki Island Resort every bit the luxury destination that we hoped for? Let's find out!
Room: Sunset Villa Pool – 5/5
There's only three rooms types at the resort; the most basic Beachfront Bure, then Beachfront Pool Bure, and its most luxurious, the Sunset Pool Villa. Aaaand, being our honeymoon (Ok ok, won't mention it again), we had to opt for the Sunset Pool Villa. The room normally costs around $900/night, which is pretty darn steep for us as we are more budget travelers, so I used some points to get it down to around $400/night. Not too shabby!
But even if you paid full price for the Sunset Villa Pool, it is totally worth it! The moment we walked into the room, our eyes were immediately fixated on the breathtaking view and the personal mini-pool. We almost could not pay attention to our porter explaining the important details of our room. I mean, just look at this view: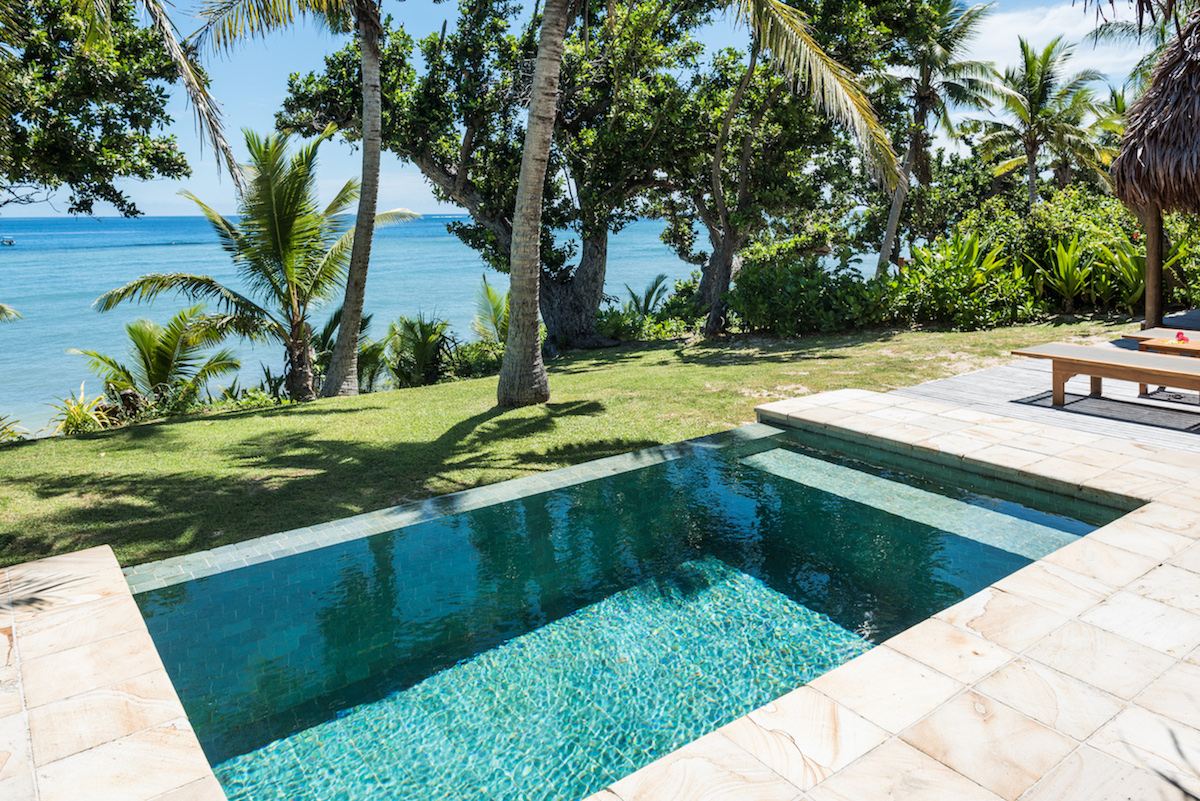 Believe it not, there is more to the room than this. The interior also had a separate living area and a bedroom, both featuring ocean views. The bedroom has an air-conditioner, which is a must-have during the hot and humid days, and the bed has thick plushy pillows and high-quality linens. There is also a spacious bathroom with dual vanities, an open standing shower, and set of robes.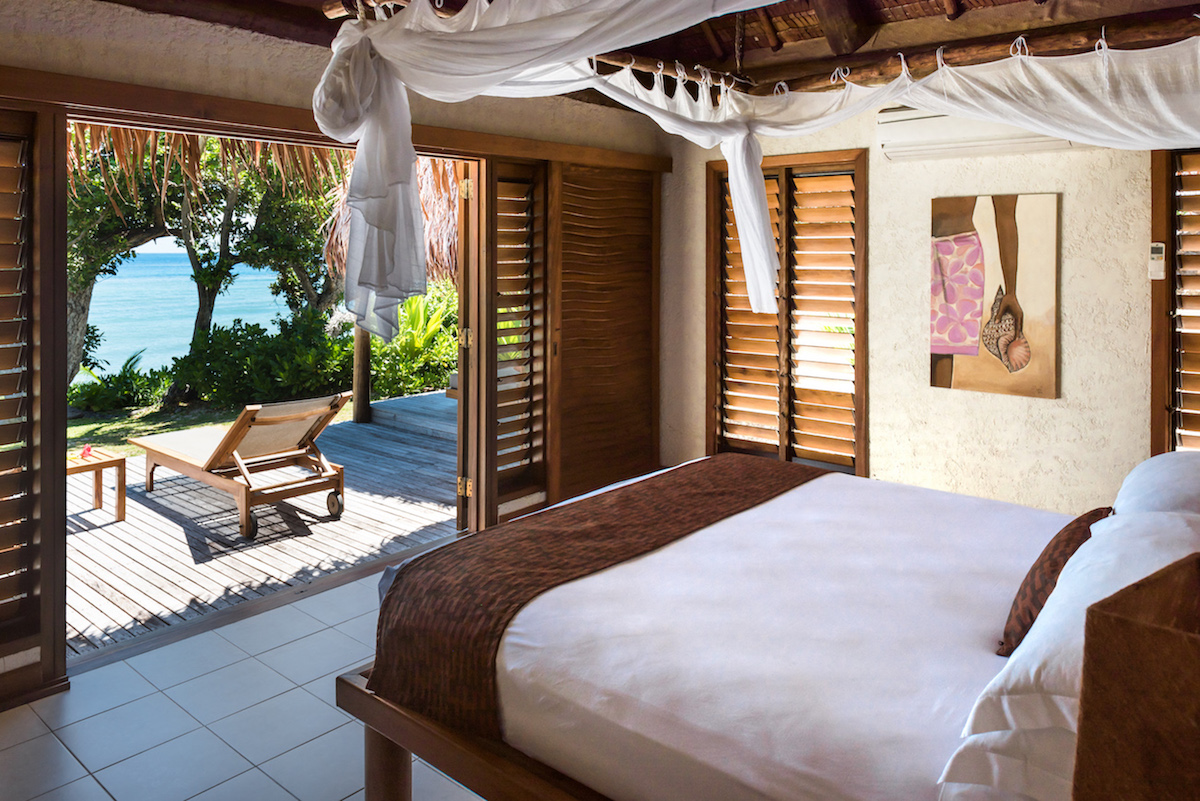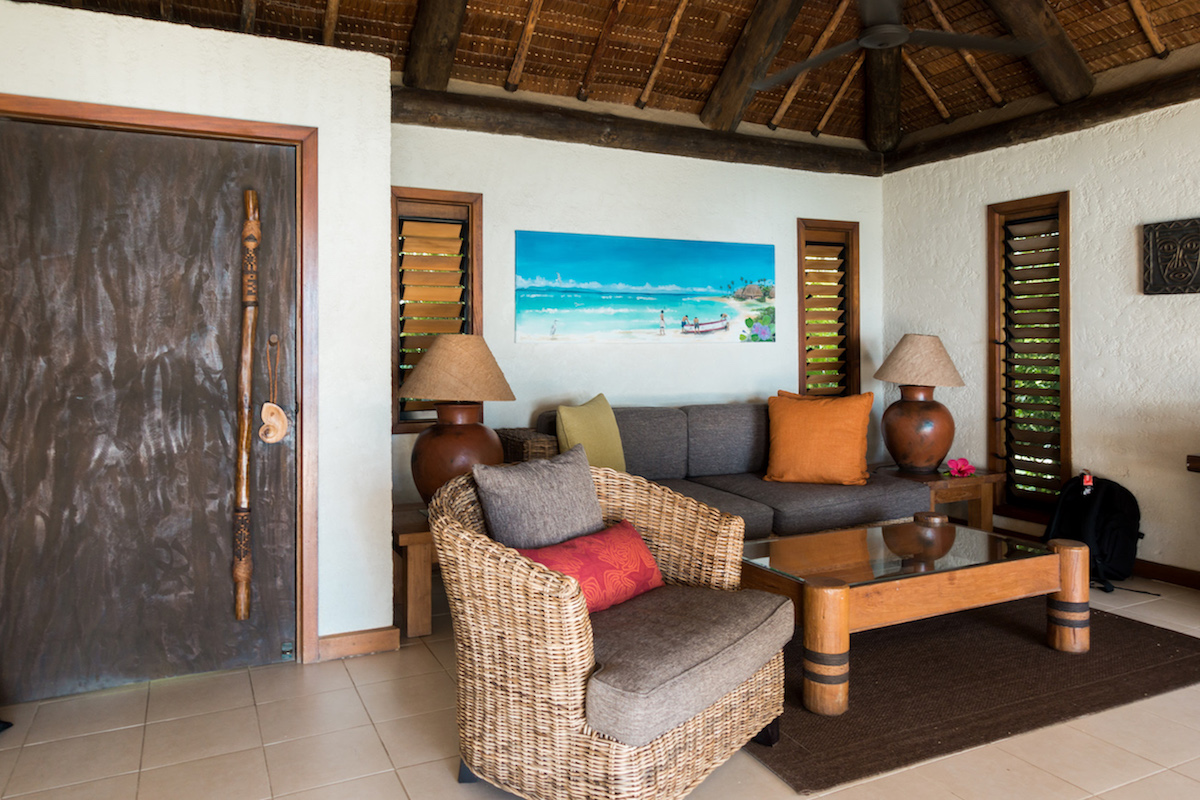 For the exterior, we've already addressed the pool. In addition to that, the patio also features a pair of lounge chairs if you want to get your tan on, or you can opt for the cabana bed if you want something shady. Either way, you can't really go wrong. There is also an outdoor shower, which we thought was a very nice touch. And from our patio, we had our own personal path down to the beach, so a quick 30-second walk and we were relaxing in the white sand and warm ocean water.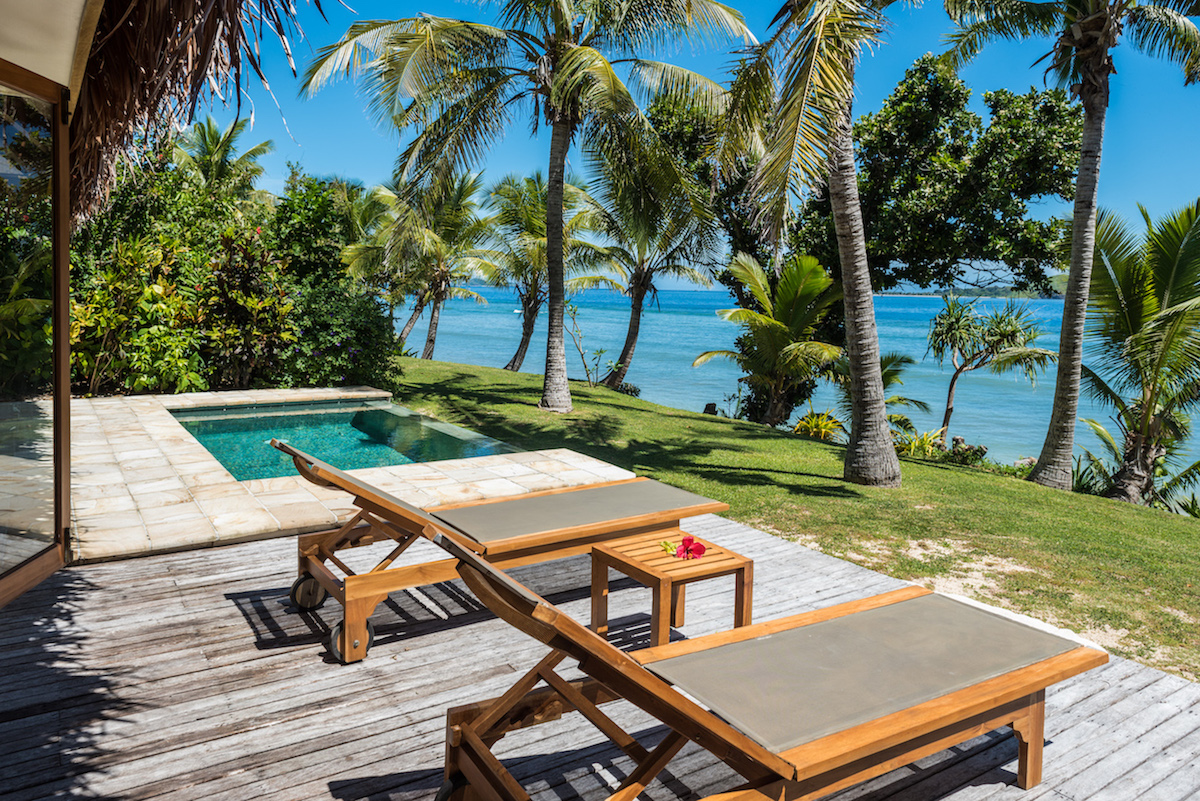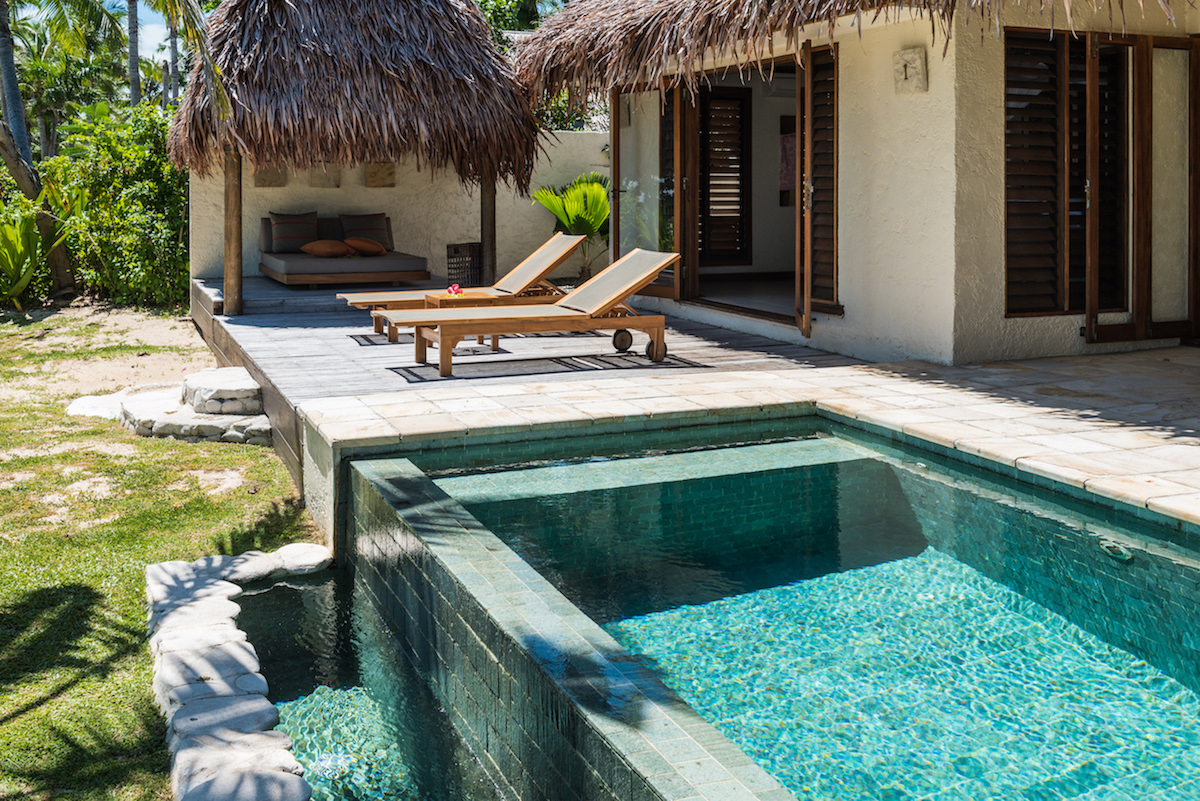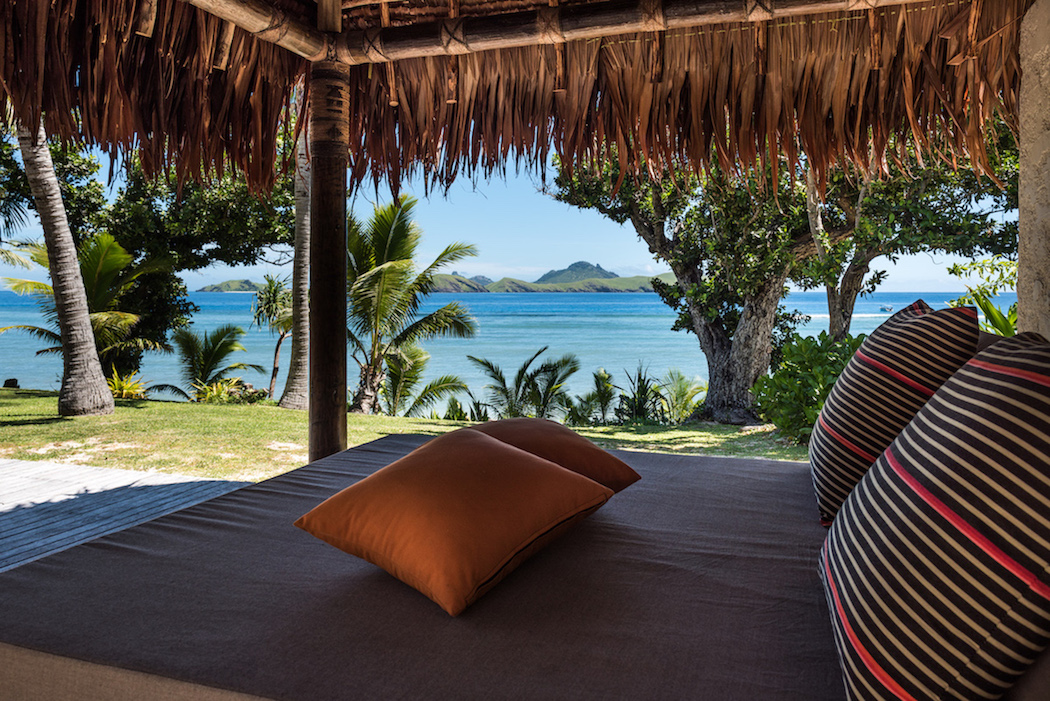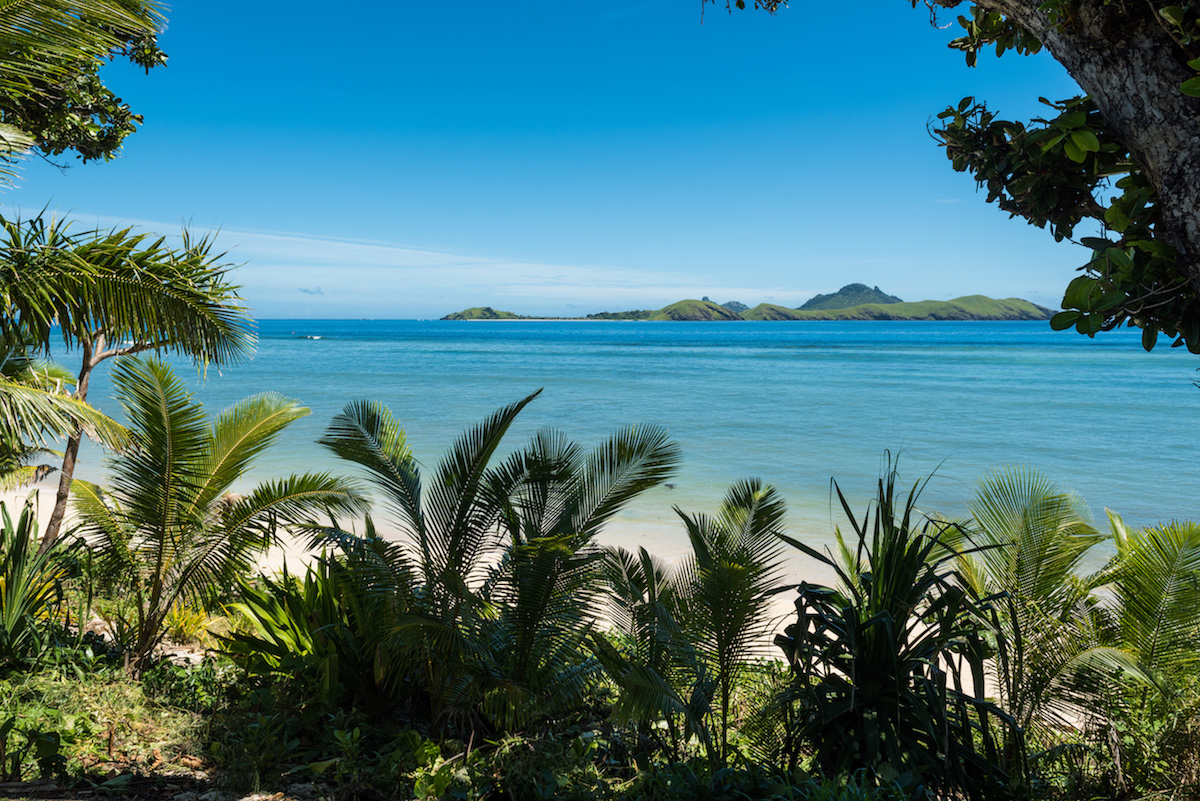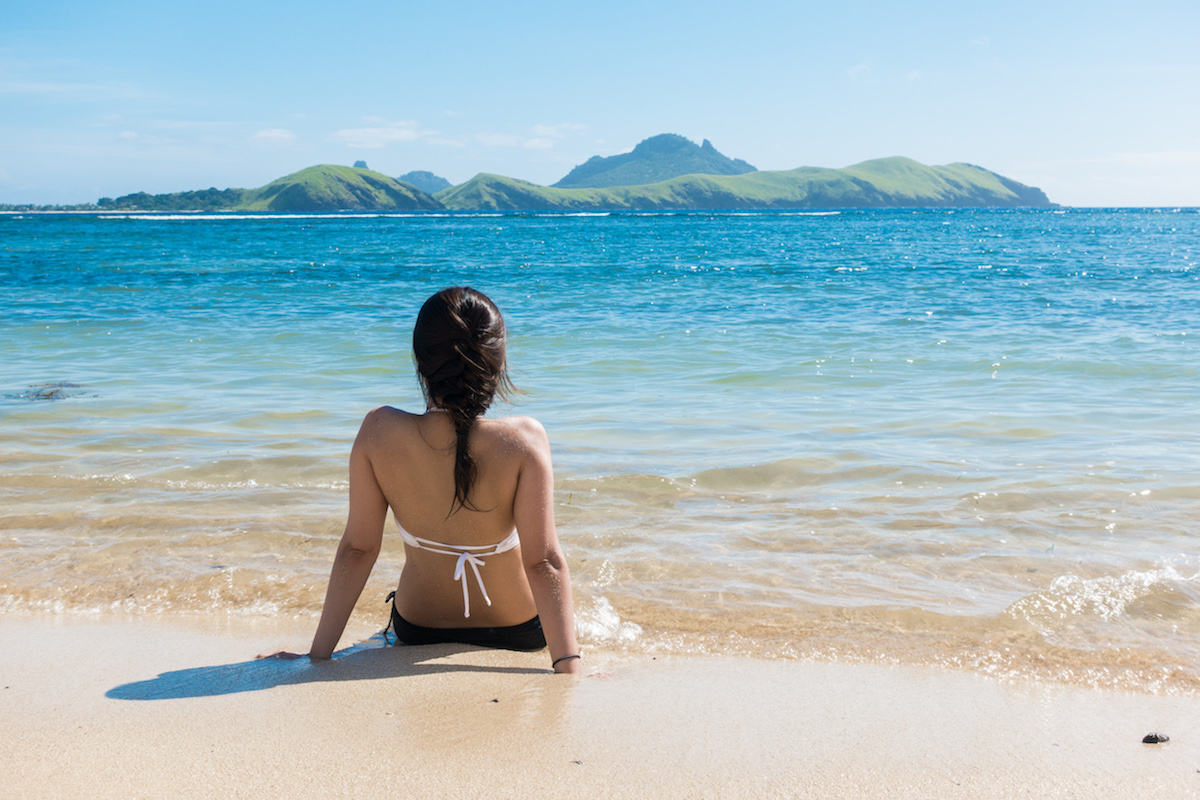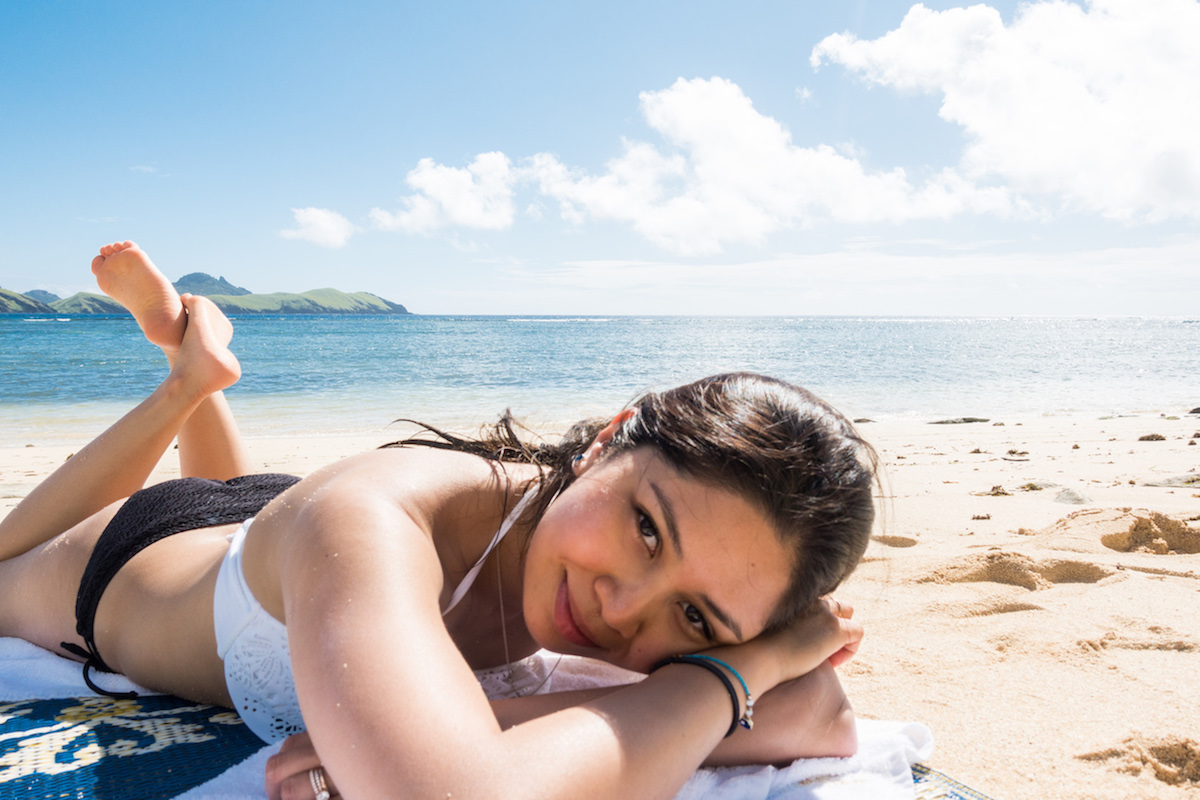 One detail to know is there is no TV or Wi-Fi in the room; in fact, none of the rooms have these and the only TV available that I know of is in the TV Lounge, which I don't know where it is. I know, so not helpful! The only Wi-Fi available is in the lobby. The idea for this is to get you to completely relax and get away from any kind of media, a nice concept to fully enjoy your stay at the resort and shut out the outside world. We did get complimentary laundry service, which was an awesome feature to have compared to hand-washing everything.
There really isn't anything I can even nitpick about this room. It's just about perfect and is every bit the paradise we imagined the room to be.
Resort Layout and Amenities – 5/5
Our favorite feature of the resort was easily the infinity pool overlooking the ocean. The pool color matches the color of the ocean, so it looks like it blends together. It's also surrounded by palm trees and lush green shrubbery, which definitely gives that island paradise feel. We loved just lounging in the pool, enjoying the sweeping views while sipping on a cocktail. It didn't get much better than that!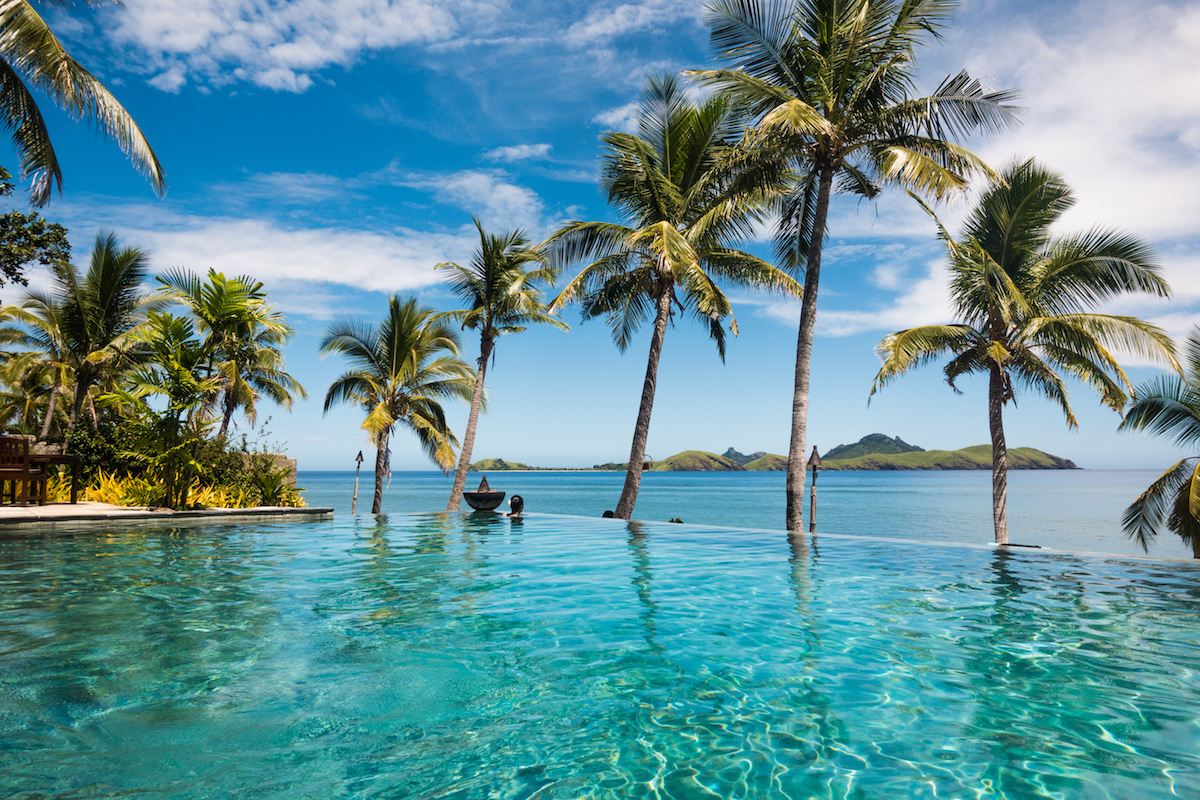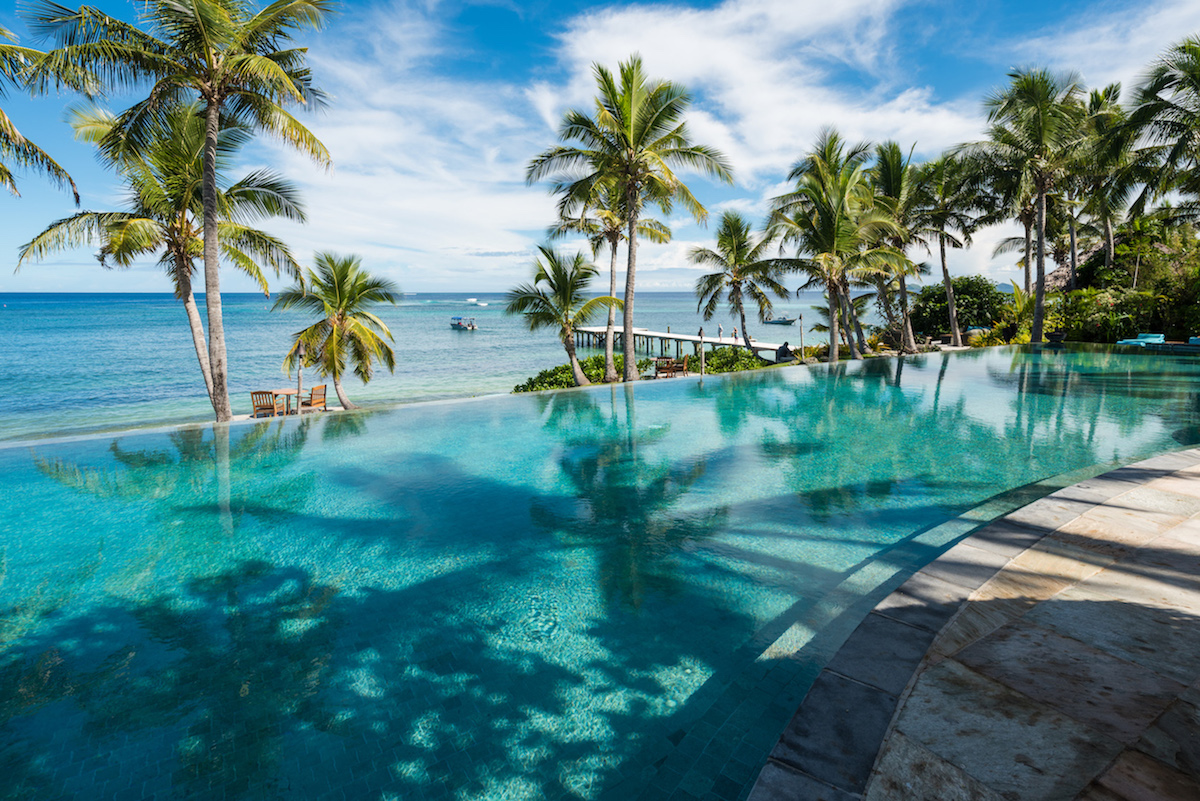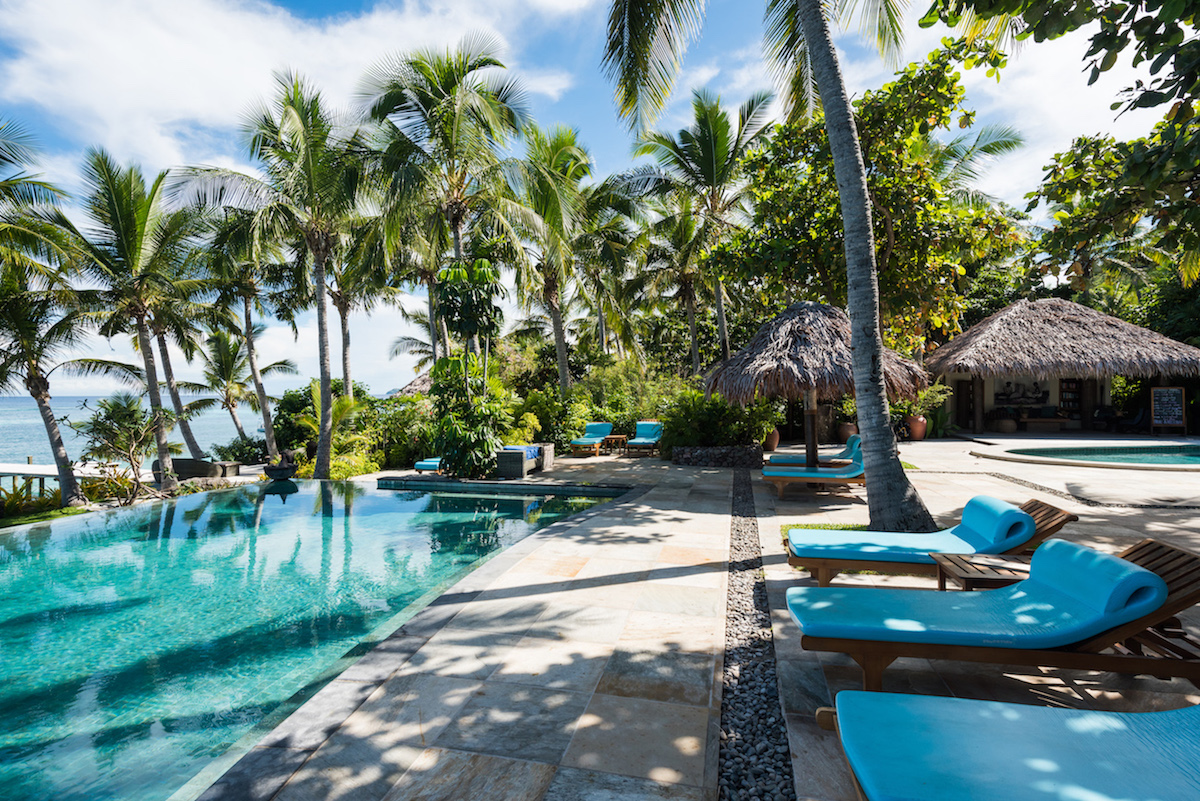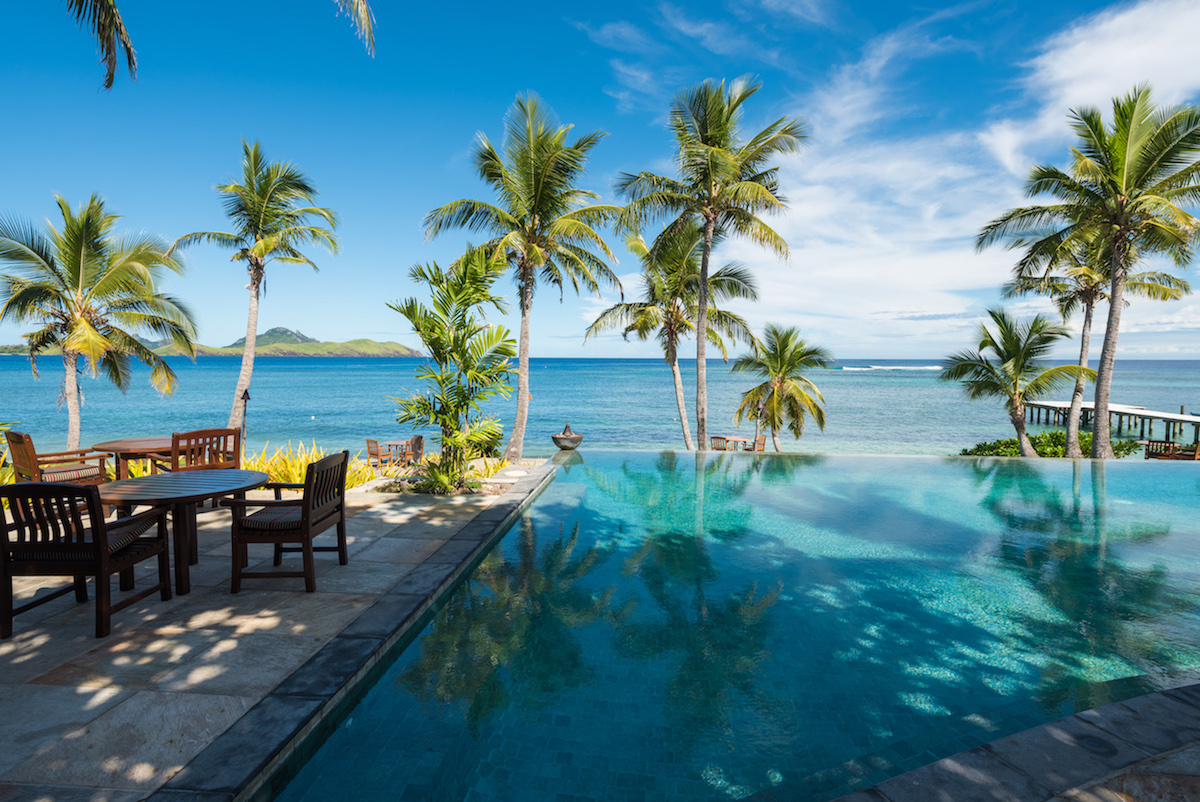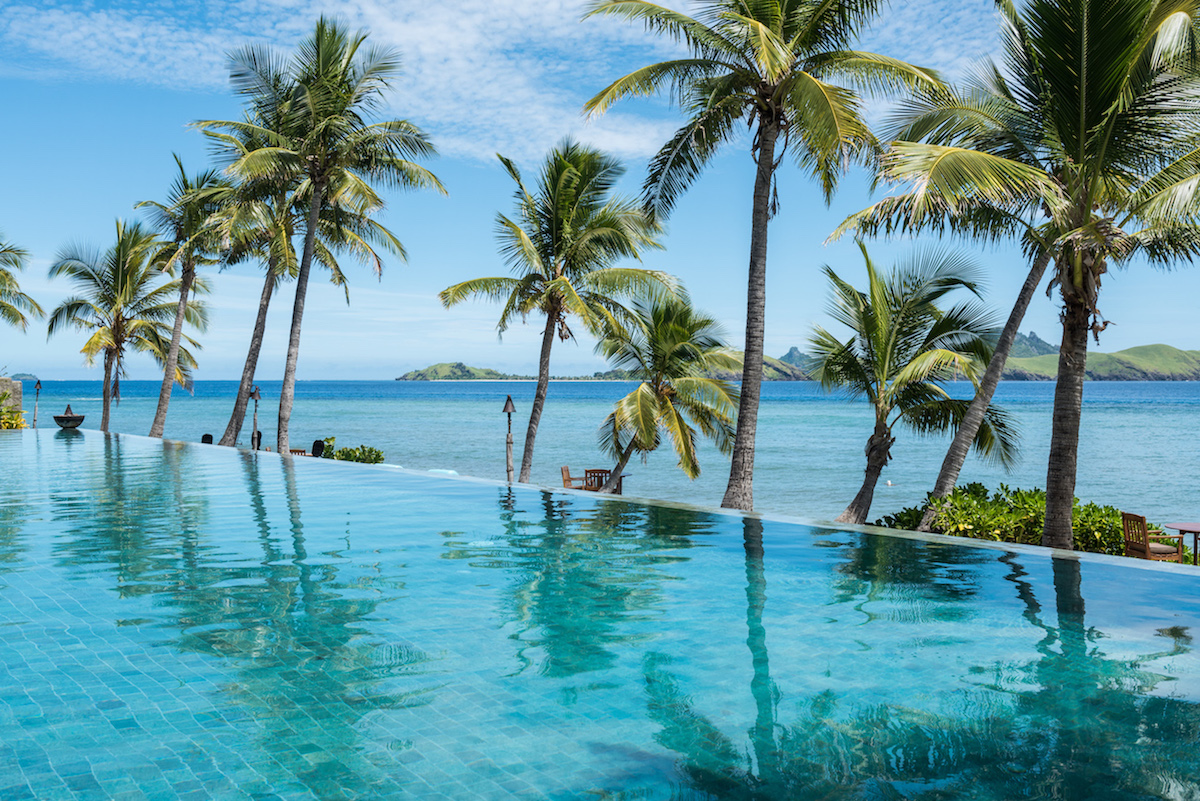 Around the pool are plenty of day chairs, each one having a pool float that you can take into the pool or into the ocean. As if we needed something else to relax in the pool, I thought the pool float was an ingenious thing to have; instead of laying down on a chair outside of the pool, we could lay down on a chair in the pool! So so brilliant by Tokoriki.
The best thing is with few people at the resort, the pool was never crowded. There were times where it was just the two of us for up to an hour. Even with the pool available to all guests, we loved being able to have that level of privacy and enjoy ourselves.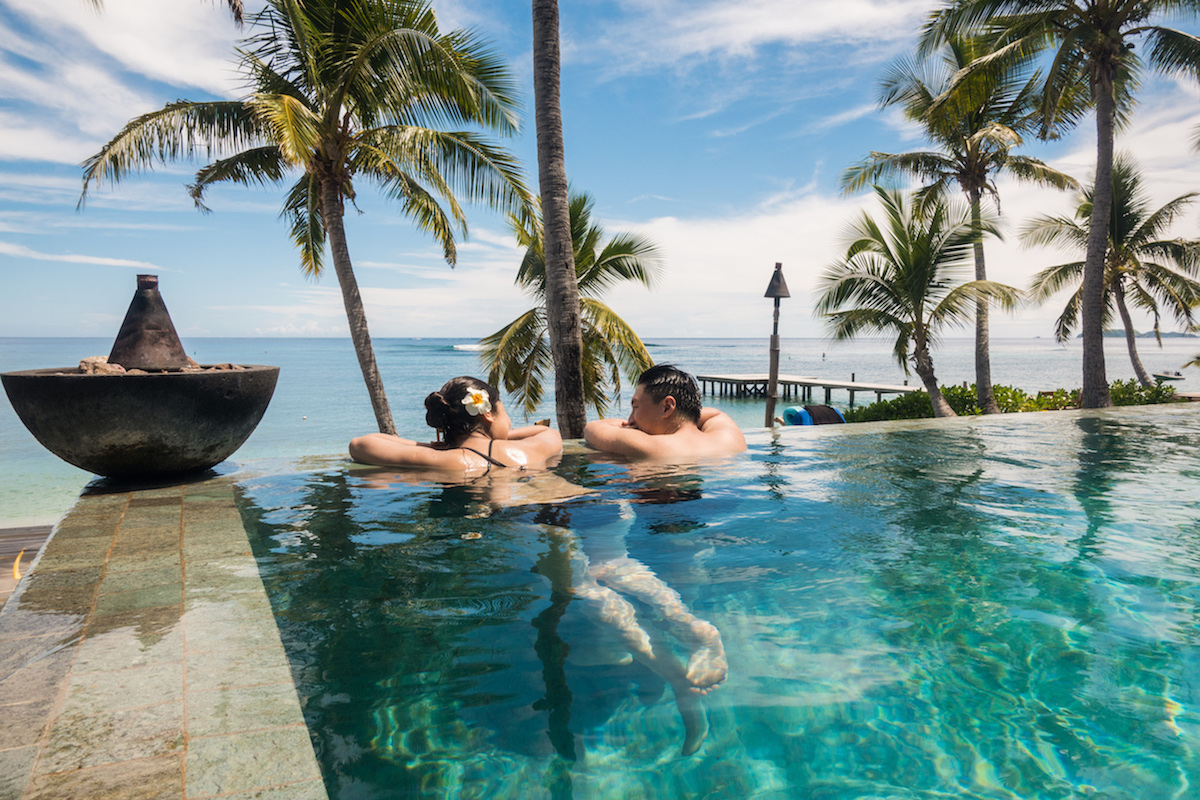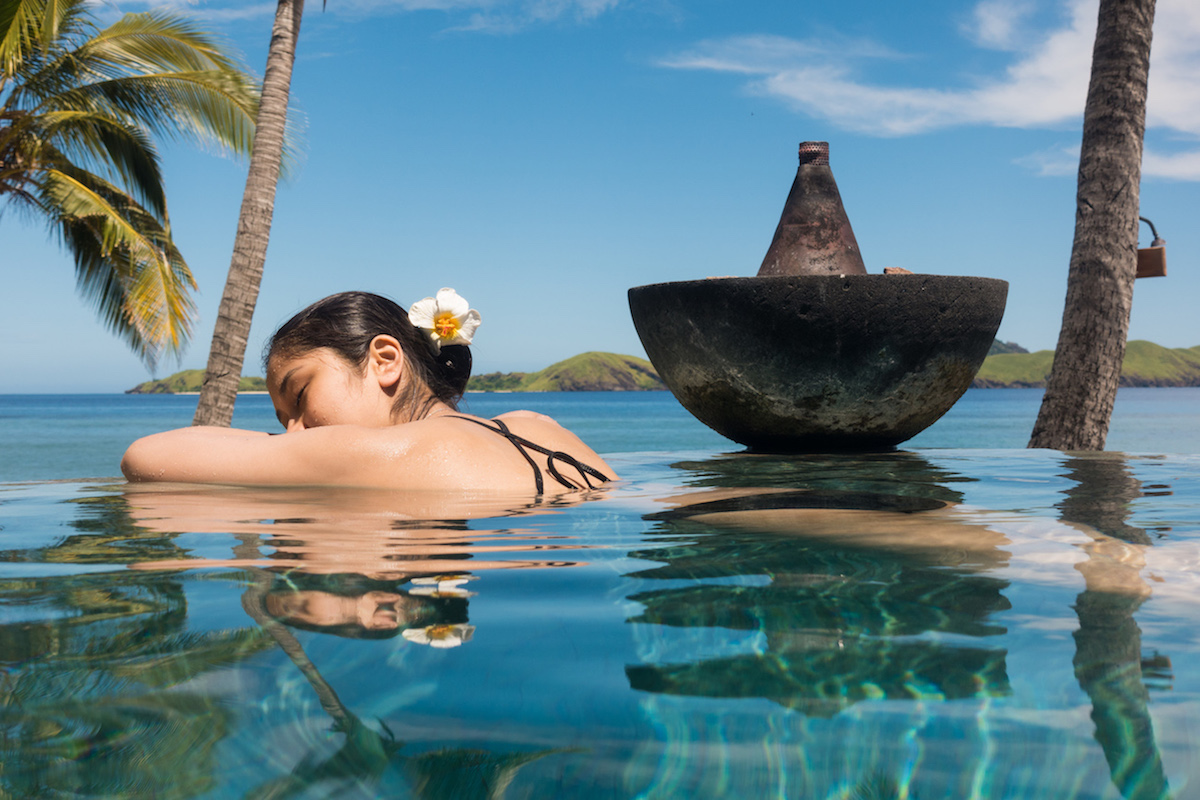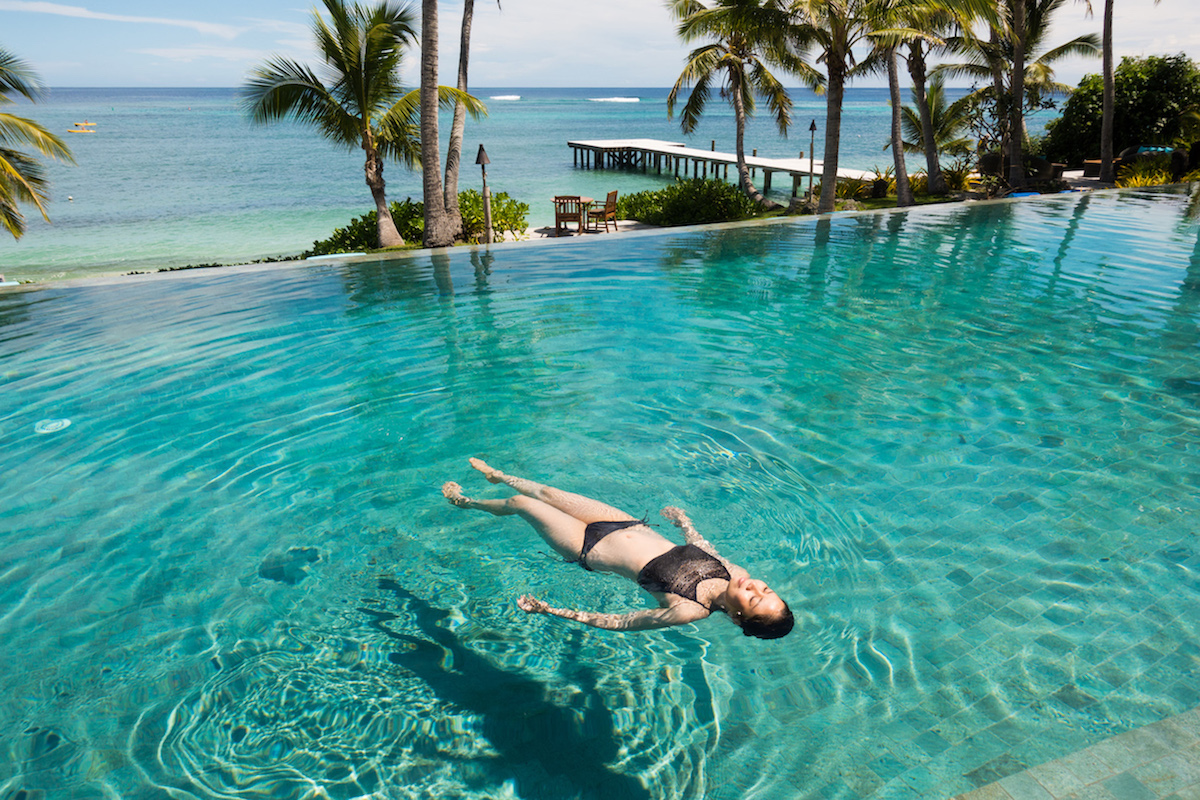 With only 36 total rooms and villas, you may think the resort is small but it's actually quite expansive. Of course, it's situated right by the beach where you are only a few steps away.
Within the resort is plenty of open space to walk around and enjoy the lush green plants and tall palm trees gently swaying in the wind. There are a couple of things that you can find, including a church, flower garden, teppanyaki restaurant, and the spa center. We attended a service that was done in Fijian, a nice way to see some tradition in their worship. The flower garden is small but has a lovely collection of flowers. We also did get a complimentary 15-minute foot massage, which was probably the best foot massage we've ever had as we both almost fell asleep! We didn't do anything else in the spa but other guests have told us that it is excellent. There is also a hiking trail that allows you to go to the top of the island for more ocean views. If you do need to use the Wi-Fi, the lobby is the only place that'll have it, though we could get a connection by the pool too.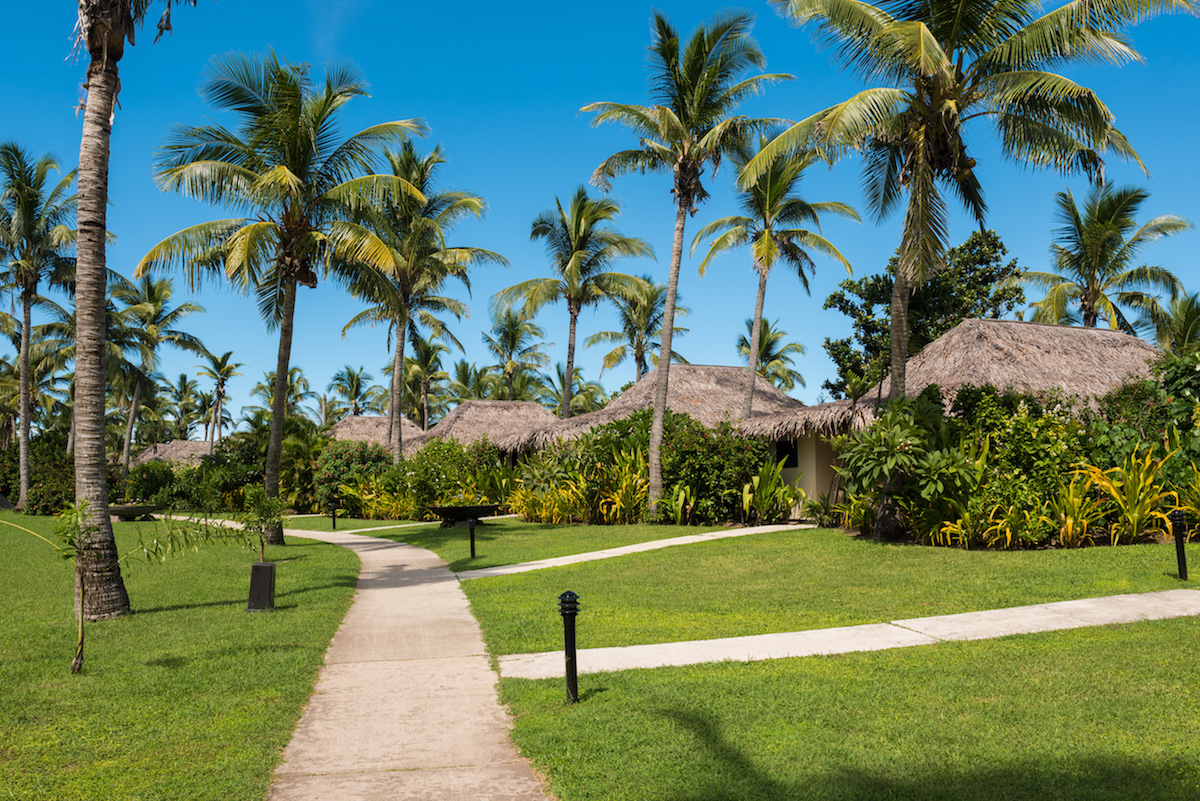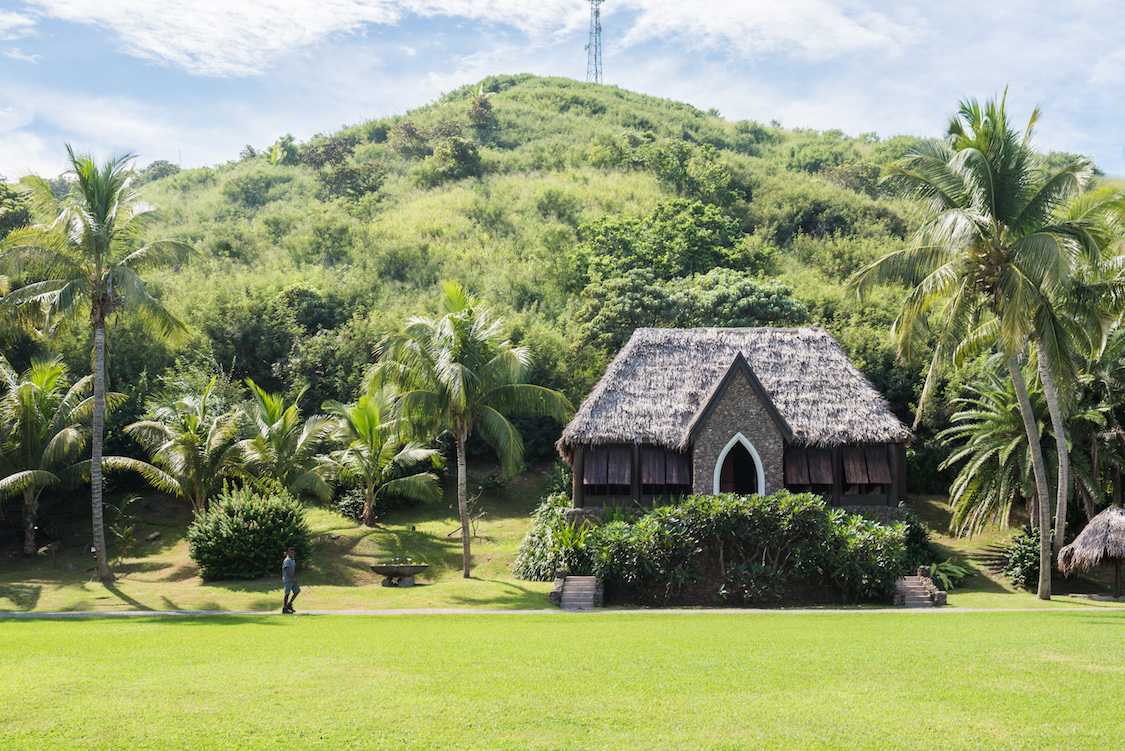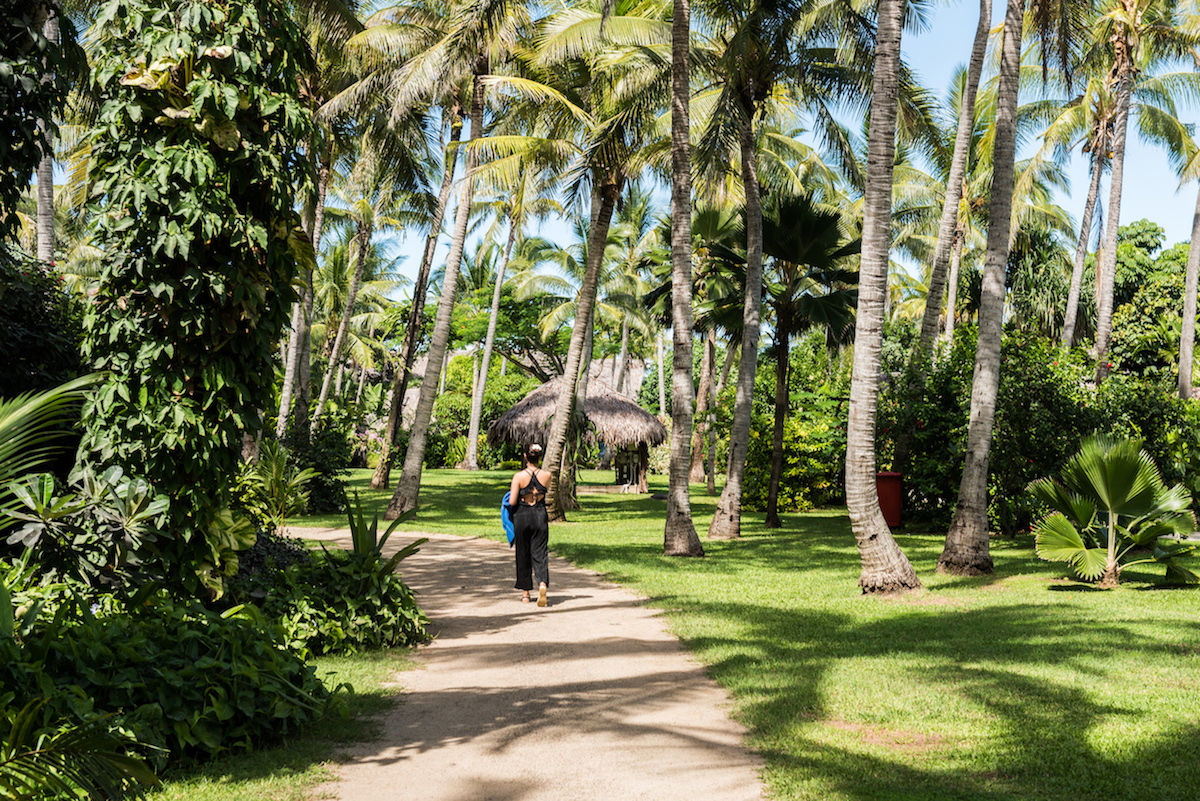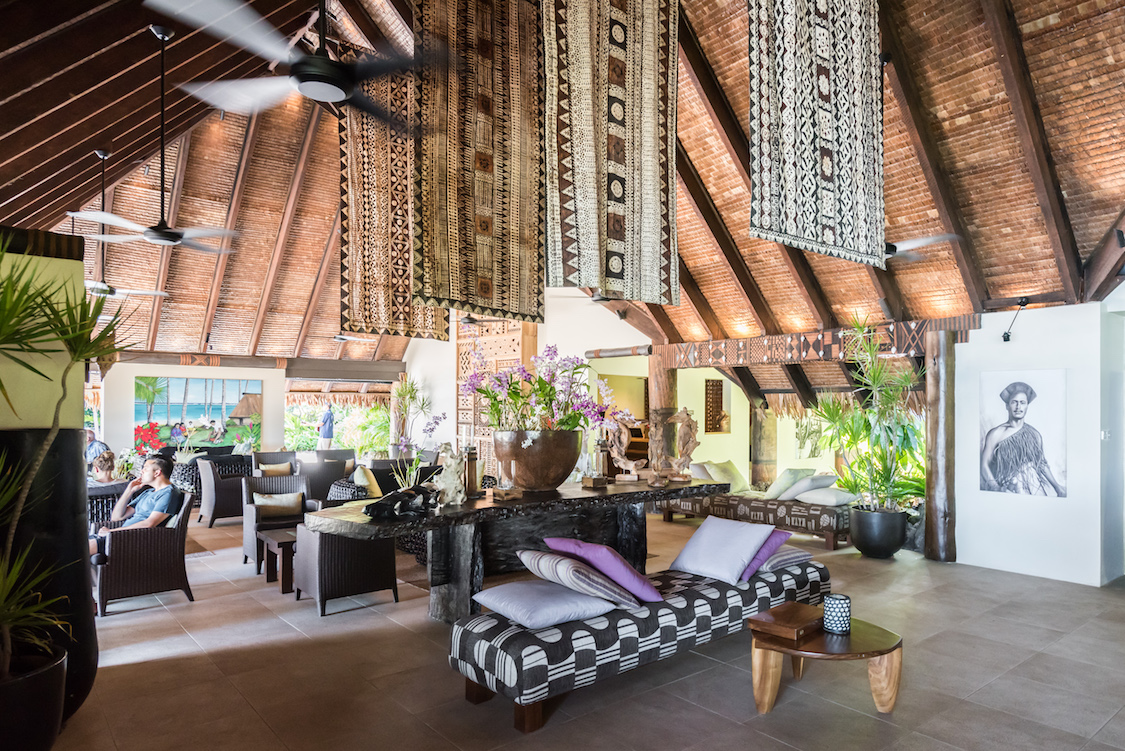 Activities – 4/5
Like we mentioned earlier, we were only on the island for a short period and it's probably best to stay longer. Also, being isolated on an island may not lend a lot of options if you're looking for something to do. Our score is based purely on our experience, but given that we didn't get to try many things and other people had positive experiences, we could bump up the score a bit. There is also an activity list on the Tokoriki Island Resort website.
The reason it's optimal to stay more days is that certain days of the week will have different activities; if you're not at the resort for a particular day, then you will miss out on those activities. Unfortunately, it just so happened that our stay totally missed out on a couple activities, especially the most interesting ones like the island hopping tour and the Castaway Island tour, the site for the film "Cast Away." So unlucky!
The dive shop there is where you can book tours and rent out kayaks or snorkel gear. However, there were only two kayaks available so each time we were interested in taking them out, they were being used. Not sure why there's only two but it didn't work out for us. All tours finish before or at 4:00 PM and the shop closes at 4:00 PM. Depending what combination of activities you do, you may be done really early and can't do much until dinner time. We like to be out and about and, while we do like to relax on occasion, this is a bit too much time in between for us.
The only activities we decided to do was scuba diving and snorkeling. Mat didn't have her PADI certification so we opted for the Discover Scuba Dive, which involved basic instruction, practice in a pool and one dive. Our instructor was Will, who was absolutely terrific in guiding Mat with the lessons and later in the dive. We'll get more into the dive into a later post but it was definitely a great dive with lots of healthy colorful coral and marine life.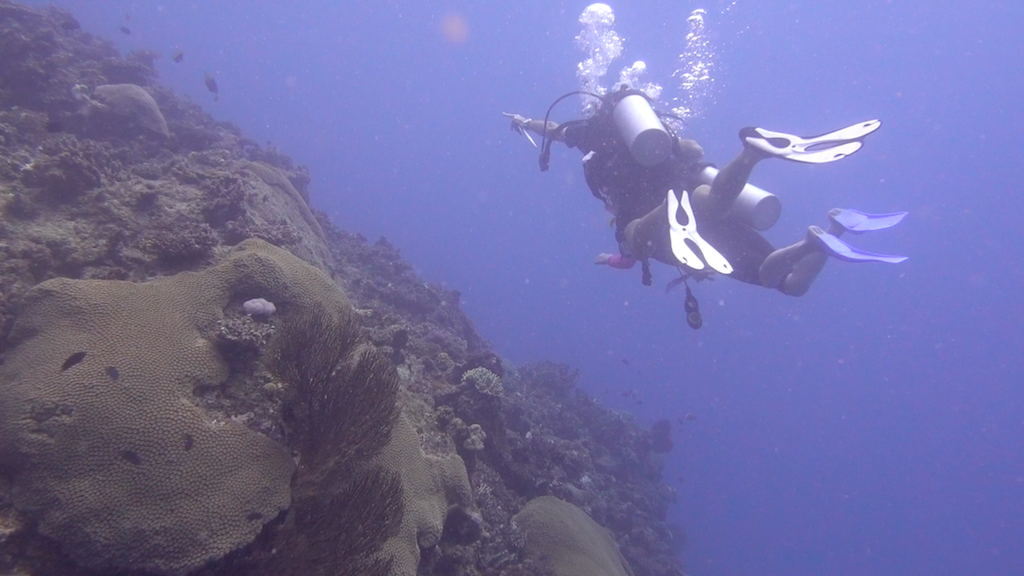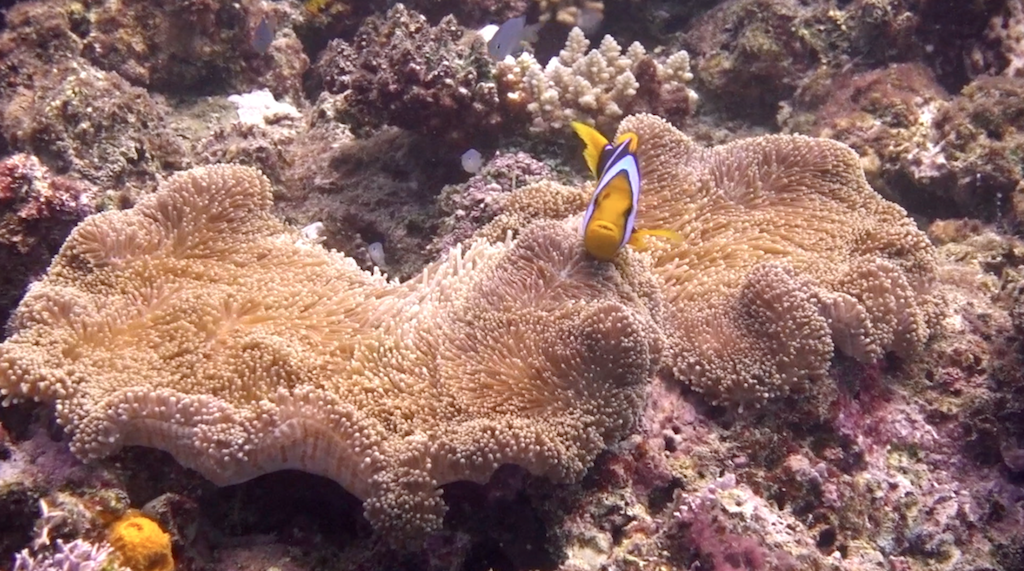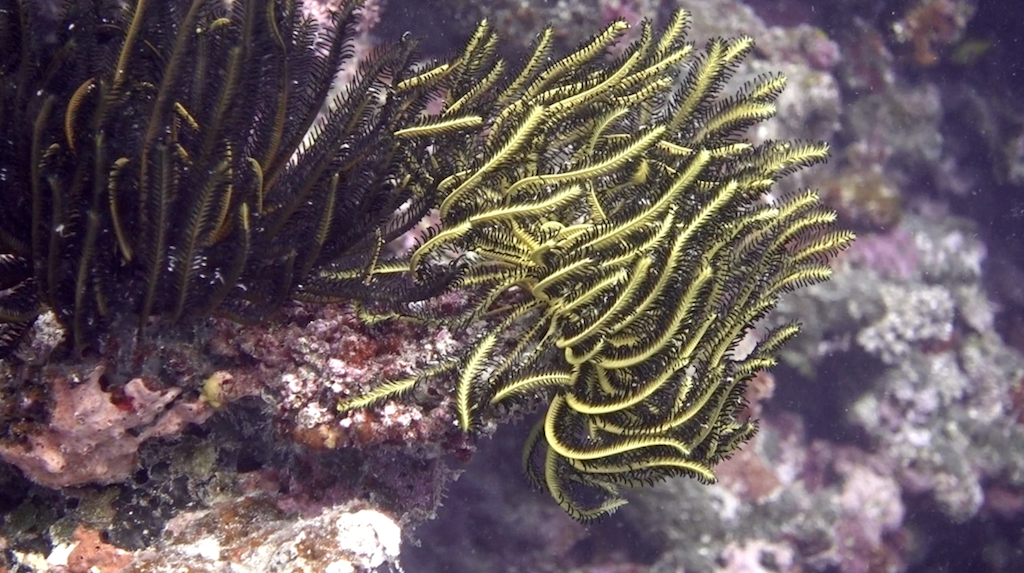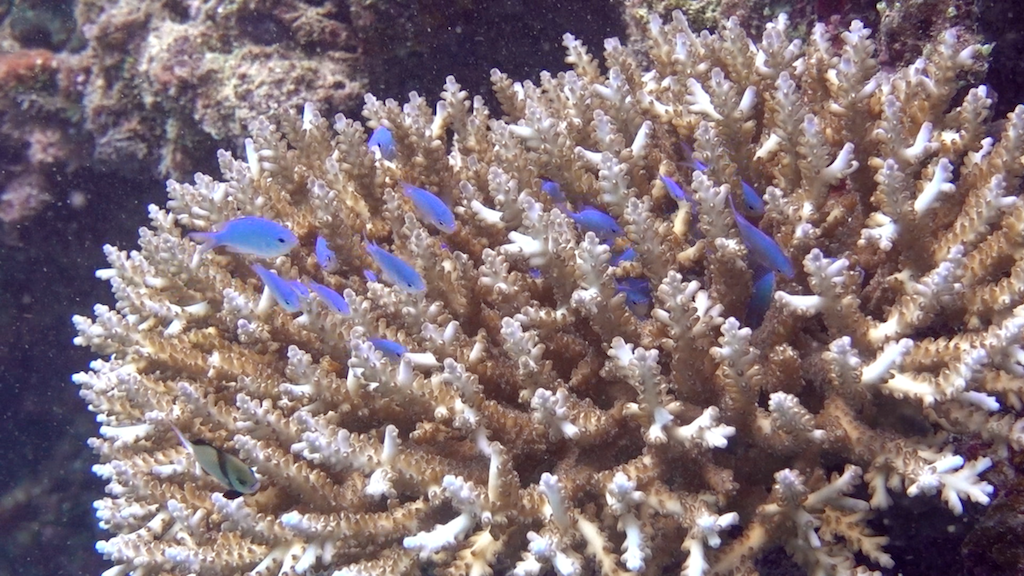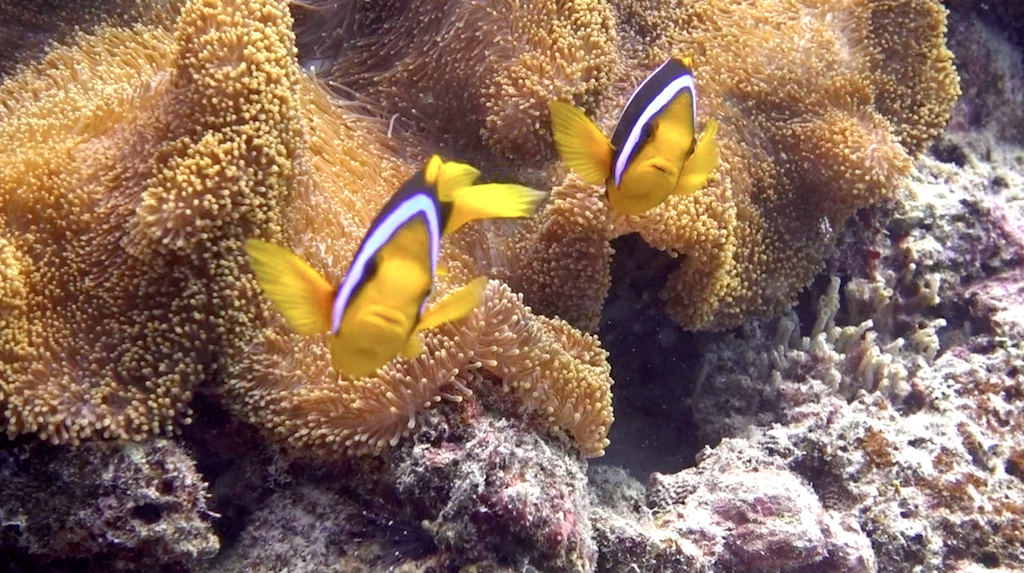 The snorkeling tour is available every day and usually with a larger group of people. The reef is decent and we did see a lot of fish but scuba diving was still the best way to see the marine life.
All-in-all, I think there is a good amount of activities to do but requires a bit of planning and timing so you don't miss out on anything. If you're looking mostly to relax and don't need too many activities, then this area is not something that should deter you.
Food & Drink – 4/5
Tokoriki Island Resort offers several meal options but its basic option is their Meal Plan. This option starts at around $125/person and includes a buffet breakfast with wine, a two-course lunch, afternoon tea and a three-course dinner. This is your cheapest option unless you go a la carte and split one dish (some dishes are pretty sizeable for two people). Other than the breakfast wine, drinks are not included. If the price is a bit too steep, then I'd suggest bringing some food/snacks from Nadi.
If you are wanting a cold sweet cocktail or juice, then this is an area where they were on point! Each drink will cost around $8-10 but they were delicious and perfectly balanced, not too sweet or strong on alcohol (unless you want it that way) and using fresh fruit and ingredients. Top notch in this area and enjoying them by the pool is even better.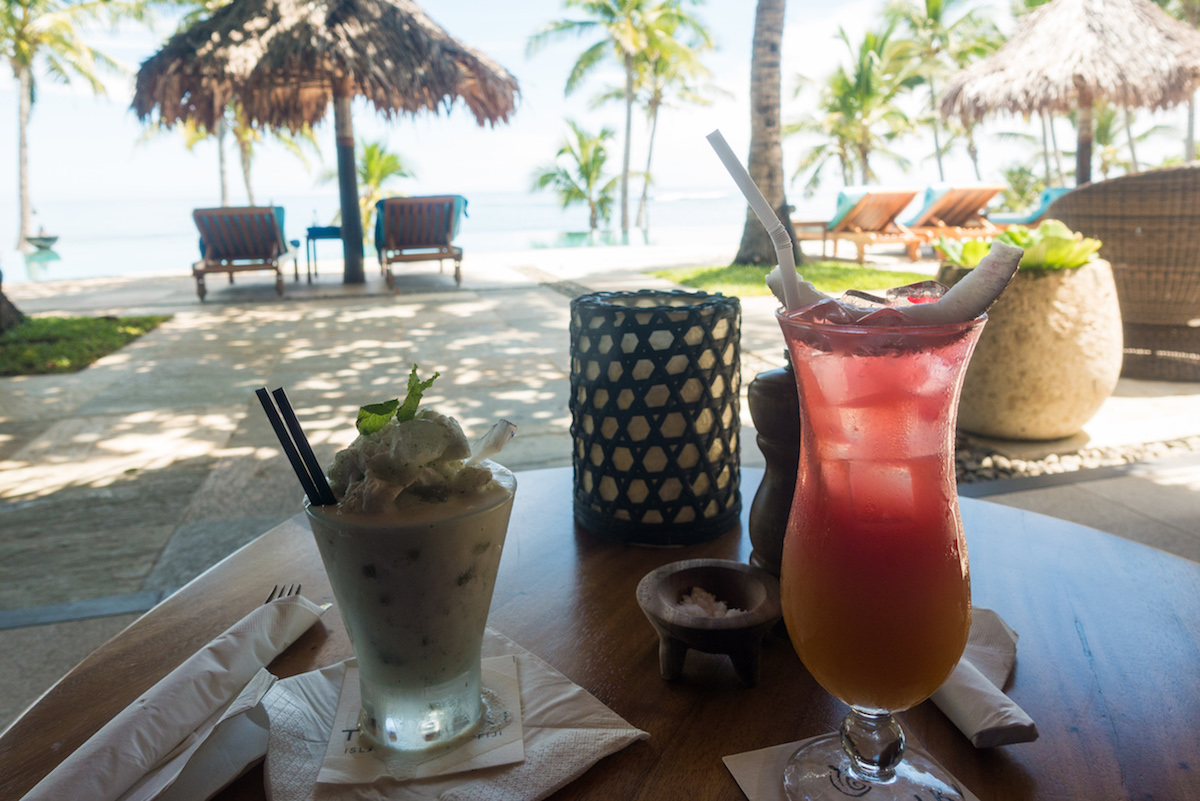 For the meal plan food, we had some mixed results. The menus do feature a decent selection of food choices ranging from a variety of seafood dishes with South Pacific and Asian influence to western dishes like pasta, burgers, or meat dishes. I think what was a little disappointing for us is we didn't feel like there were many traditional Fijian options to try. Obviously, we are not culinary experts in traditional Fijian food but we were craving for more after our fantastic dinner at the Grand Pacific Hotel in Suva. They do have a Fijian style buffet once a week and, of course, we were not staying at the resort on the day they have it. Womp womp…
Overall, the food was pretty good and satisfying but can't say we were blown away by the offering. Maybe we're being a bit nitpicky but I guess we were really expecting a lot. Most of the desserts were quite good; the lime raspberry cheesecake was easily my favorite.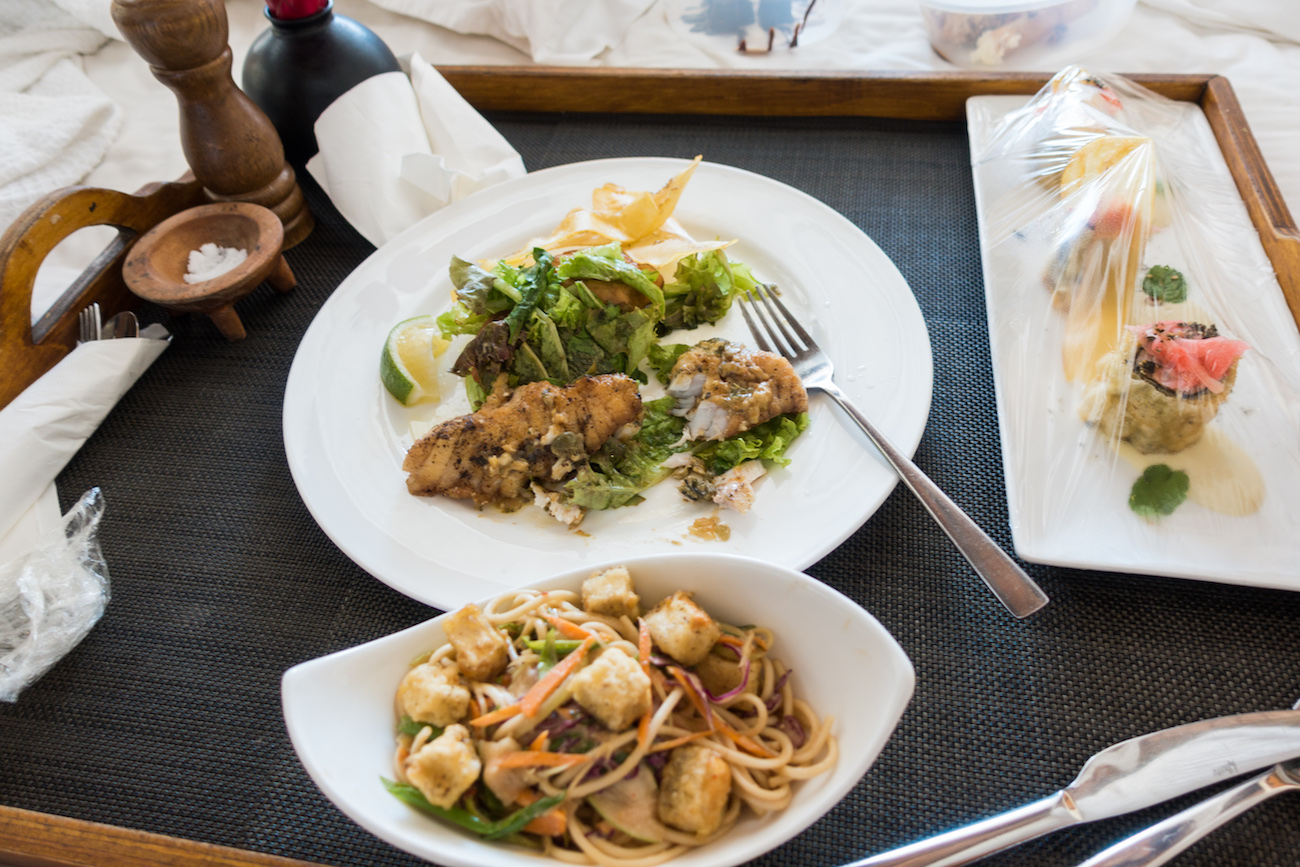 We did decide to try out the Oishii Teppanyaki restaurant that they had. Teppanyaki is Japanese style cuisine that uses a large iron griddle to cook food. Very often, you can find chefs performing while cooking the food and this is essentially what this experience was. The cost is actually quite expensive; on top of the meal plan, it's an additional $60/person for this meal. It's definitely not cheap but we wanted to try it out for the experience and hopefully some good food.
The restaurant is very small, only big enough for 8 people, a large iron griddle with a chef behind it, and the host. The host, affectionately named Mama, and the chef frequently interacted with the guests with playful mind games, some cool and skillful cooking maneuvers, and even trying to toss food into our mouths (I was a total failure…). They were truly the show of the dinner and it was awesome to have their company and personalities. It's also nice to interact with the other guests and does make it a very intimate evening. At the end of the dinner, they do bring out a small band to sing some songs to add to the ambiance.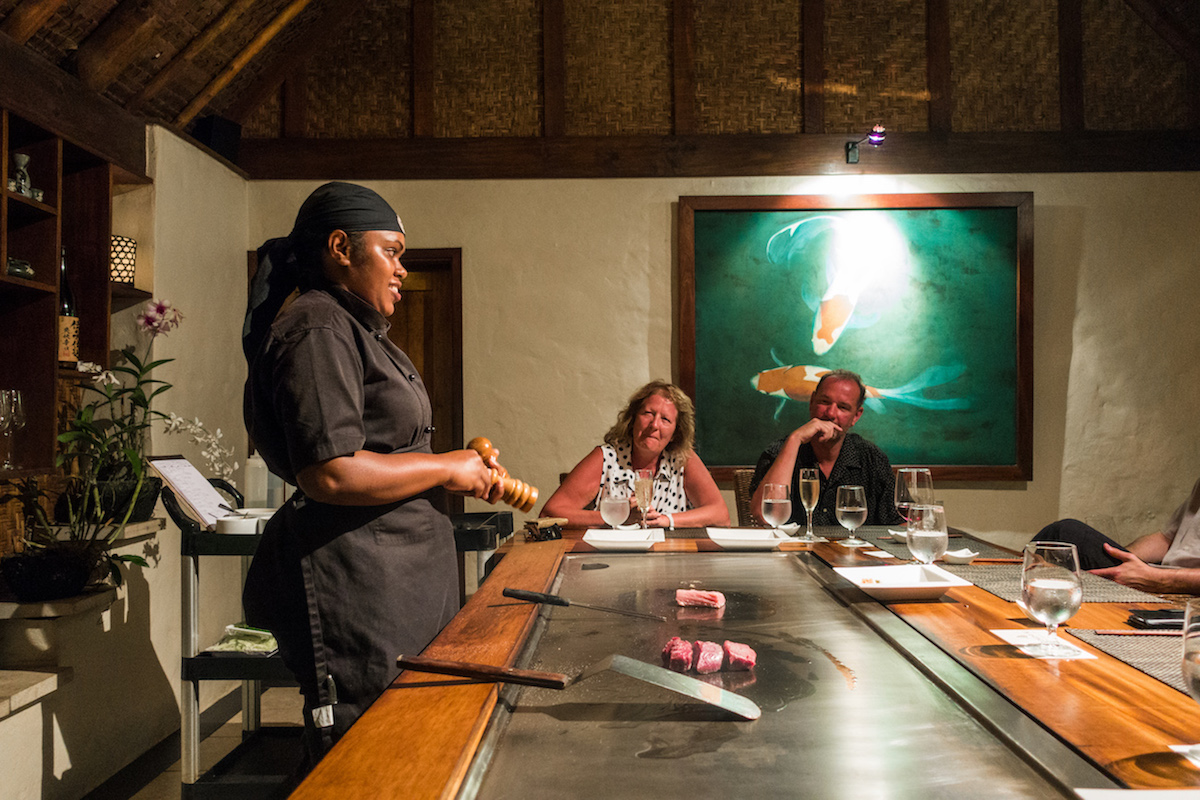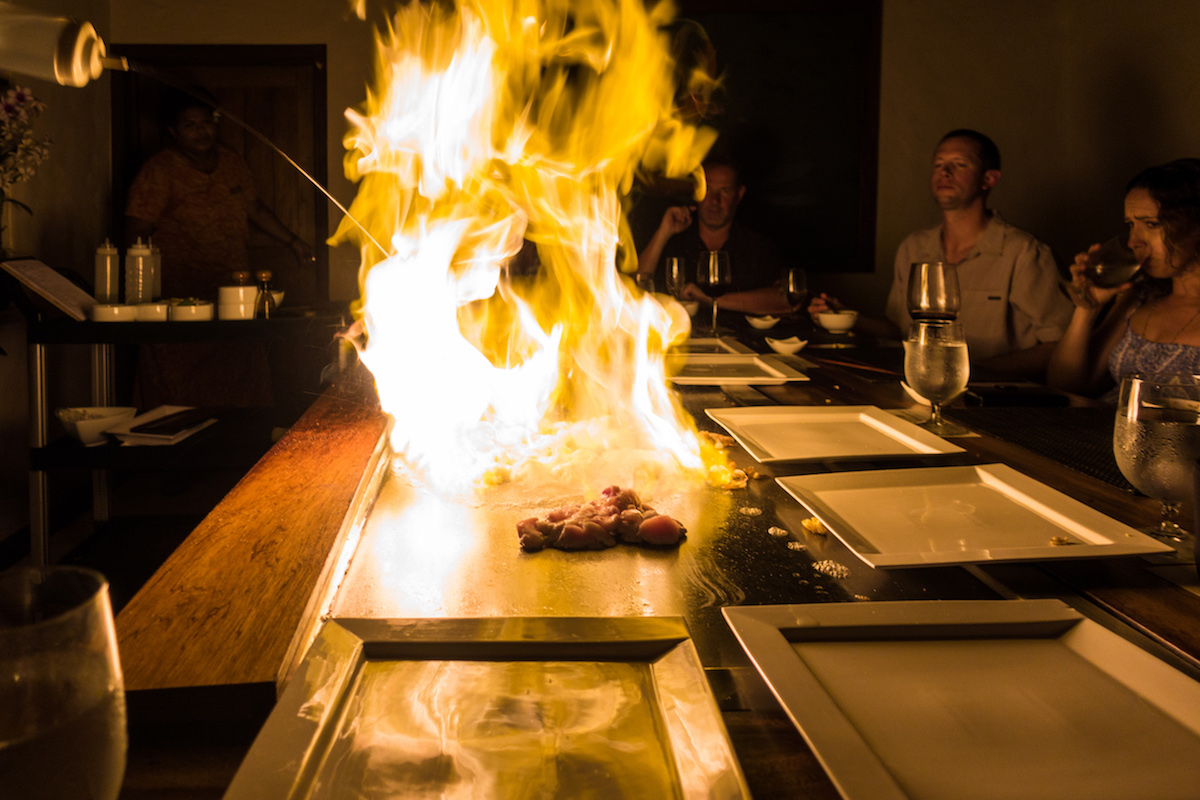 In terms of the cuisine, we felt Oishii does miss the mark, especially for the price add-on. And comparing it to eating in Japan and other stellar Japanese places, it is probably a difficult mark to match. We ordered some of the seafood/sushi dishes and some of the beef dishes. The sushi was more rice and thin slices of fish and there was not much flavor to the seafood. The beef was a little better but still pretty bland. The food was average at best and not particularly memorable so I wouldn't recommend this if you're expecting top notch Japanese food.
I'd also note that this experience does take a long time. Teppanyaki traditionally does last a while to savor the dishes. However, our dinner lasted over three hours, and sitting in the heat and humidity, we start feeling tired by the second hour. My clothes were pretty wet from my sweat and I felt really icky having to sit there for so many hours. The other guests looked perfectly fine for the whole meal, but we were really affected and I desperately needed a cold shower when the dinner ended. Though Oishii Teppanyaki does have its fiery moments quite literally, for the cost and quality of food, it may be better to stick to the meal plan or try another dinner option.
Staff and Service – 5/5
The Tokoriki Island Resort staff probably deserves a score higher than a 5/5. From the moment they greeted us and sang us a welcome song, all the way until we left with a farewell song, they always took care of us and got us whatever we requested. Wherever we went, everyone impressively memorized our names and greeted us with a smile and an enthusiastic "Bula!" By the pool side, the staff would always try to make sure you had a cocktail and relaxing live music created the perfect vibe.
On one of the days, we were going to be late for the lunch hour from a morning activity, so we asked the kitchen if they would be able to package our food and deliver it to our room. Not only did they say it wasn't a problem, they kept the dishes on their original presentation and place it in the fridge with all the sauces and utensils. It was perfectly prepared for us and we were able to enjoy the food in the comforts of our room.
A special thank you to Will, Alex and the staff who manage the dive shop. Will was our dive instructor for Mat, who's not comfortable with diving yet. He did everything to make sure that Mat was comfortable and safe, which resulted in a wonderful dive in the Tokoriki Island reef. If you're looking to try out scuba, Will and Alex will make sure you have a safe and enjoyable experience. They were so kind and took the time to talk with us about the reef and marine life around the island. The rest of the staff also looked after Mat during snorkeling as she came down with some sea sickness.
There was never a dull moment with the resort staff. They always kept things lively and friendly and we truly thank them for making us feel like family. Vinaka!
Overall/Conclusion – 4.5/5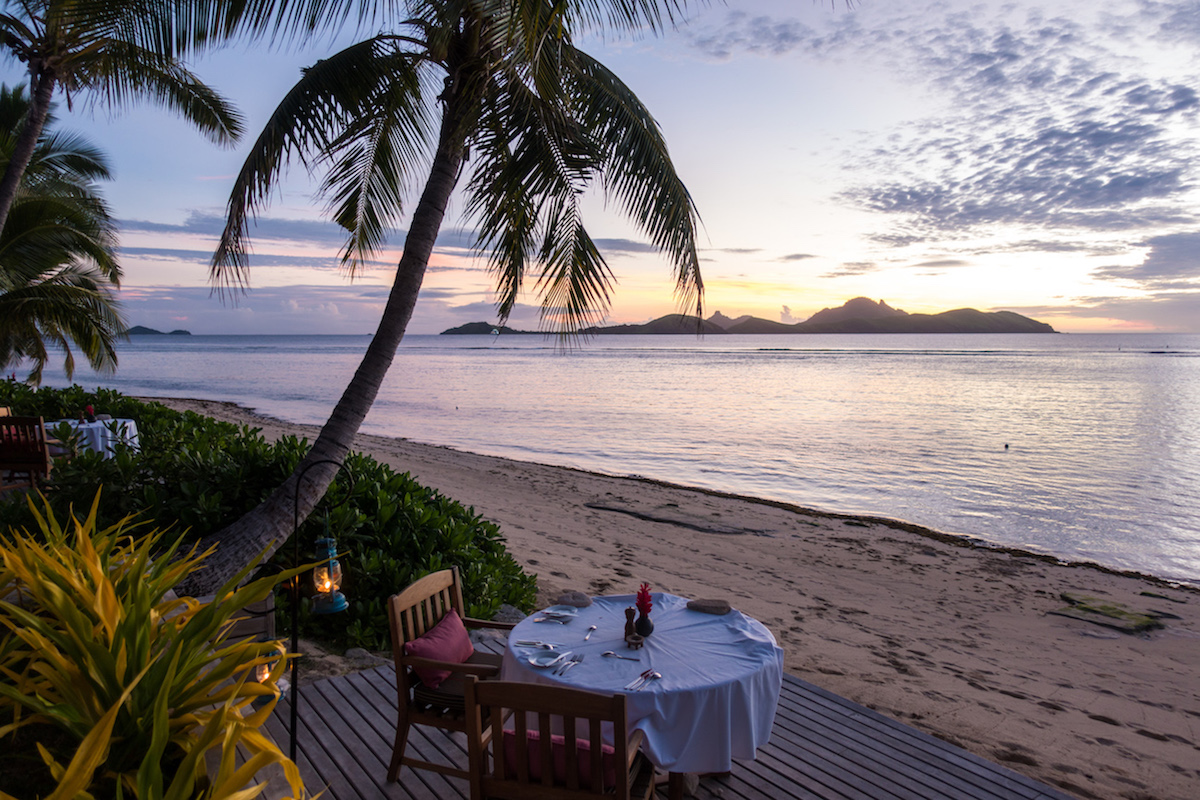 The island, resort, rooms, staff, and amenities are absolutely world-class and there are many other things the resort does that are impressive.What Tokoriki Island Resort does extremely well is forcing you to relax and unwind, which can be difficult in this day and age of media. With limited Internet access, no TVs, radio music, it gives people the opportunity to really enjoy their surroundings and appreciate the beauty of the resort and island. There are some things that could be improved on or were not to our preference, which some people will care while others won't be bothered. It's all in a matter of taste and travel needs.
Overall, Tokoriki Island Resort does live up to its reputation as a top island destination in Fiji. It's as near perfect a place that you can get and a great destination for celebrating a honeymoon, anniversary or simply need rest & relaxation. It may have been perfect if we got to stay a bit longer and enjoy the full experience! Hopefully, we can return to the beauty of Fiji and Tokoriki Island Resort will welcome us back. Until then, Vinaka!
Let us know what you thought about our review and if this is a place you'd spend for a honeymoon or another special occasion. If this looks like the place to go, give us a Pin:
Linger Abroad with us!
Subscribe to get our latest content by email. Just travel, no spam.