For our first nights in Fiji, we needed to stay in a place near the Pacific Harbour where I was doing my shark dive. Though there were several places closer to the harbor, we decided to stay at the Grand Pacific Hotel in Suva, which was about 40 minutes away from Nausori Airport and an hour away from Pacific Harbour. It's also a very short distance away from downtown Suva. Though we didn't get to stay too long, we definitely had a Grand Old time at the resort hotel.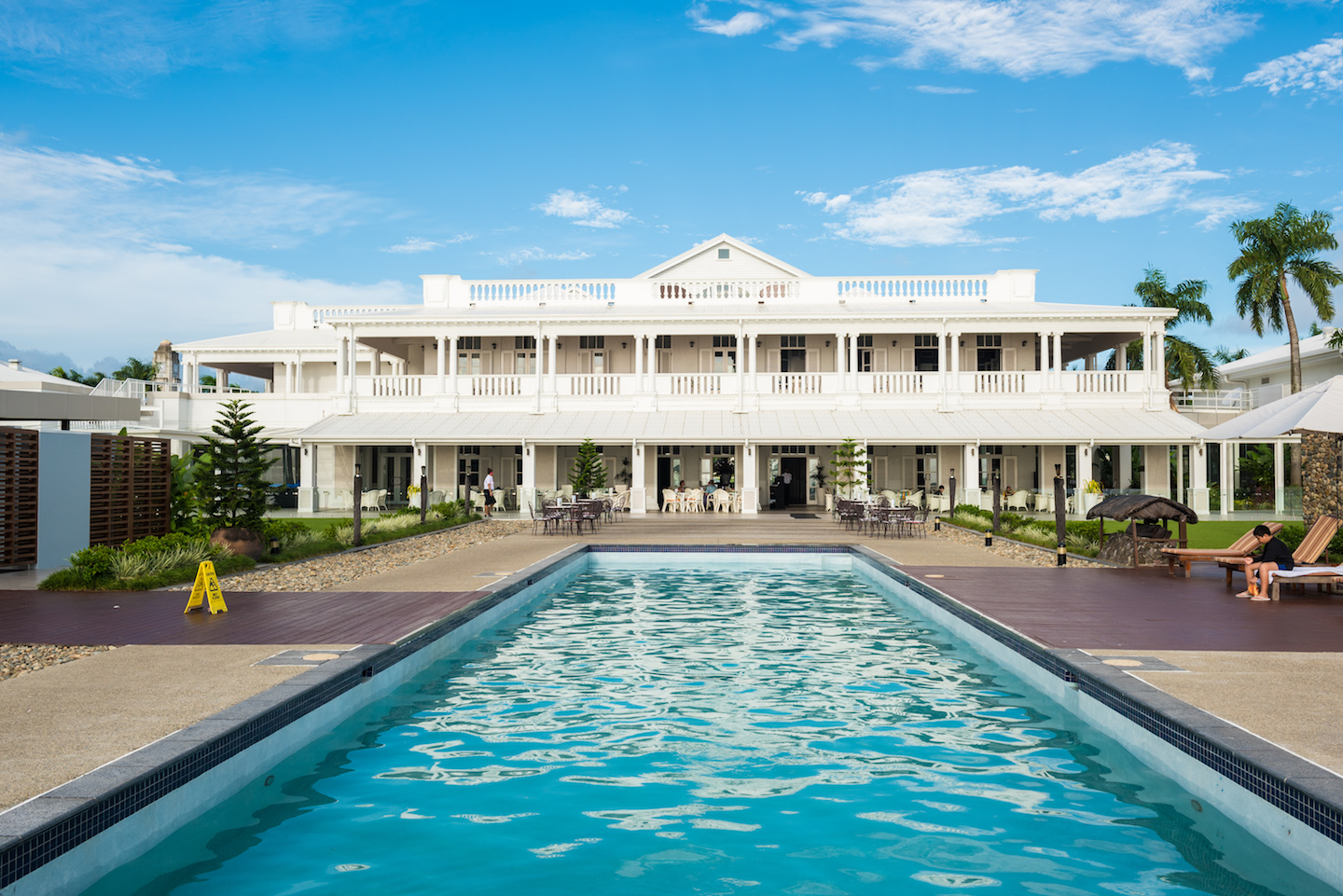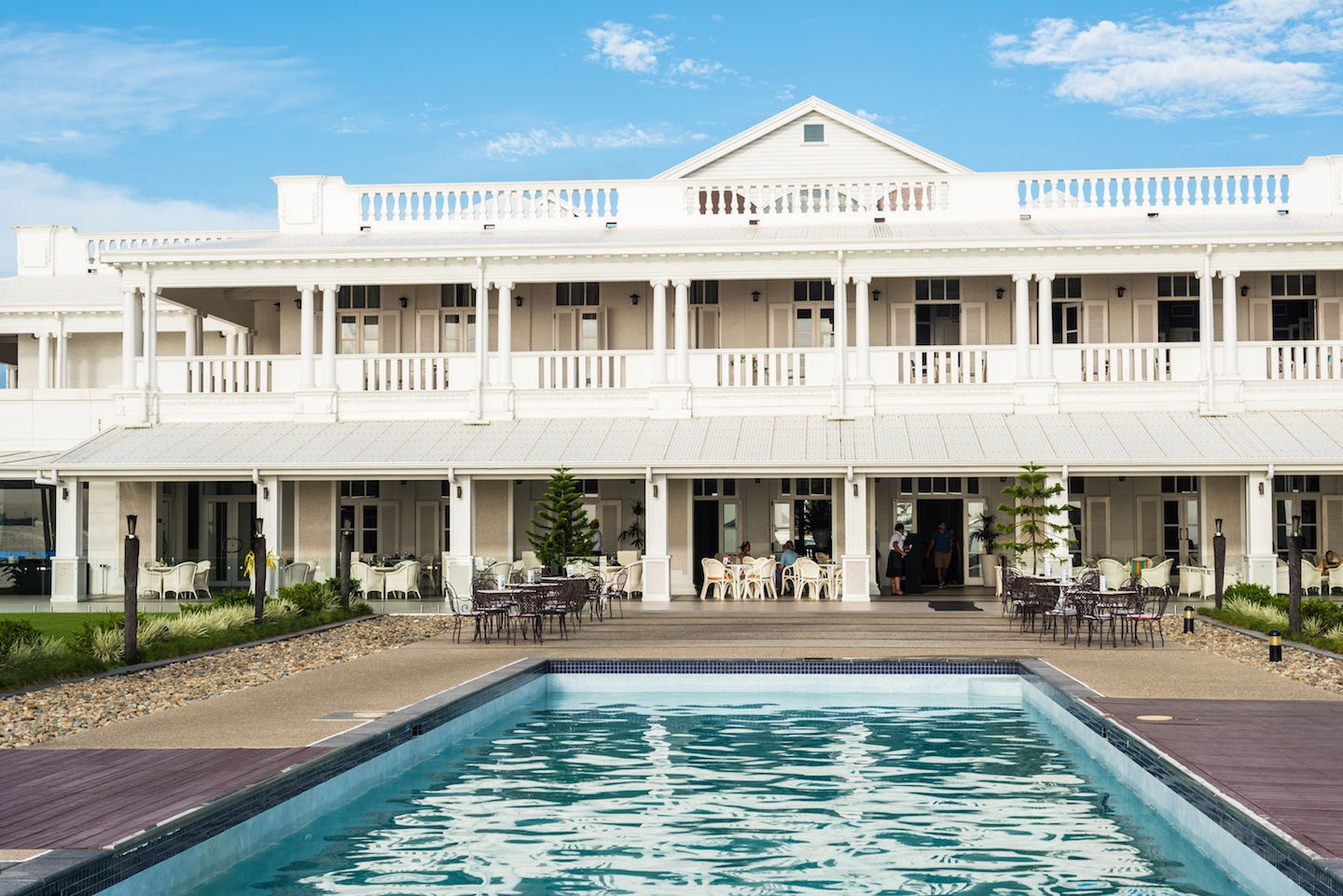 When we first arrived at the hotel, we were greeted with "BULA!" (Hello!) by the very friendly staff, who gave us glasses of juice and coconut water. As we waited to check-in, we browsed around in the lobby/main area of the hotel to admire its lovely architectural design and the outside view before being taken to our room. We loved how bright and airy it looked with all of the natural light but also how the hotel kept much of its historic design and features. Affectionately nicknamed "The Grand Old Lady," the hotel was built in 1914 and went through several ownership changes before being renovated and reopened in 2014. One of its most famous visitors was Queen Elizabeth II and the room that she stayed in was named in her honor. The staff was kind enough to give a tour of the Queen Elizabeth Suite and its biggest room, The Royal Suite 1.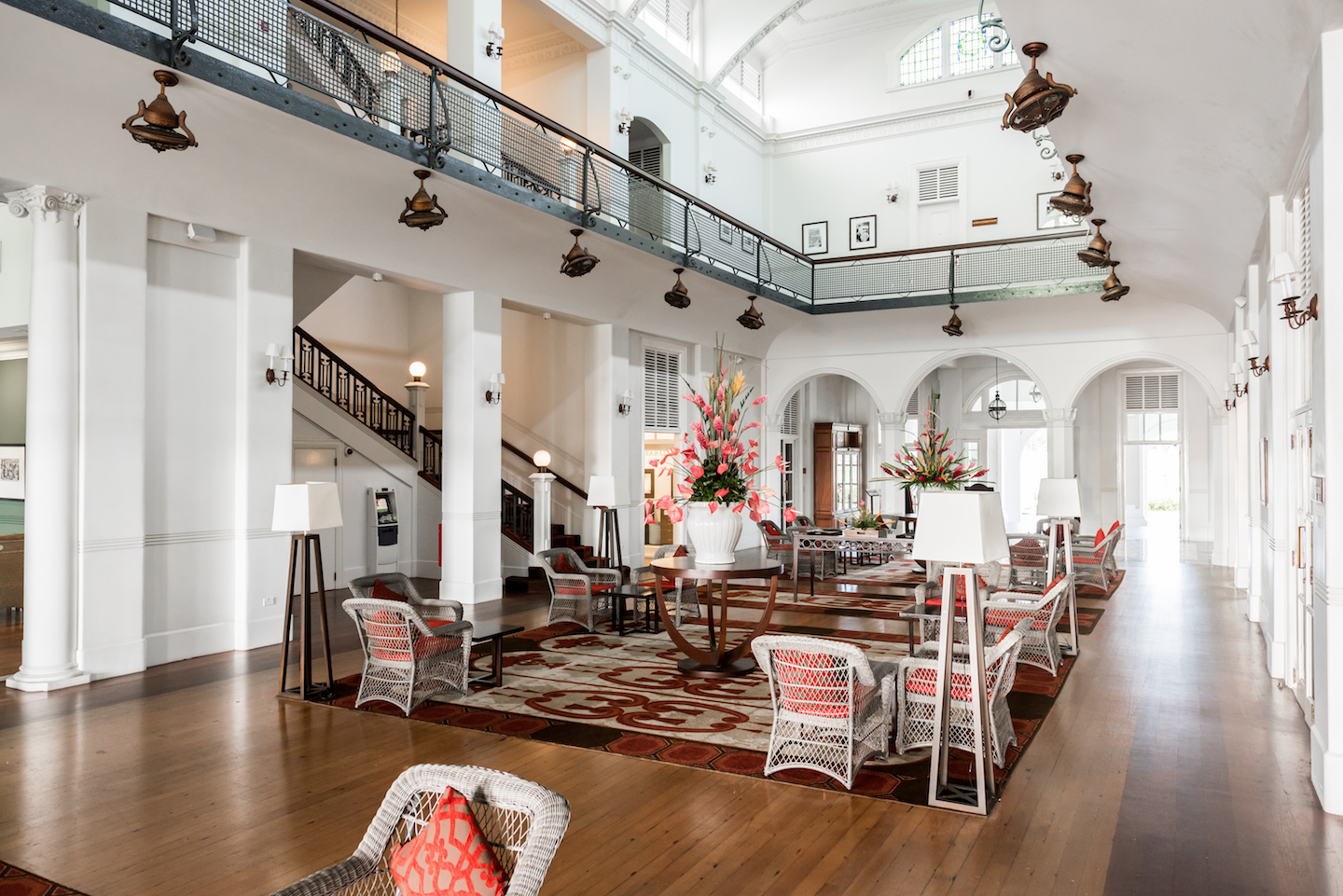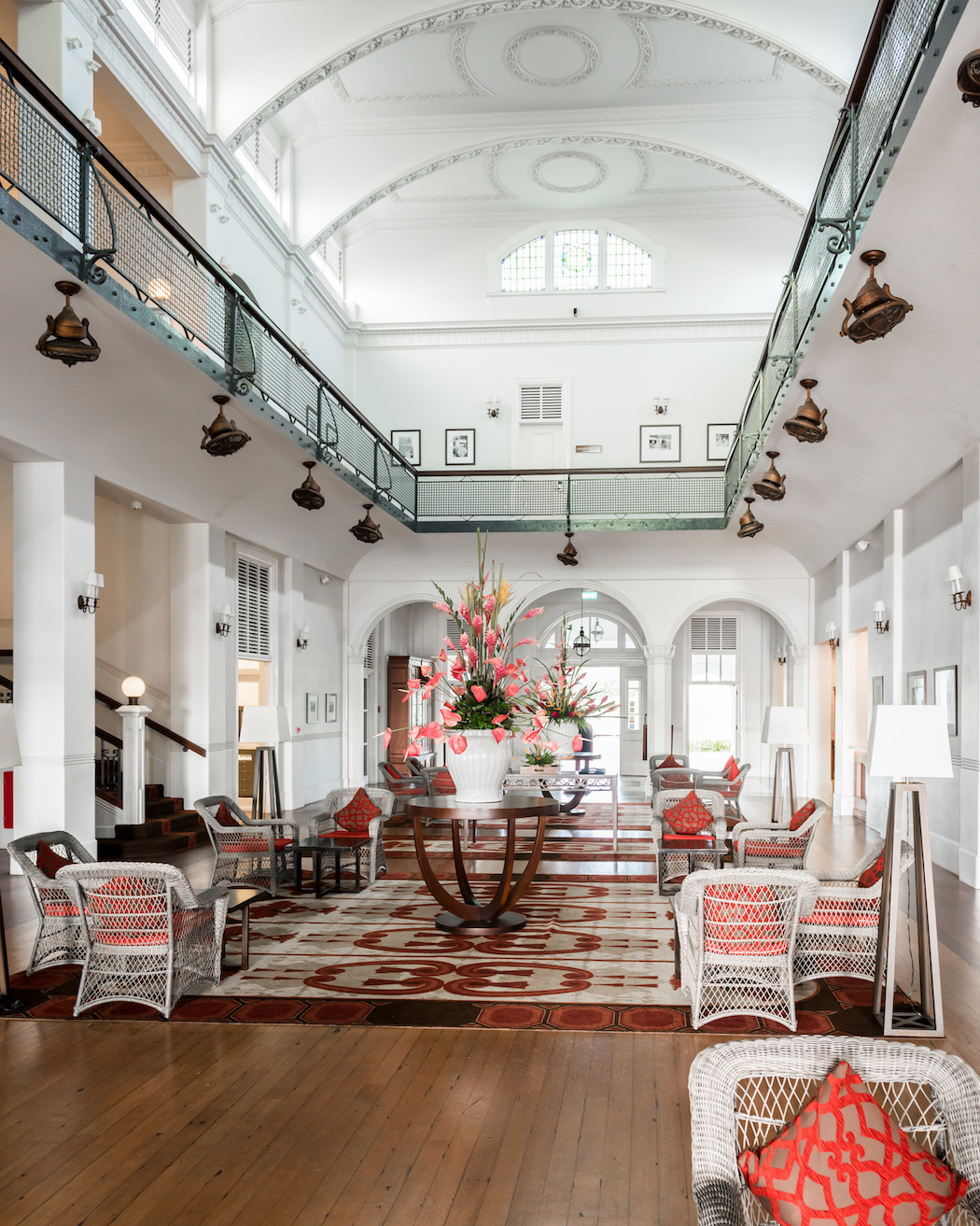 Since it was our honeymoon, I did splurge a bit and used some credit card points to book us the Grand Pacific Club Suite, the largest room available that's not in main building. With 54 sq m (or 580 sq ft), it was easily more than enough space for the two of us. We had a firm but very comfortable king size bed with soft linens and pillows; we definitely slept very well on this bed. There was a large workspace area if we needed to any work. The bathroom was very modern with sleek tiles and open shower. There was no tub, however, which seemed like a slight oversight with so much space not being utilized in the bathroom. The bathroom was all glass, and although not completely see-through, privacy could be an issue for some guests. The best part of the room was the large balcony where we could munch on the fresh fruit bowl given to us and enjoy the completely unobstructed views of the entire harbor.
There are a couple amenities available at the hotel. There's a gym with pretty nice equipment, available to guests for free. There's also the "Bliss Spa" for any treatment that you may need; we didn't use any of the spa's services but we really liked the bars of soap they had and bought a few (one of our highlight purchases in Fiji). The outdoor pool is free for anyone to use until the evening, though being a small pool, I'd imagine it could get crowded quickly.
There's also a nice selection of bars and restaurants within the hotel to dine from, with some having happy hours. The only menu item we actually got to try was their fish and sticks from the Levuka Restaurant, where you can dine outside as well. Though it was the cheapest thing on the menu, it was pretty good. We would've loved to dine at the Prince Albert Restaurant with their renowned chef in the kitchen, but we cheapened out and went with some alternative dining options.
Booking the Grand Pacific Club Suite also allowed us to have free access to the Victoria Lounge from 5-7 pm, where we enjoyed unlimited canapés (or hors d'oeuvres) and unlimited cocktails and beverages. Not going to lie, but this may have been my favorite part during our stay, as we definitely went to town with the canapés for our dinner. I had a couple cold ones while Mat had some mostly alcohol-less cocktails and fresh juice. From the lounge, you can relax on the balcony and enjoy the beautiful view out towards the ocean.
Last but not least, we wouldn't have had a great time without the its amazing Fijian hospitality of the staff! Everyone was very nice to us and extremely accommodating to our requests. There were a few times when we had to grab their attention but otherwise, they took good care of us. We also had a spectacular personalized dinner from one of their chefs, which we will write about in our next post. They really made us feel at home and they were a very fun group to have around. We hope to see them again if we're ever back at the Grand Pacific Hotel!
Here is our rating breakdown of the hotel:
Design: 5/5
Location: 5/5
Cleanliness: 5/5
Food/drink (Limited experience): 4.5/5
Room: 4.5/5
Amenities: 4.5/5
Staff: 4.5/5
Overall: 4.5/5
So if you happen to be staying in Suva, take a look at the Grand Pacific Hotel. Even if you're not staying there, you can still visit the hotel; many visitors during the day are locals who like to enjoy the amenities or dining there. If this is a place you'd consider staying in Suva, give us a Pin and let us know what your favorite feature of the hotel is.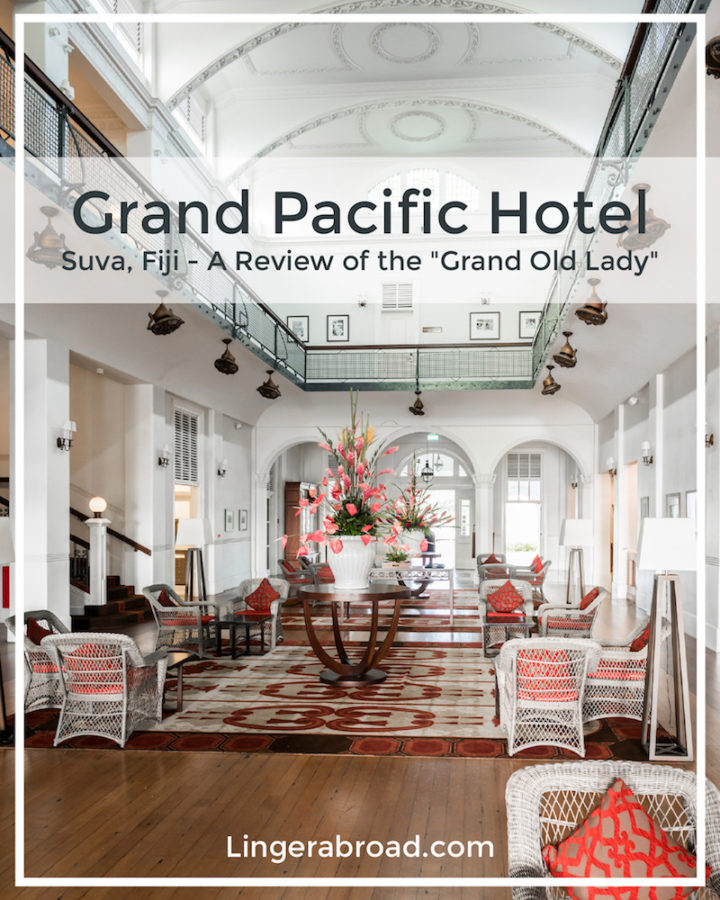 Linger Abroad with us!
Subscribe to get our latest content by email. Just travel, no spam.