Iceland is one of the few countries we've visited multiple times and it's easy to understand why. The culture, people, animals and, of course, the absolutely stunning and breathtaking landscapes keep tugging at my heart, wanting to go back again and again. Despite being a small country, there are simply too many things to see in any short time period, but we've done our best to put together a 7-day Iceland itinerary for an epic road trip!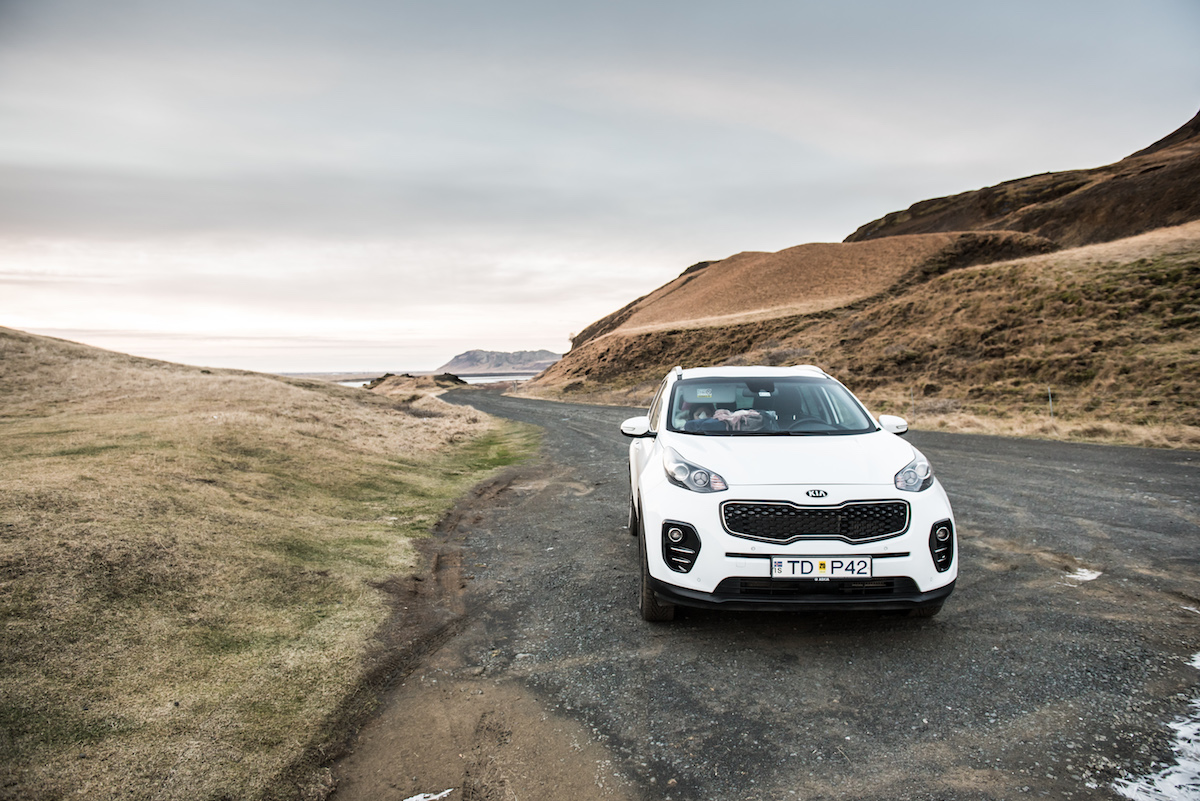 Though it is possible to go around the country in 7 days, this itinerary focuses primarily in southern Iceland, where many famous sites are located. What I like about this itinerary is that it can be done at any time of the year, whether you have 21 hours of daylight in summer or only 4 hours of daylight in winter (yes, the days are that short)! We will highlight all of the locations in bold font to help you track these sites.
We've also mapped out the directions for the major sites to put into your Google Maps:
Part 1: Starting from Reykjavik to Seljalandsfoss
Part 2: Seljalandsfoss to Jokulsarlon Glacier Lagoon
Let's take a look at the awesomeness you'll see over the next week:
Day 1: Reykjavik & Blue Lagoon
After you pick up your car from the Keflavik Airport, you can start your trip to Reykjavik. Though Reykjavik is the largest city in Iceland, it still has the charm of many small towns and there are very few tall buildings. You'll walk by many small shops and cafes and many of the main attractions are walking distance apart. Perhaps the most well-known attraction in the city is Hallgrimskirkja, the tallest church in all of Iceland. It's built to look like the basalt rock formations and has amazing views of the entire city. Right across the church is one of our favorites, the Loki Cafe, where you can get delicious traditional Icelandic dishes, but also try the dreaded fermented shark if you're adventurous enough.
From Reykjavik, you can make the 45-minute drive to one of Iceland's premier destinations, Blue Lagoon, for a relaxing soak in its natural springs. Be sure to book this in advance because time slots can fill up fast. In the spring and summer, the timeslots may not matter as much, but in winter with short daylight hours, it's important to book early to go during the day. We made this mistake during our second visit, as they only had 4:00 PM reservations available, which is pretty much dark by then. However, there were far fewer people and experiencing the lagoon at night is pretty unique.
Other places to check out: Harpa Concert Hall, Bæjarins Beztu Pylsur (famous hot-dog stand), Sandholt Cafe (best hot chocolate!), Eldur and IS (for awesome crepes and ice cream)
Day 2: Kirkjufellsfoss to Pingvellir
We start Day 2 early by heading to Kirkjufellsfoss, the only time you'll head northwest, about 2.5 hours from Reykjavik. Kirkjufellsfoss is particularly recognizable for having Kirkjufell Mountain in the background with the waterfall. It's also a favorite spot for photographers for sunsets and the Northern Lights. If you have time, you can explore the surrounding area, including nearby Snaefellsjoekull National Park.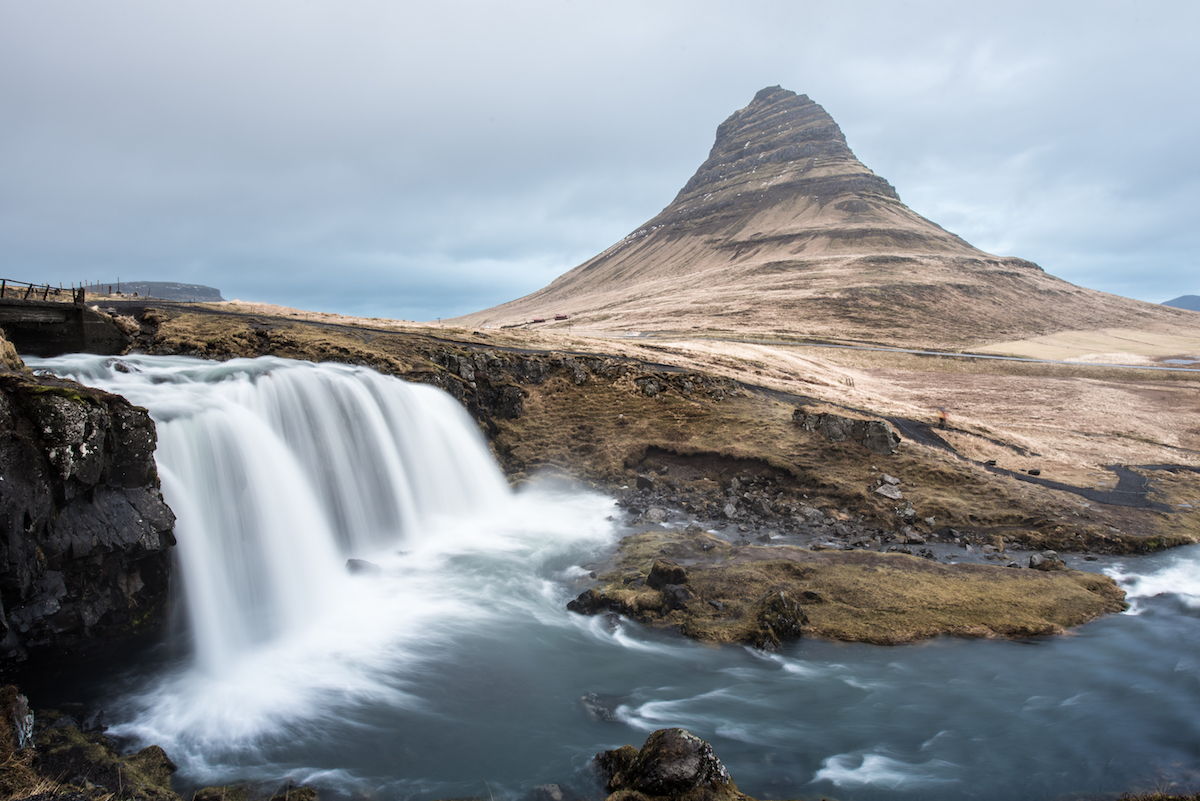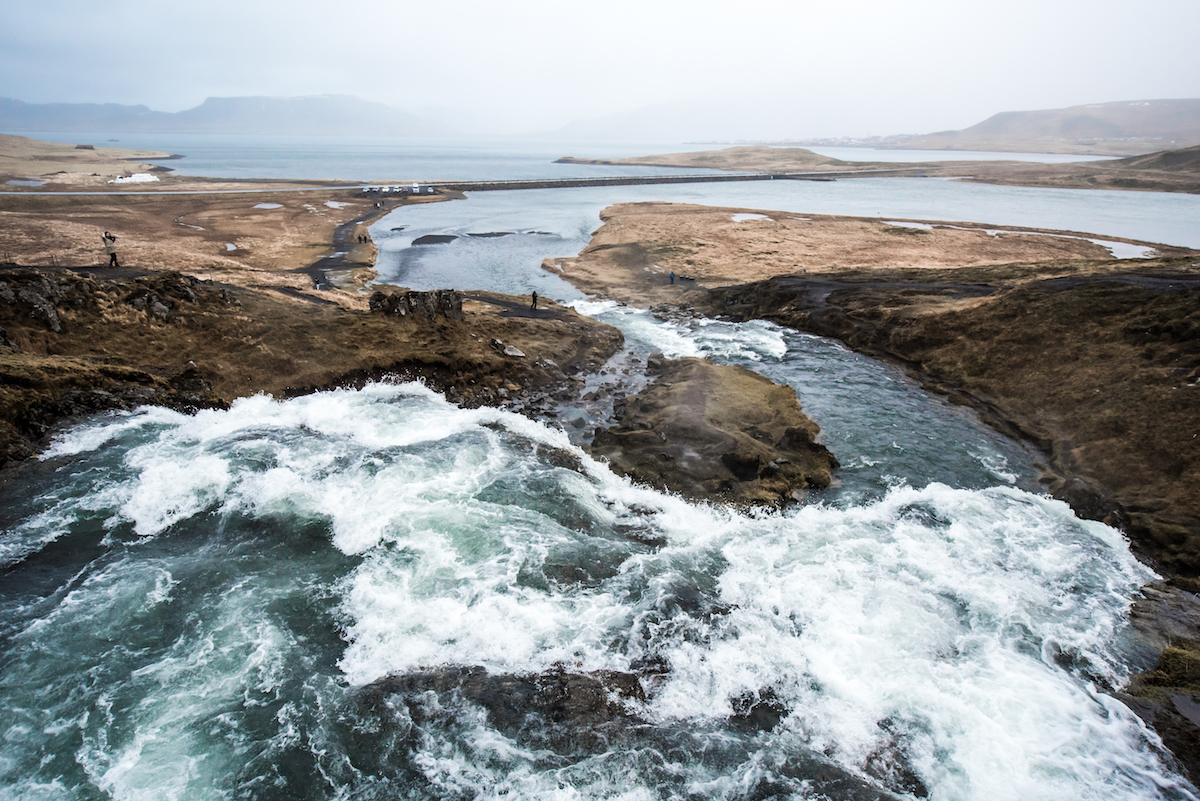 From Kirkjufellsfoss, you can make a 2-hour drive to Hraunfossar, a series of small waterfalls that forms a very picturesque sight. An hour from here, you can head to Glymur, the second tallest waterfall in Iceland that falls into a steep canyon.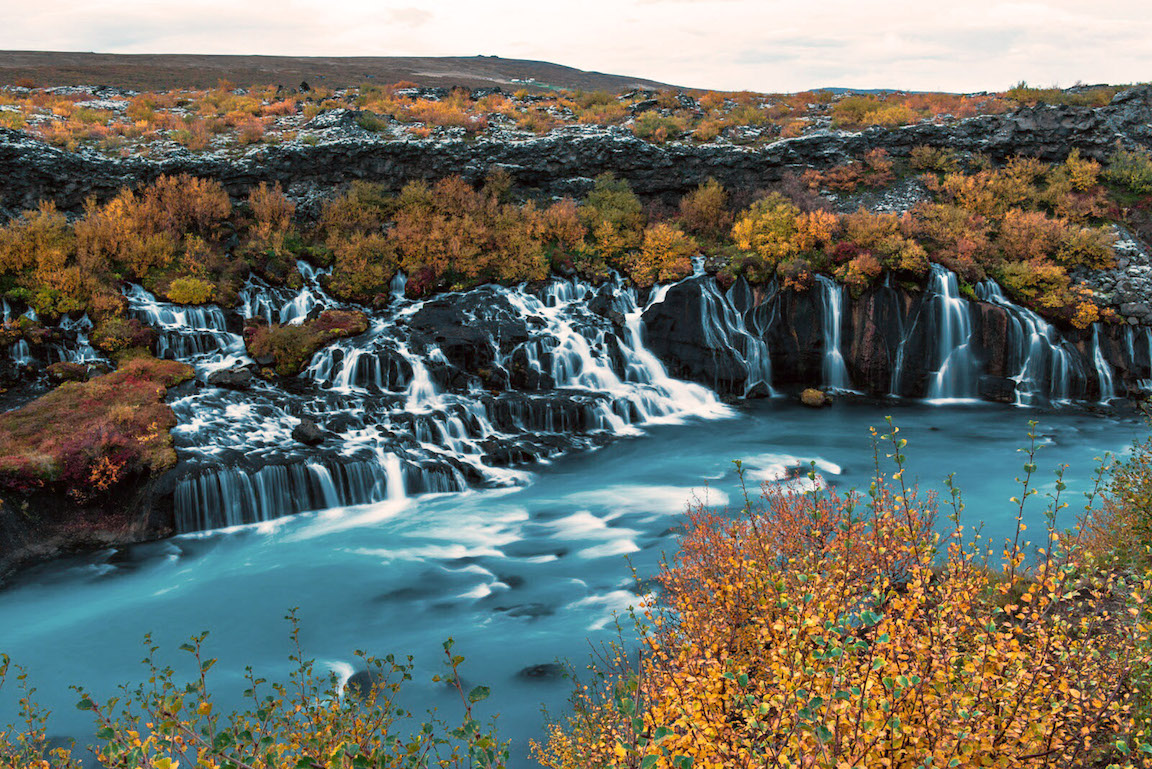 Finally, you can cap your day by heading to Pingvellir, a national park about an hour away from Glymur. A UNESCO Heritage Site, you will discover rock and canyon formations from the movement of tectonic plates, as well as the Oxararfoss Waterfall. There is also a unique experience here where you can snorkel or scuba dive at Silfra canyon, a rare opportunity to dive between two continental plates!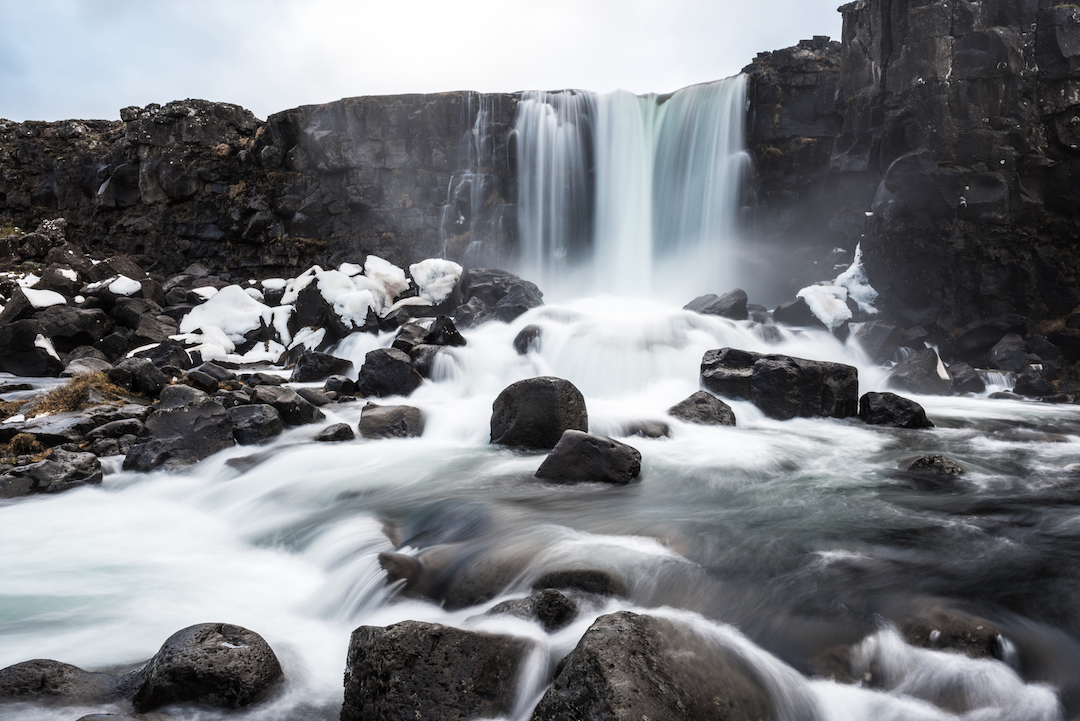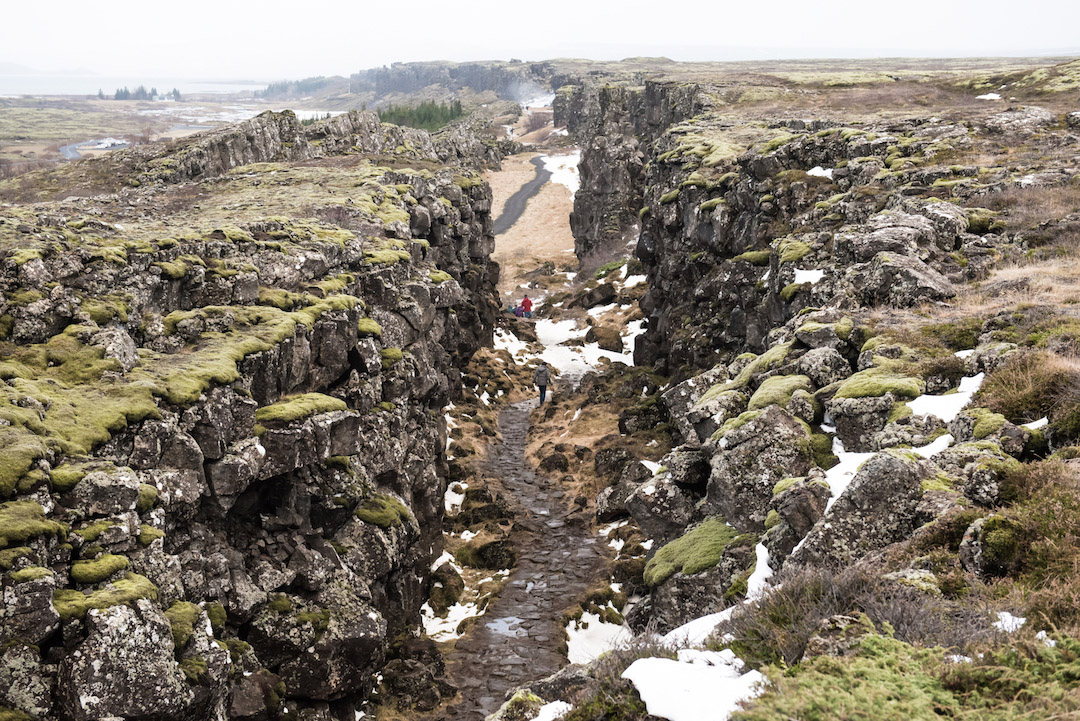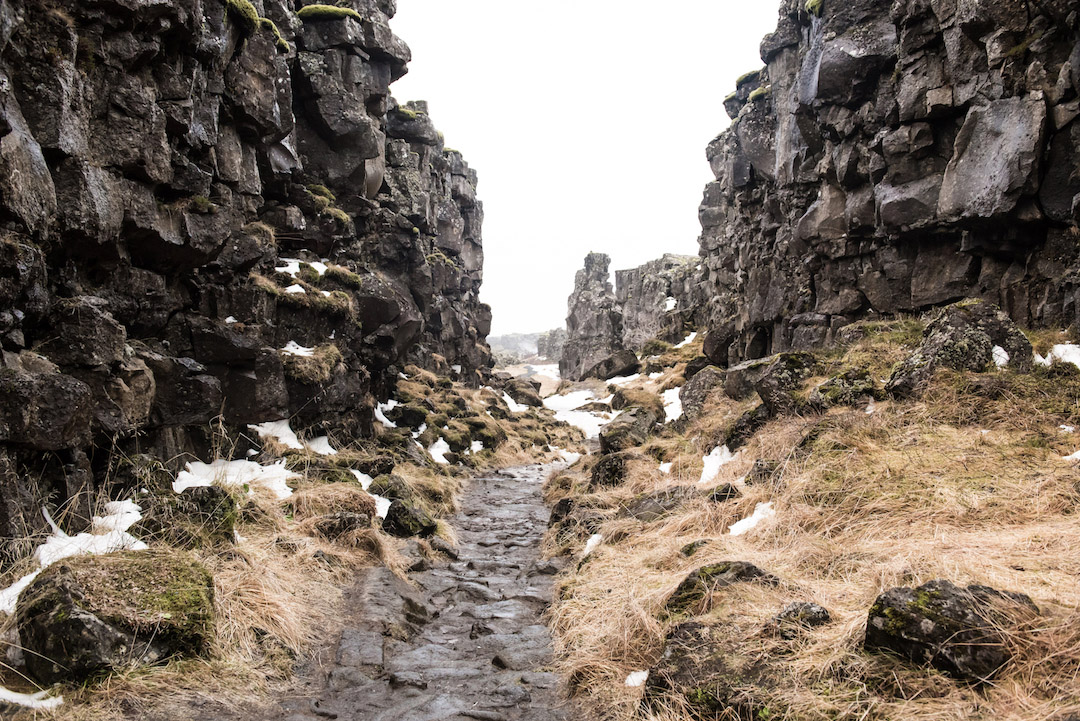 For your accommodation, I would look to stay in Laugarvatn, a town only 20 minutes away from Pingvellir. You can check out the Heradsskolinn Boutique Hostel, and also look to enjoy a bath at Laugarvatn Fontana.
Day 3: Bruarfoss, Geysir, Gullfoss, Haifoss
What's nice about Day 3 is there's plenty of flexibility for how you'll want to spend your day. You can start by either revisiting Pingvellir or start heading to some of the other locations. Between Pingvellir, Bruarfoss, Geysir, and Gullfoss it's only an hour total drive distance, so you can see a lot in a pretty short timeframe.
If you want to start towards Bruarfoss, it's a little more hidden to find compared to other sites. From Laugarvatn, head east for about 20 minutes and look for the road, Brekkuskogur. There is no sign on the main road pointing to Bruarfoss, so be sure to look for this road. Your GPS should help you find it; however, once we entered the road, the GPS went haywire and couldn't pinpoint our location. If this happens, just continue straight on the road. You will come to the end of a 3-way intersection and make a left turn. Continue on this road and look for a small sign on your left that says "Bruar." This is the pathway to the falls, which requires a bit of a walk, possibly through mud and water depending on the weather. But it is worth it, as it is an incredibly beautiful waterfall and there is virtually no people around.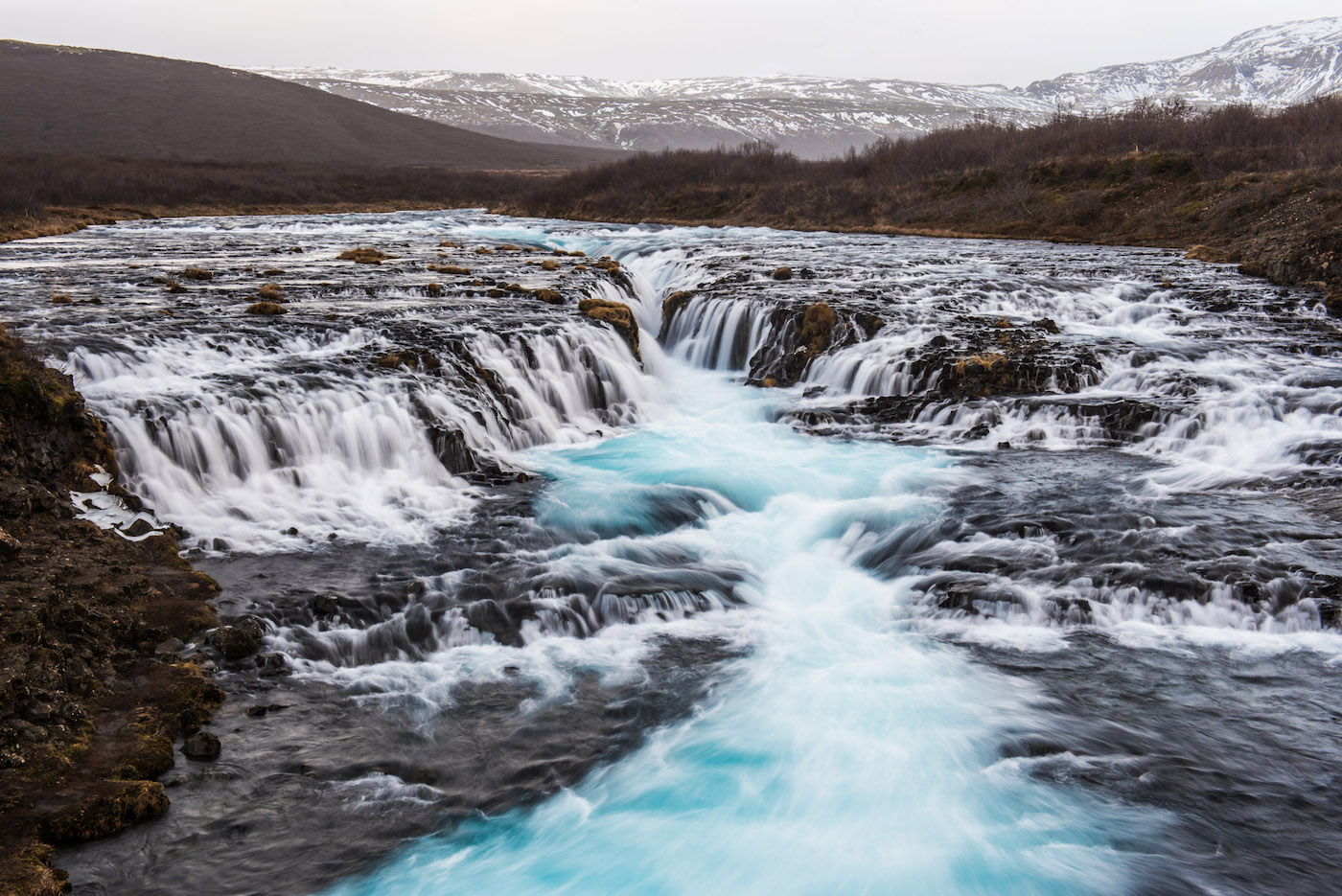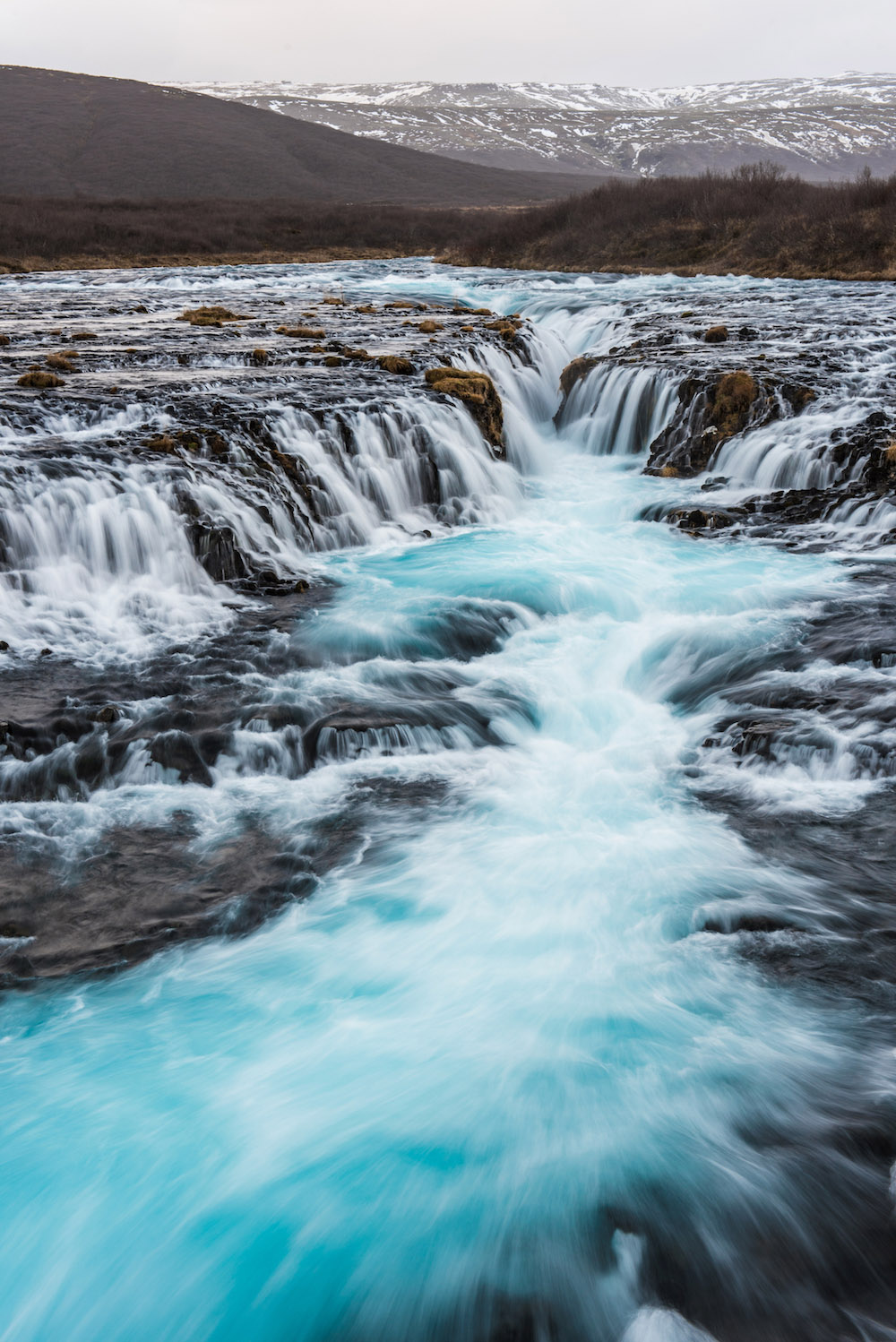 Once you finish at Bruarfoss, you can head 15 minutes east to Geysir. Geysir will be much easier to find, as it is a very popular spot for tourists. Here you can see the "Great Geysir" periodically erupt, spewing hot boiling water up to 200 feet in the air! Afterward, head just 10 minutes east to see one of Iceland's most iconic waterfalls, Gullfoss. Gullfoss is made of two smaller falls before plunging 105 feet into a canyon. Anywhere from 30,000 to 500,000 gallons can be flowing into the canyon. Even from a distance, you can feel the sheer force of wind and mist from the falls. It's definitely one of the greatest spectacles you'll see in Iceland.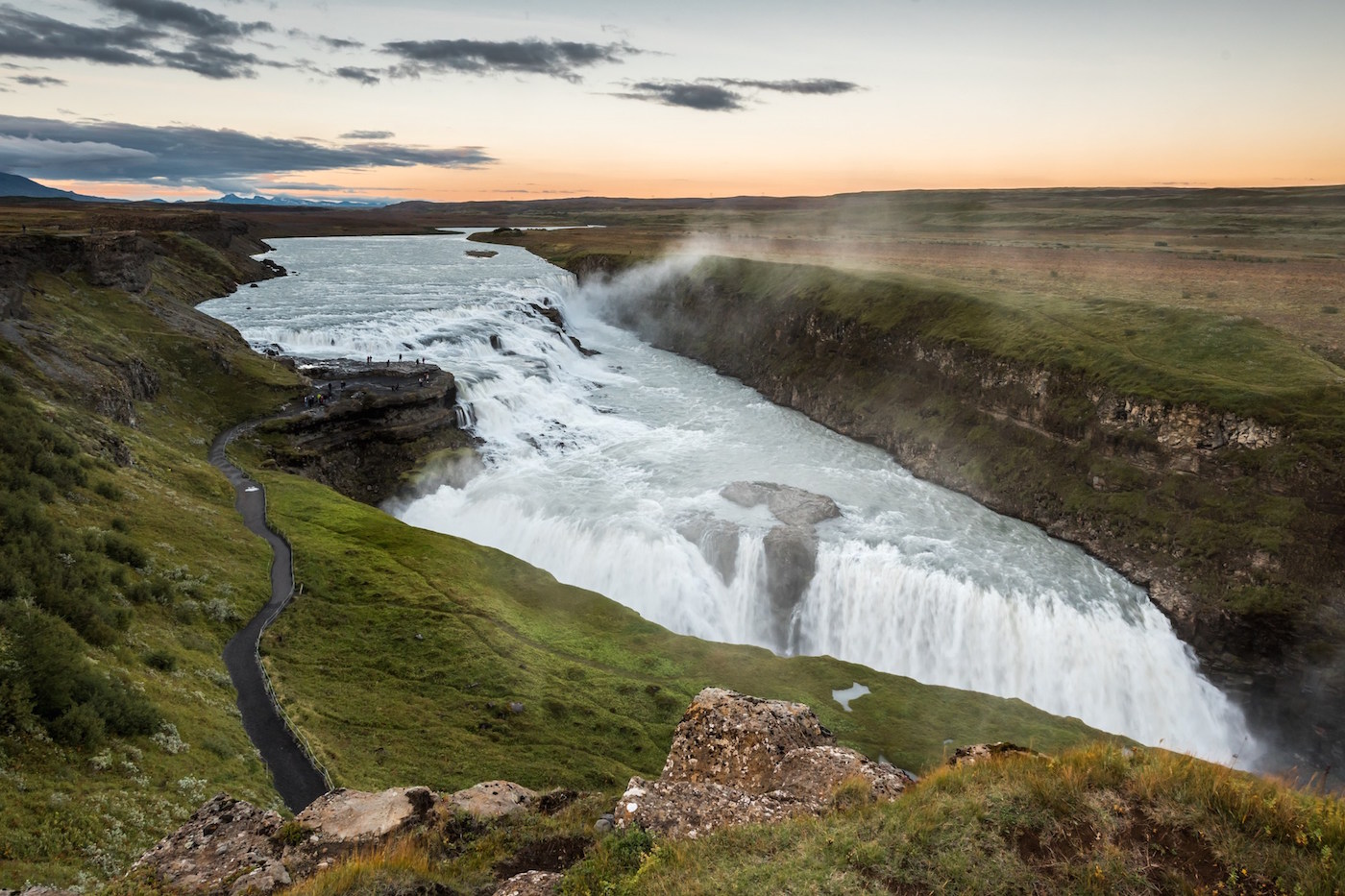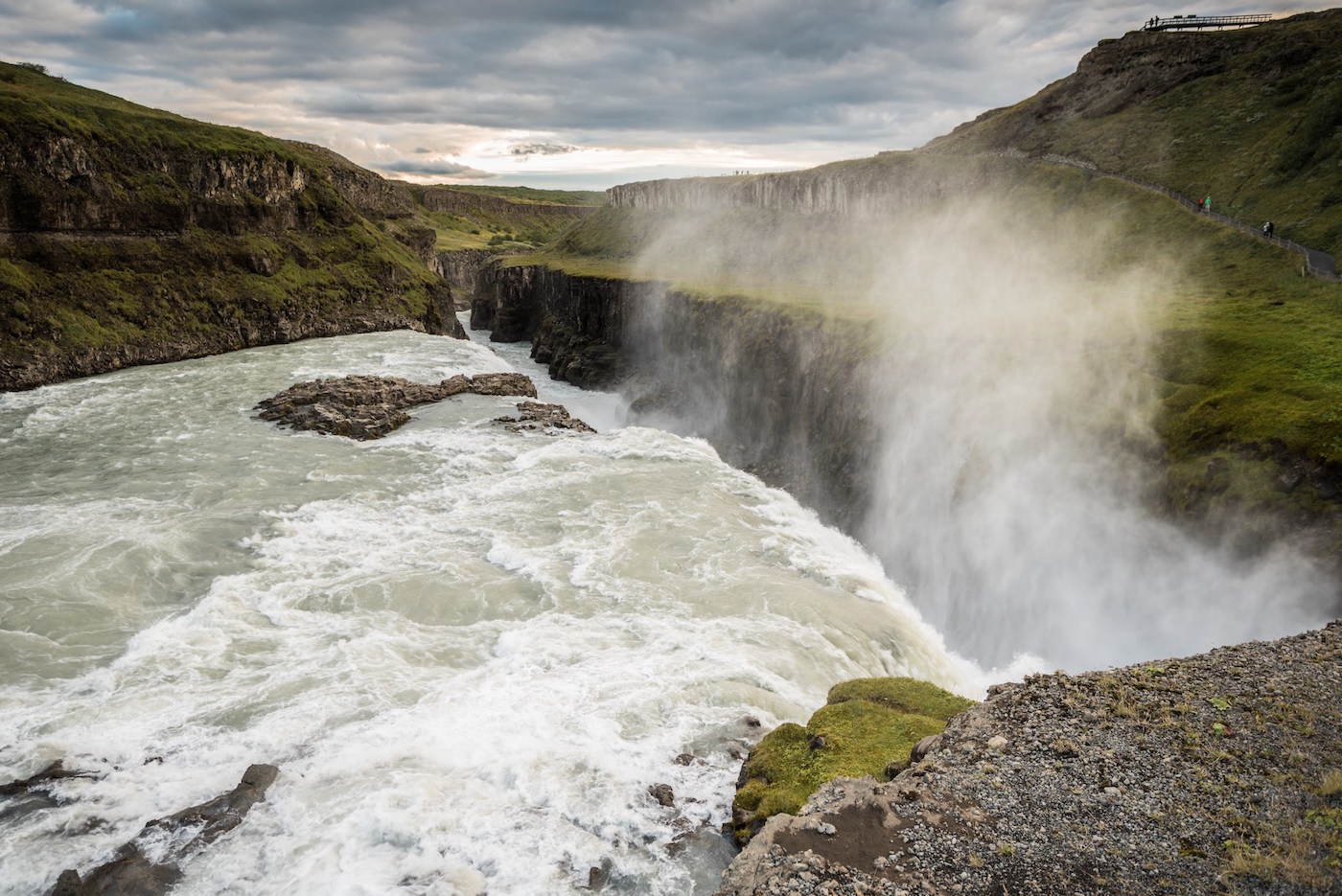 Next, you can head towards Haifoss, a waterfall off from the main roads and about 1.5 hours away, but absolutely worth it. However, you'll need a 4×4 vehicle to get to this waterfall, since the terrain is very uneven and the road can be prone to shallow flooding. You'll need to watch for reports whether or not the road is impassable, but if you make it there, you'll be treated to another spectacular sight. Because of its difficult accessibility, you'll see very few people here too so you can enjoy the sights to yourself!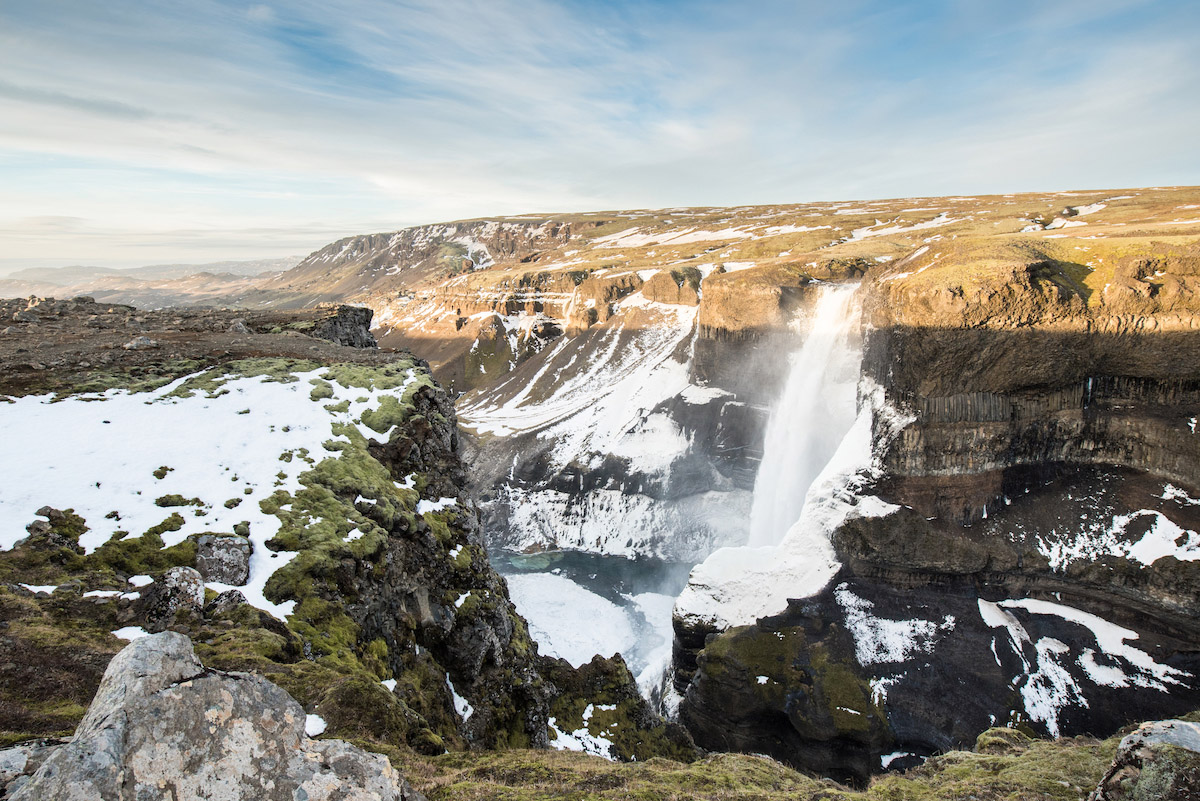 To conclude your day, you can look for accommodation in the towns, Hella or Hvolsvöllur.
Day 4: Seljalandsfoss, Skogafoss, Vik
Day 4 also allows you plenty of flexibility to go at a flexible pace, but it provides plenty of things to see! 30 minutes east of Hella, you can visit Seljalandsfoss. Another iconic waterfall, you will be able to see this from the main road, as well as many signs pointing to its location. Seljalandsfoss is unique in that you can actually walk in the cave behind the waterfall.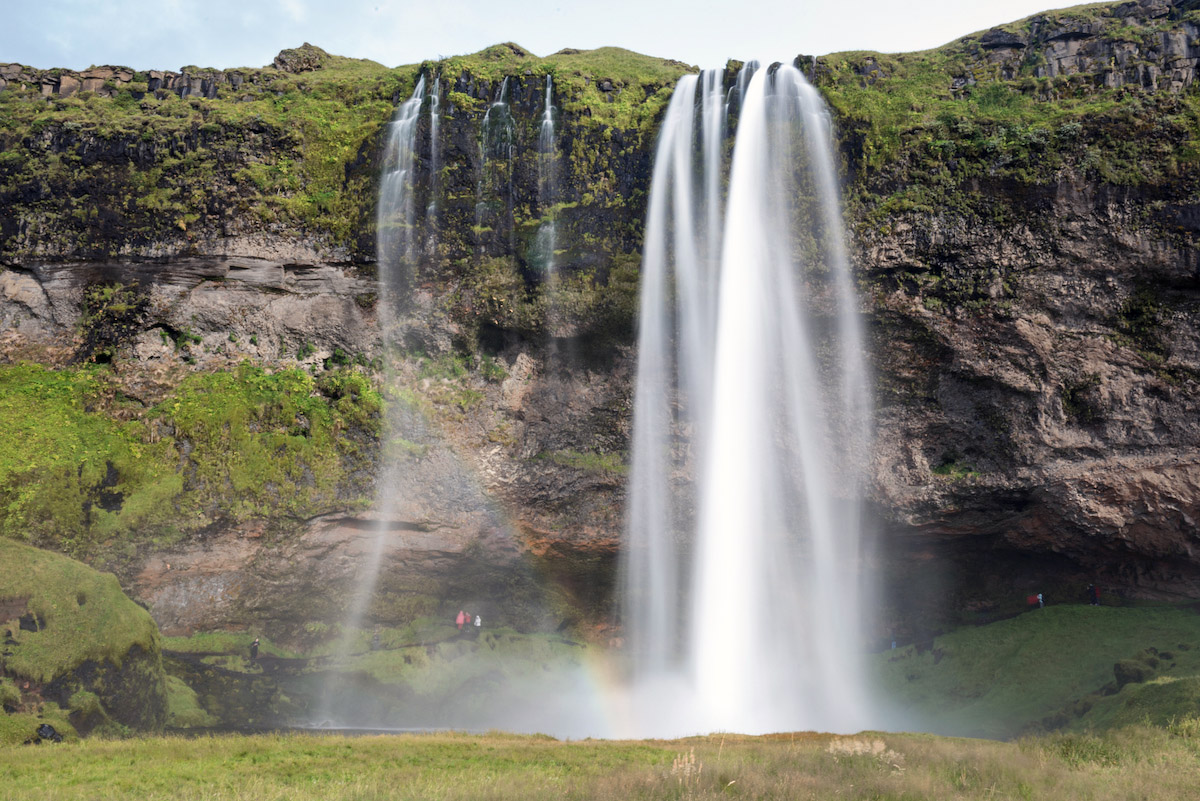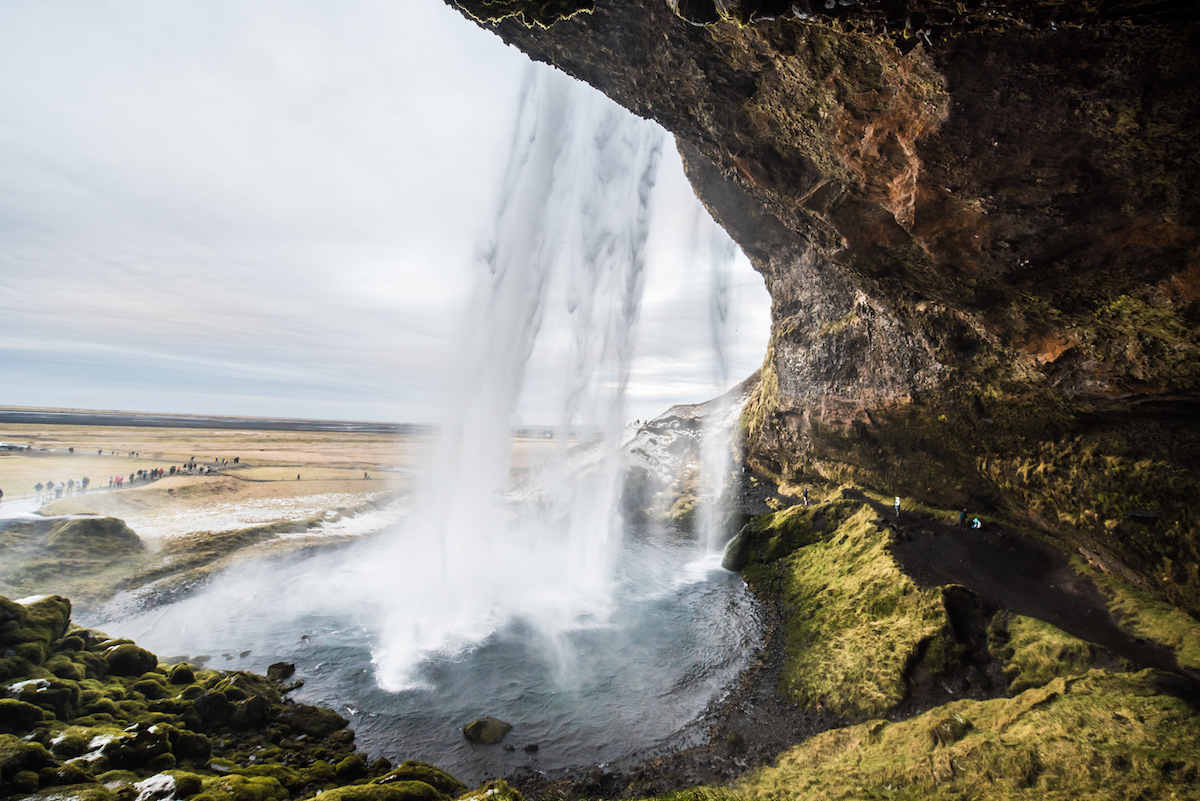 Just 30 minutes further east, you'll reach the stunning and also iconic Skogafoss, one of my favorite waterfalls. Nicknamed the "Curtain Waterfall" for being shaped like drapery, you can experience the powerful waterfall by walking right up to it. If that's not enough, you can take the stairs to the top of the falls, where you'll be greeted with a spectacular view of the landscape.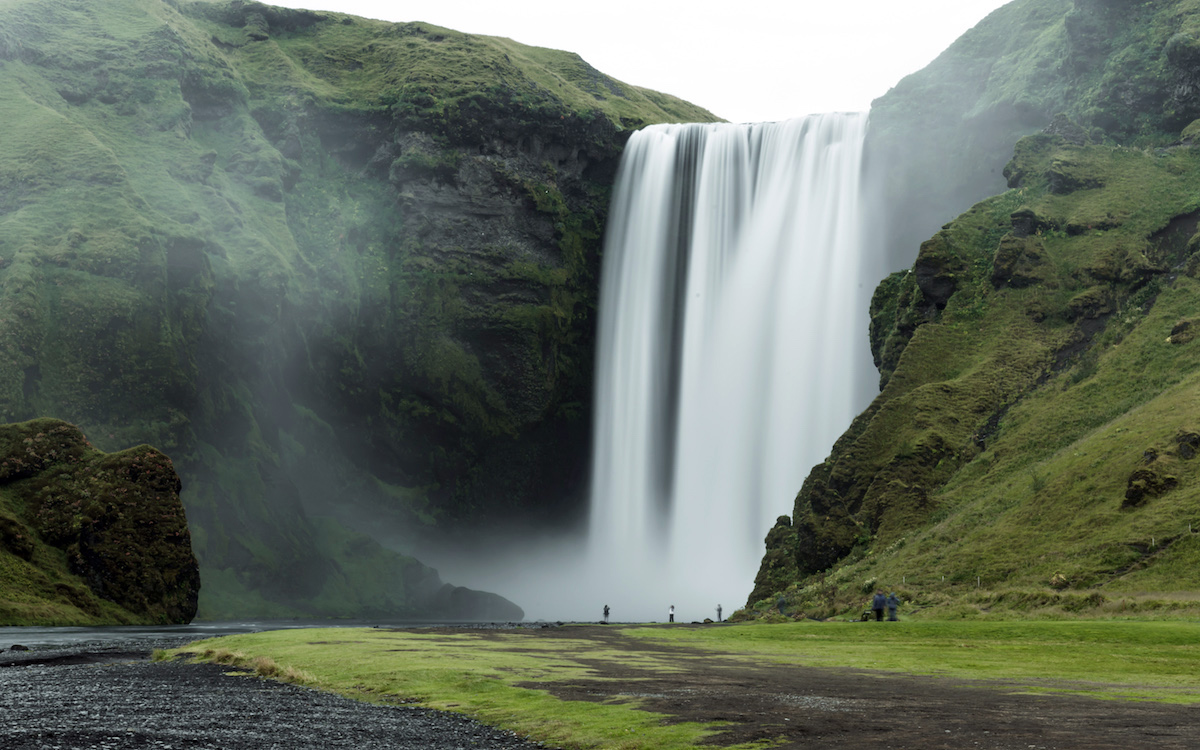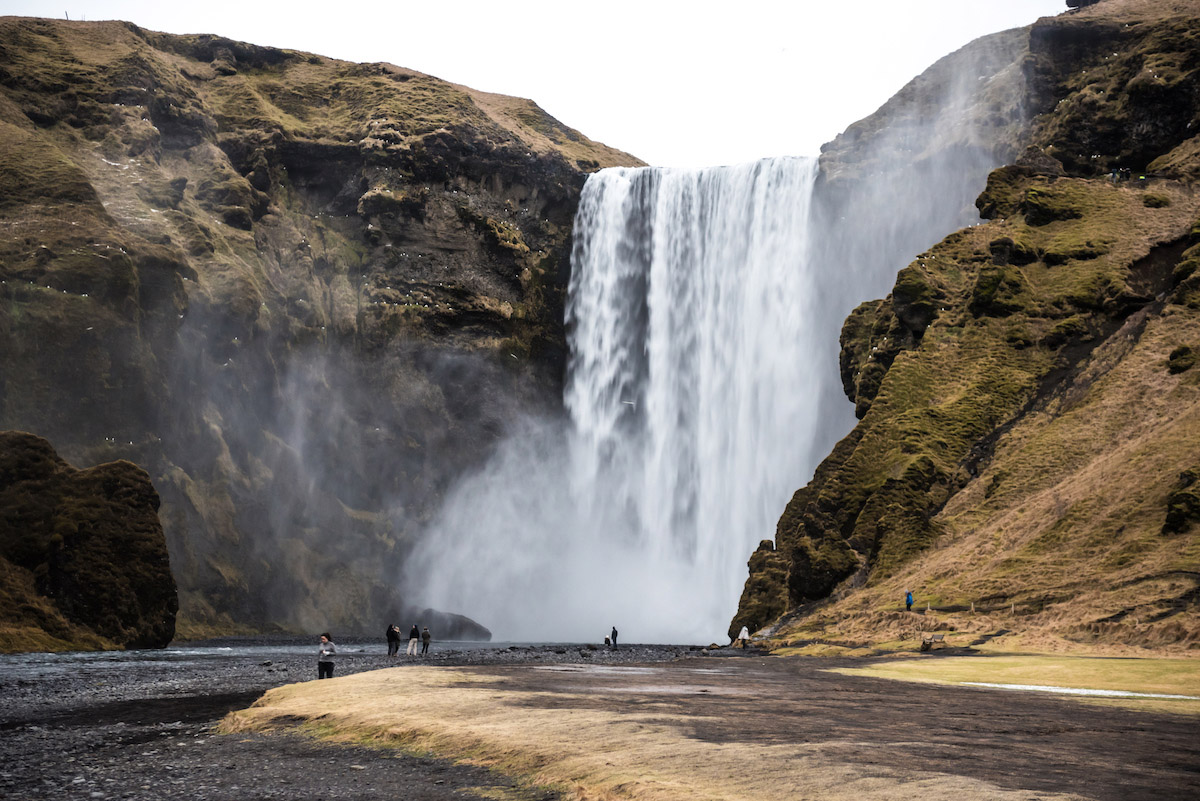 From Skogafoss, you'll head towards Vik, where there are several places to visit. First, you can check out the viewpoint that overlooks Dyrhólaey Arch. Next, head to Reynisfjara Beach, also known as Black Sand Beach, where you can see the uniquely recognizable basalt rock formations and giant rock formations jutting out in the background. Finally, you can explore the town of Vik, a charming town with exception views of the surrounding landscape, and a place to search for accommodation.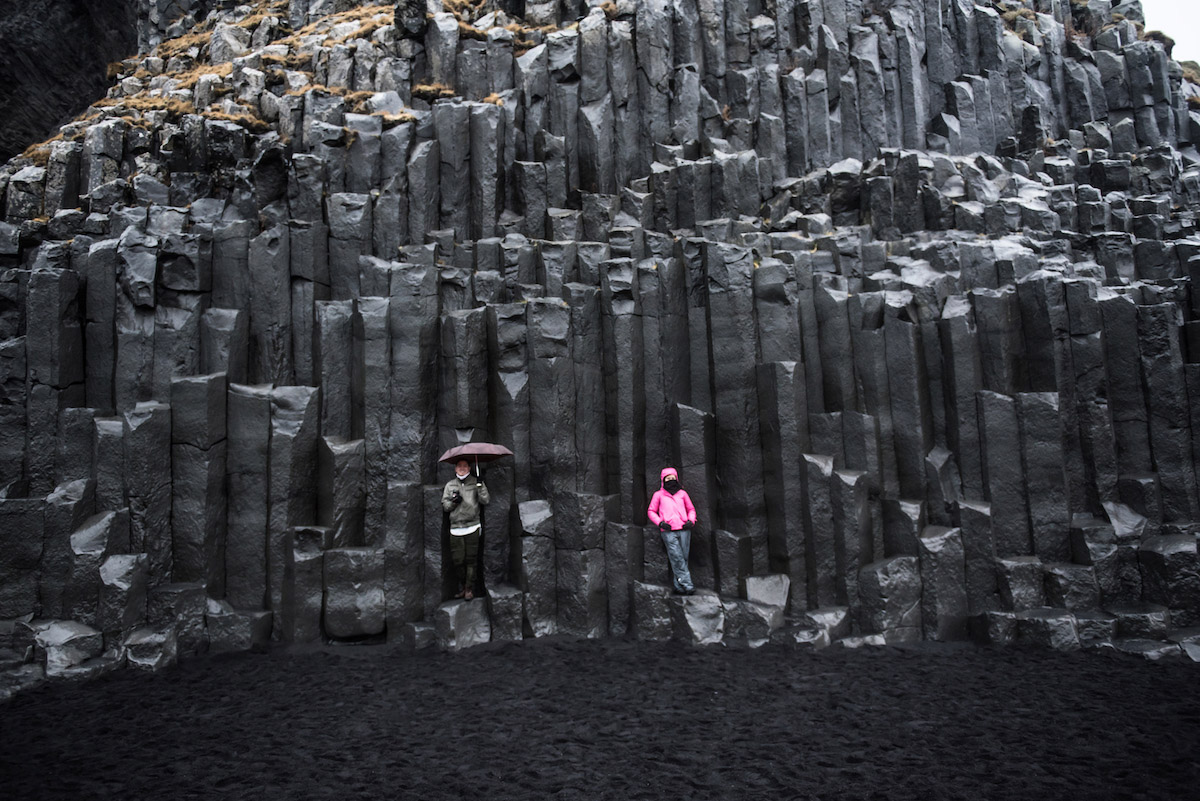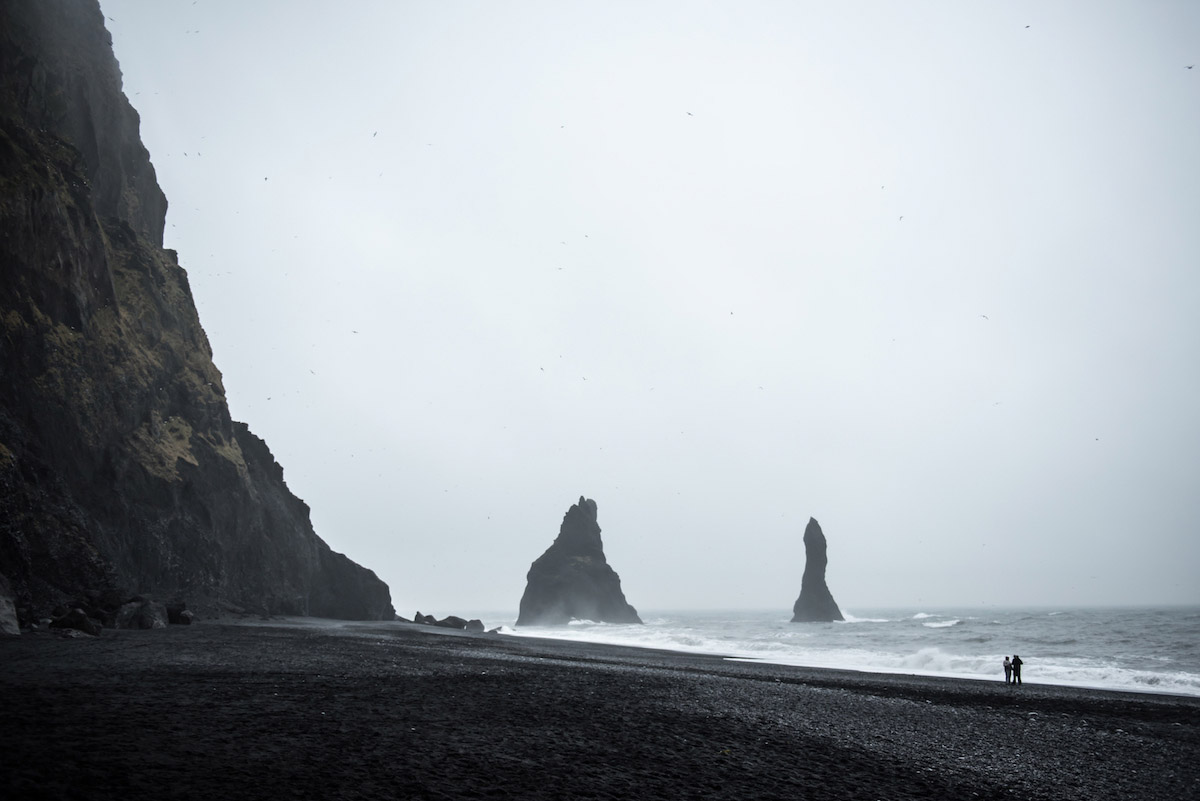 Other places to check out: because these places are very close to each other, you may have time to do other things. Try looking for the hidden hot spring, Seljavallalaug (by the road Raufarfellsvegur) or the Solheimasandur Plane Wreck.
Day 5: Skaftafell, Svartifoss, Vatnajokull & Jokulsarlon
Next, we'll head east towards Skaftafell. You can choose to hike on the Skaftafell Glacier, which can take up to half a day, or you can go see Svartifoss, a unique waterfall that's surrounded by basalt rock formations.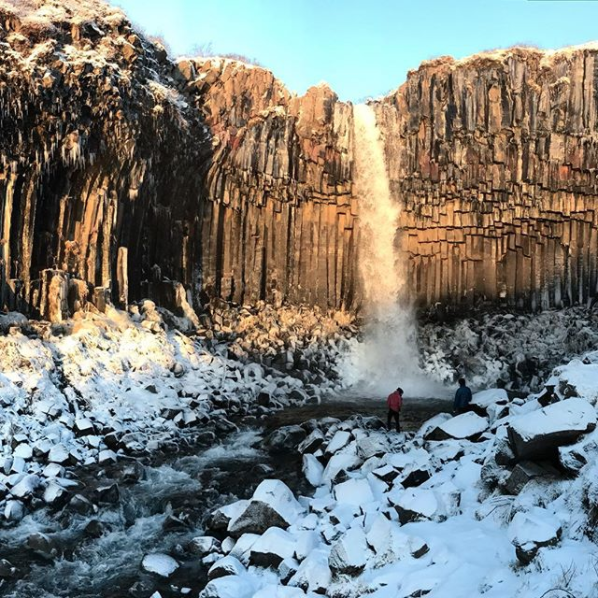 From Skaftafell, you can head towards Hof, a town that's a frequent meeting place for tour groups for a variety of activities on the Vatnajokull Glacier. You can also hike the glacier, but I highly recommend doing an ice cave tour to see the incredible cave formations within the glacier.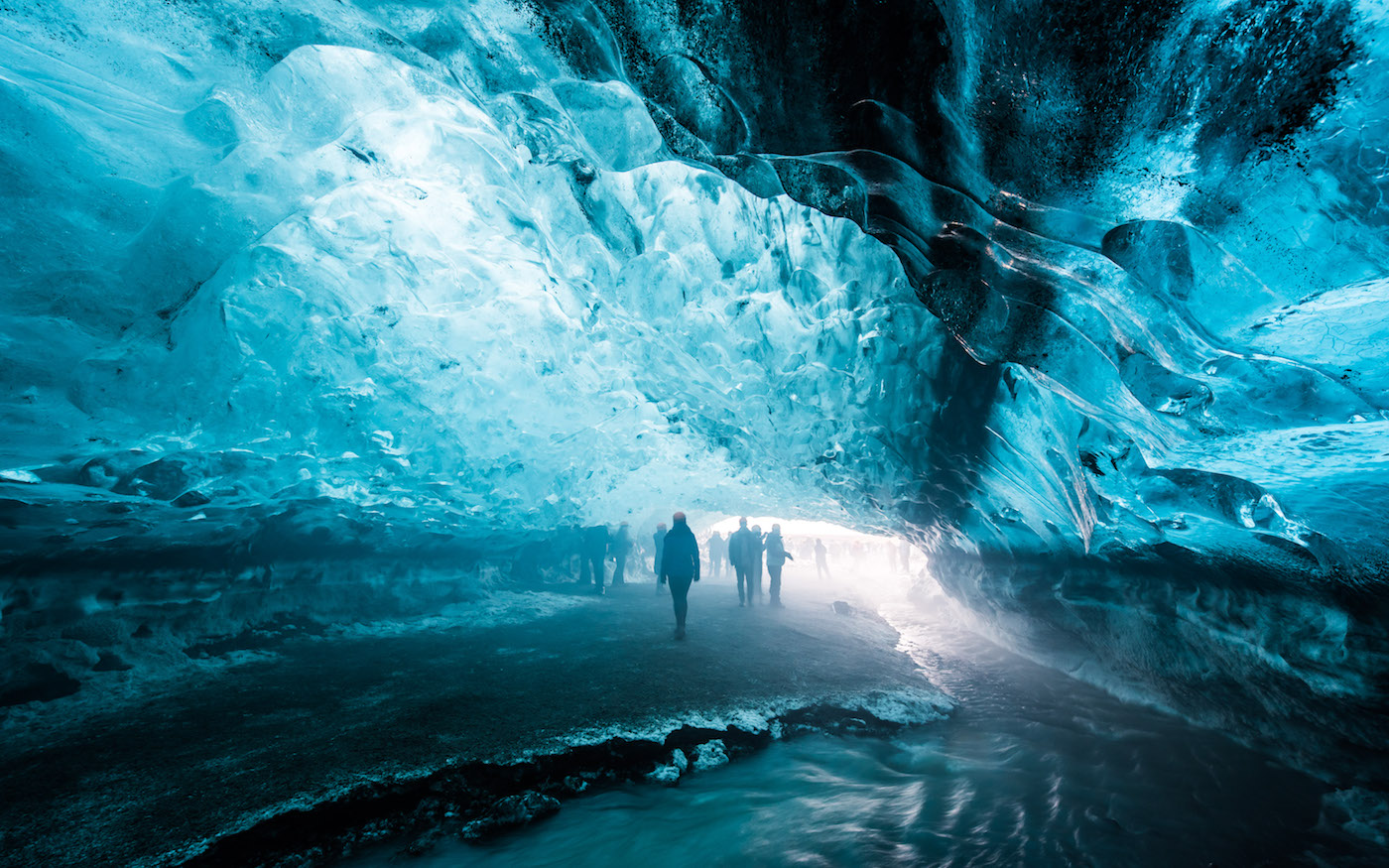 Finally, the last spot of this road trip leads to Jokulsarlon Glacier Lagoon. This lake holds large icebergs that have broken away from the Vatnajokull Glacier. In the summer, you can take boat tours to ride up close to the ice. Just across the lagoon towards the ocean, you'll find Diamond Beach, aptly named because of the crystal clear ice fragments that wash up on the beach.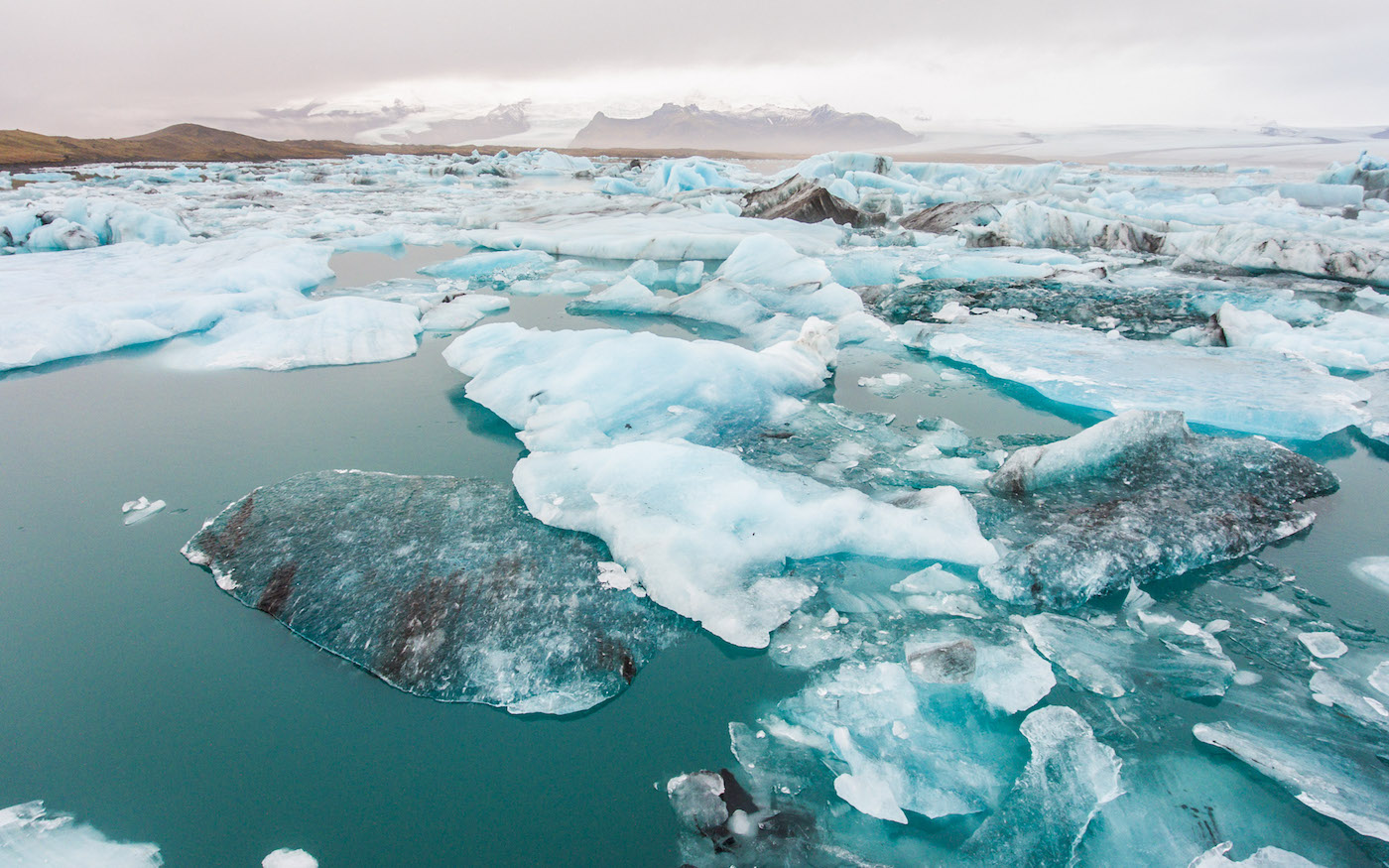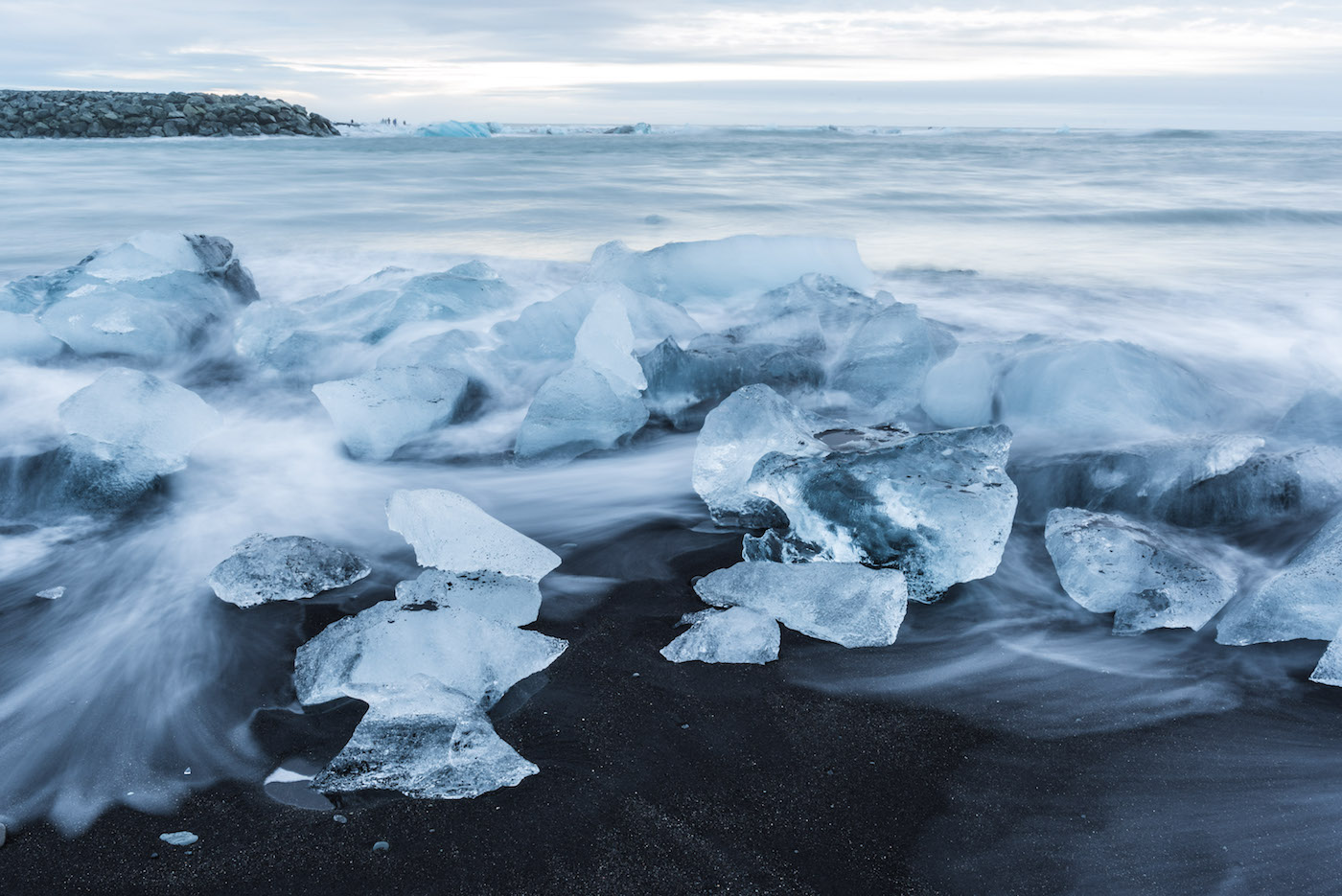 For your accommodation, there's plenty of inexpensive places in Hof, but if you have room the splurge, check out Fosshotel Glacier Lagoon.
Day 6: Free/Flex Day
Potentially on your 5th day of the road trip, you could see all of the things listed. However, depending on the season, weather conditions, activity schedule or if you decided to pace yourselves, you can be using this 6th day for the latter parts of your journey or visit anything you may have missed.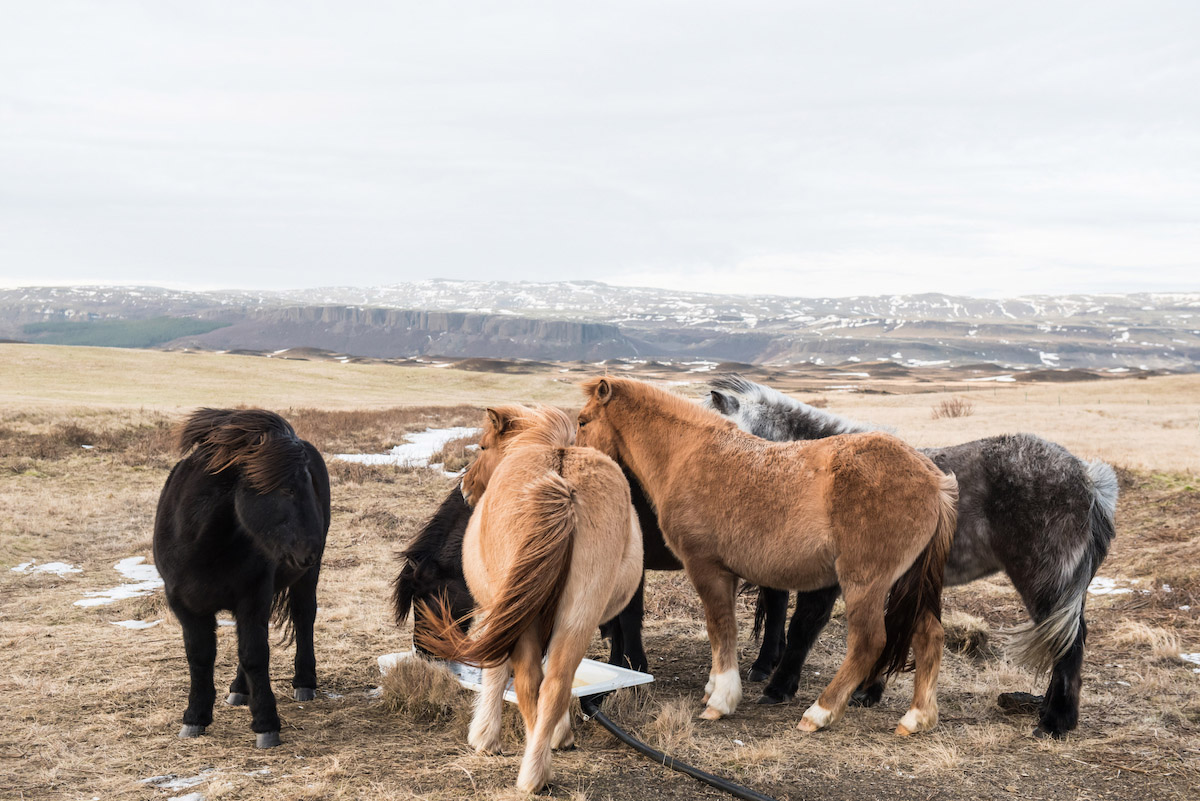 You may start heading back towards Reykjavik as you prepare to wrap up your trip. From Hof, it would normally take 4 hours straight to get back to Reykjavik. However, if conditions aren't ideal, it could take longer. When we made our visit this past November, it was raining and snowing, which slowed our drive to over 6 hours.
Since Iceland is so photogenically beautiful, you probably will make several stops to enjoy the scenery and there are still other sites you can check out on your way back. You can pass by Foss a Siou, a tall but thin waterfall that's in someone's backyard. There's also Fjaðrárgljúfur, a massive canyon that measures 100 meters deep. A town not covered in the main itinerary that you could visit is Selfoss, where you can see the Selfoss waterfall.
Day 7: Epic Iceland Road Trip Completed!
Congratulations! You completed your epic road trip of Southern Iceland! By this point, you are likely spending a little more time in Reykjavik before you fly back home.
Although our itinerary covers a lot of spectacular sights, it still only visits the southern part of Iceland! There's still so much beauty to be seen that one visit isn't enough, so I'm sure I'll be back crafting another itinerary to see the rest of this amazing country.
Additional Tips
Although most vehicles will be fine to use, I recommend getting a 4×4 so you are able to trek over tougher terrain, such as Haifoss, and also for poor weather conditions like rain and snow. Keep in mind they are a bit more expensive than compact cars/sedans. I'd recommend Blue Car Rental for great pricing and excellent service. Also, opt for the Mobile Wi-Fi (around $10 a day), so you can use your phone's GPS, as well as look up various destinations and booking accommodation.
Leave your itinerary at http://safetravel.is/ and download the 112 app so you get all your up-to-date information about Iceland conditions and so they know where you are and in case you need emergency services.
You pretty much don't need cash, as just about every place takes credit card. If you're coming from the US, you can use your dollars for cash and don't need to exchange to Icelandic Krona.
As I mentioned, this itinerary is good for any season. However, because the days are so short in winter, you may be rushed in order to see many of these sites. So if you prefer a more relaxed, slower pace, then you may want to consider visiting in the spring or summer.
Let us know what you think of our itinerary and where are some of your favorite places to see! If you like it, Pin it below!