Iceland is known as the "Land of Ice and Fire" for its extreme landscape and conditions. From massive glaciers up to active volcanoes, you can find something on both extremes. This time, we experienced some of the colder parts of Iceland, where temperatures dipped near 0°C and windchill would feel even more frosty. These are the perfect conditions for one of Iceland's most stunning natural wonders – crystal ice caves.
Ice Cave Tour in Vatnajokull Glacier
One of the things you can only do in winter is an ice cave tour because the temperatures are cold enough to stabilize ice formations and slow running water. We took a tour with an Icelandic company, Local Guide, at about $189 per person.
The ice cave we were taken to is located in the Vatnajokull Glacier, the largest glacier in Europe and covers 8% of Iceland. It was about a 45-minute drive from the Local Guide HQ, with the last 30 being very, very bumpy with the extreme terrain. From our parking spot, we were given helmets and crampons (metal spikes for shoes) before making the 10-minute walk to the entrance of the cave. On the way, our tour guide showed us different parts of the glacier and remnants of other ice caves.
When we reached the entrance of the ice cave where a few tour groups were already there admiring the natural spectacle. The cave is stunningly beautiful with crystal clear blue and turquoise colors, with air bubbles trapped in the ice and streaks of black that contrasts the other colors. Although the cave is formed by ice, the fluid wavy texture resembles frozen fire, and it is mesmerizing and breathtaking.
We got to spend 45 minutes in the ice cave and eventually the crowd thinned out for us to take some really nice shots. Unfortunately, one individual decided to bring out a flare for one of his photos. PLEASE DO NOT BRING FLARES! The flare was lit for at least 15 seconds before being put out, but the smoke completely limited the visibility of the cave and made it difficult to breathe due to little ventilation to get the smoke out. It took several minutes before most of the smoke dispersed, but some still remained for the incoming group.
Our final stop of the tour was also the remnants of a previous ice cave. All ice caves have lifespans and when one cave closes, a new one will be born. Although this one was no longer a cave, it had its own unique texture and was still beautiful nonetheless.
Visiting the ice caves at Vatnajokull was one of the coolest (pun definitely intended) things I've experienced. It's one reason why you should make a visit to Iceland in the winter time at least once to see these spectacular formations. If this is one of your must-do activities, here are some tips to help plan your visit:
How Can I do this Ice Cave Tour?
Where to go: Vatnajokull Glacier is located near the town Hofn, 5-6 hour straight drive east from Reykjavik. Because of the many scenic stops along the way, it may take several days to get there.
When to go: Ice Cave Season runs from November through March.
Who to go through: There are various tour groups that offer ice cave tours, including the company we used, Local Guide, who are highly experienced and knowledgeable. Glacier hikes are also offered.
What to bring: Warm clothes and camera (best with a tripod). Waterproof shoes/boots may be useful if you need to step in water. Crampons are provided by the companies for your tours. DON'T BRING A FLARE INTO THE CAVE!
Additional Tips: Highly recommended to book in advance. Tour groups are fairly small and space is limited, so tours can be book several weeks out. Basic ice cave tours will be around $190-200 per person.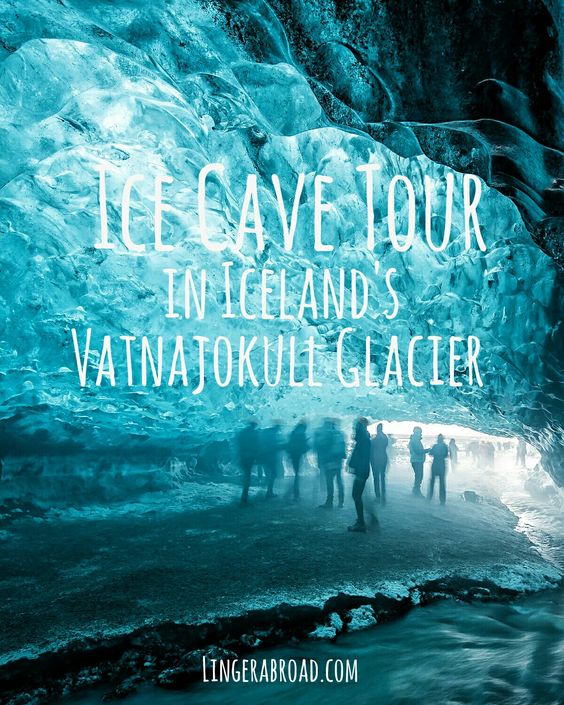 Linger Abroad with us!
Subscribe to get our latest content by email. Just travel, no spam.