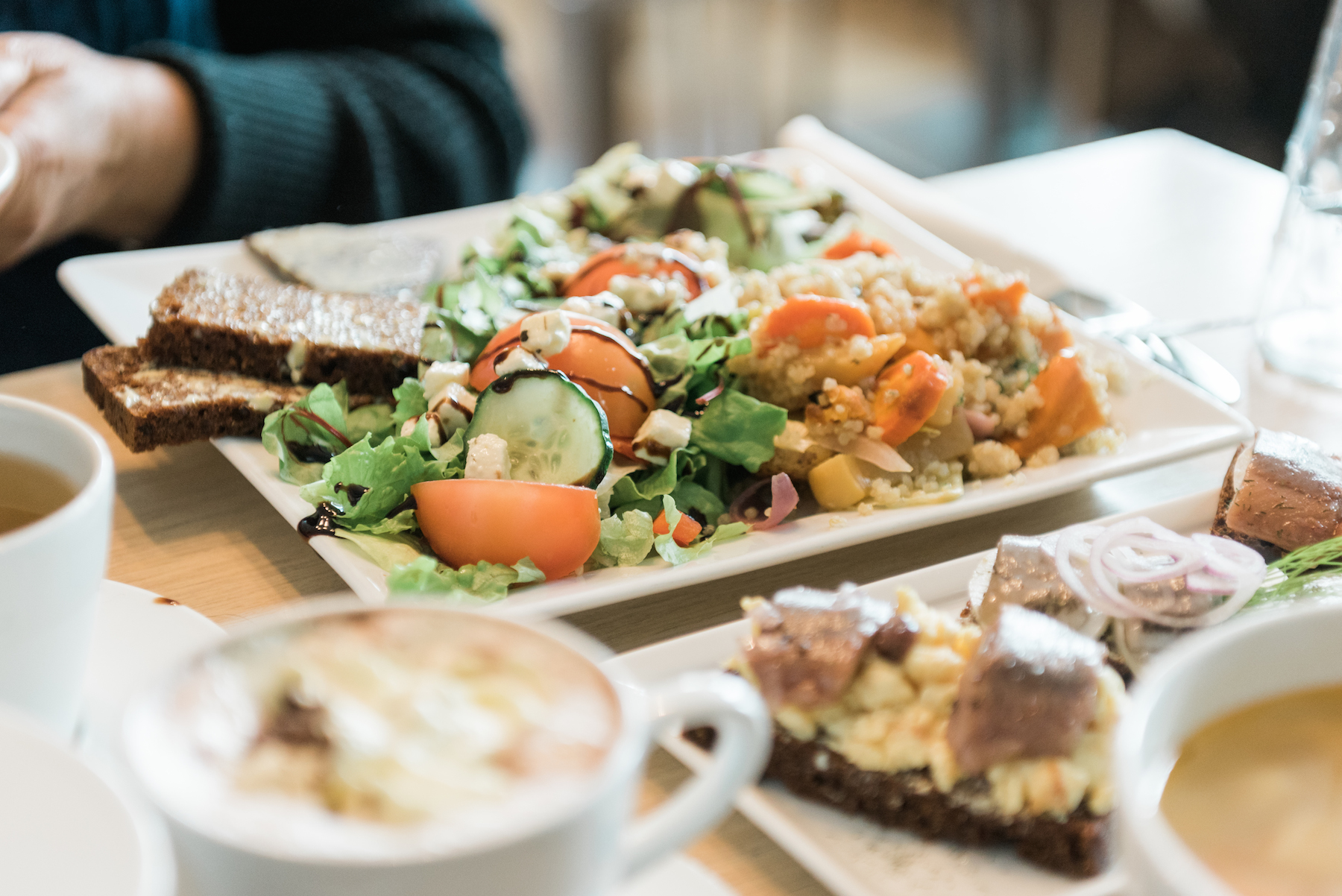 Even though we were in Iceland for only a few days, we could not stop raving at how delicious the food was! Ok, so we didn't get to try out that many places and we didn't try some of Iceland's most traditional dishes like sheep head, whale meat, puffin or shark (which I'm not sure I'd have the stomach for some of those things)…but the stuff we did eat was amazing! What interested me the most were how simple these dishes were, yet they were some of the best food I've ever eaten. However, if you're on a tight budget, don't expect to find cheap prices on these menus compared to the United States, but they're reasonable compared to other parts of Europe. Here's a list of four of our favorite places we did dine at.
Located in Reykjavik, Cafe Loki sits directly across Hallgrímskirkja church and specializes in traditional homemade Icelandic dishes. We tried several dishes including their meat soup, one of their Icelandic Plate combinations, a vegetarian plate and rye bread ice cream. I loved the rye bread combination dishes, which consisted of smoked trout, smoked lamb, mashed fish or egg and herring. But our favorite had to be the rye bread ice cream, which was possibly the best ice cream I've ever had. The combination of flavors is unique and absolutely delicious.
Located in the town of Grindavík, this family-owned restaurant was our surprise dining discovery. As we were going through the town, our group was hungry and needed a break, and we came upon Restaurant Brúin. Little did we know that we would have some exceptionally good dishes. We tried some pan-fried fish, soup and even their traditional Saltfiskur, which is essentially salted fish. All of our food was very fresh, as all of the fish were caught on the same day they were cooked. I did like the Saltfiskur, but it may not be for everyone. Their traditional fish soup was also interesting, when it didn't come out as soup, but as mashed up fish. But to our delight, the traditional fish soup was really good! So if you're passing through Grindavík, be sure to take a break at Restaurant Brúin for some good homemade Icelandic food.
After our visit at Skogafoss, we needed something to eat before our long drive back to Reykjavik and Hotel Skogafoss Bistro Bar is right next to Skogafoss Waterfall. Presumably, it has a great view of the falls, but it was completely dark by the time we sat down. The interior is very modern and has a nice ambiance. But we enjoyed most the food we ordered. I ordered the lamb leg, which was simply amazing. The meat was fall-off-the-bone delicious and tasted so fresh and tender. We also tried the lamb soup, which was also very good. Another great dish was the baked cod, which was lightly seasoned and cooked perfectly. Fair warning though, we've seen negative comments about the dishes, but there was nothing about our food that was short of excellent.
Also located in Reykjavik, Sjavargrillid Seafood Grill is a great choice for some fine dining Icelandic dishes, although the prices easily exceed far above the other options listed here. The main dishes were pretty high for our budget, so we chose to order some appetizers and light main dishes instead. Our dishes were fish or seafood dishes, and all of the food was very fresh and tasty. It's unfortunate we couldn't try some of the main dishes, but if you have a bigger budget, you definitely should try Sjavargrillid Seafood Grill.
Linger Abroad with us!
Subscribe to get our latest content by email. Just travel, no spam.